My Head in the Clouds (i.e., in an Ephemeral Fog)
R.V. Dietrich
Last Update
:
22 April 2018
---
Hamlet in a conversation with Polonius likens a cloud to "
... almost the shape of a camel ... like a weasel ... like a whale ...
"*
(*Wm. Shakespeare:
Hamlet
, Act 3, Scene 2)
---
Introduction
It was in the early 1930s that my attention was first diverted upward, away from stones and cinders and birds at our feeders that were then my main foci – diverted upward to the skies, to: The nighthawks that added "poinnks" to each summer night's still; the dust clouds of the storms that, among other things, led people to rewash laundry they had hung out to dry; the eclipse of the late summer of 1932 that was visible through the smoked glass viewers we had made; an unforgettable sundog just before a magnificent sunset that we saw across the St. Lawrence River during a family vacation; skies that my father called "sky-blue pink"; diverse shaped clouds that my really great third grade teacher, Miss Brasie, called cumulus, cirrus, and stratus; ... . Thereafter, however, for much of my life, my attention returned to the earth, to what one can see and so-to-speak touch: people, especially family -- Frances, my one great love, and our children – and, of course, friends; minerals and rocks and outcrops, which became bases for my geological endeavors; travel and diverse panoramas; sounds, especially music; … . One cloud-viewing experience during that time, however, frequently came and continues to come to my mind: One day in the 1970s, my great friend Allen Chase and I were sitting on his porch in our hometown in northern New York, and he directed my attention to a phenomena that he liked to watch -- AND, we spent several minutes looking at small fleecy clouds as their shapes changed, and some of them even dissolved.
More recently, in part as an extension of my interest in such things as mimetoliths and "Nature's wood sculptures" -- e.g., those relating to Apophenia*, clouds of diverse shapes, positions, etc. have again become an added focus. This album shows photographs of a few of these clouds.

This document will be updated on a continual basis. I hope that viewers will feel free to send cloud photographs that they see as resembling things, either real or conceived, for possible inclusion in the Appendix | Contact Author | .
====IN PROGRESS====
-- Latest addition: "Fos is Flopping ..." --

R.V. ("Dick") Dietrich, 2016
_____________

*
Apophenia: When anyone perceives the shape or some visual characteristic of one thing to look like something else, that person is, according to some people, experiencing pareidoliatic apophenia. Apophenia is the perception of connections and, in some cases also meaningfulness, between unrelated things; pareidolia is a specific kind of apophenia that involves some relatively vague stimulus of one or more of a person's senses that causes the person to perceive or sense (e.g., to "see" or think about) something else. The Rorschach Test is frequently cited as an example of this phenomenon.
---
---
Phoenix' Ascension
[?That's one big gull
!
? Ever upward ?; ? . . . ?]
(4 December 2010)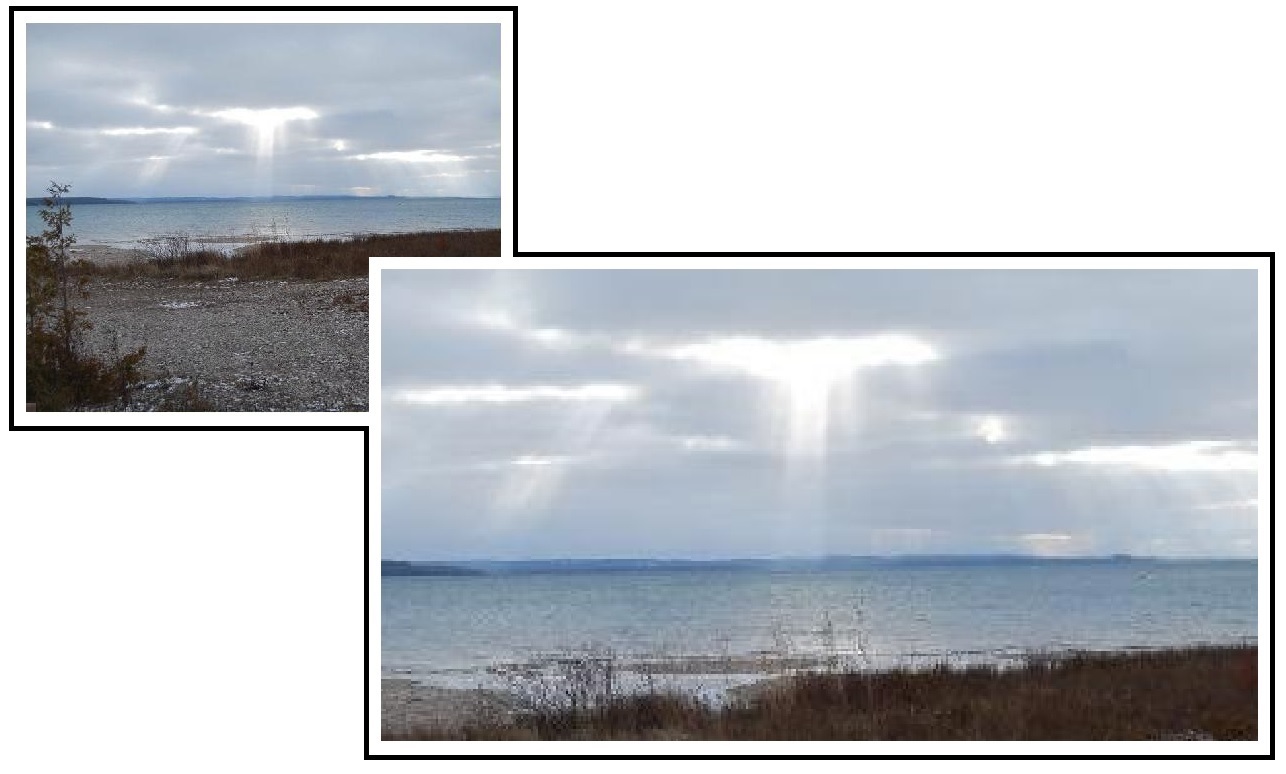 Breaking waves
(29 July 2015)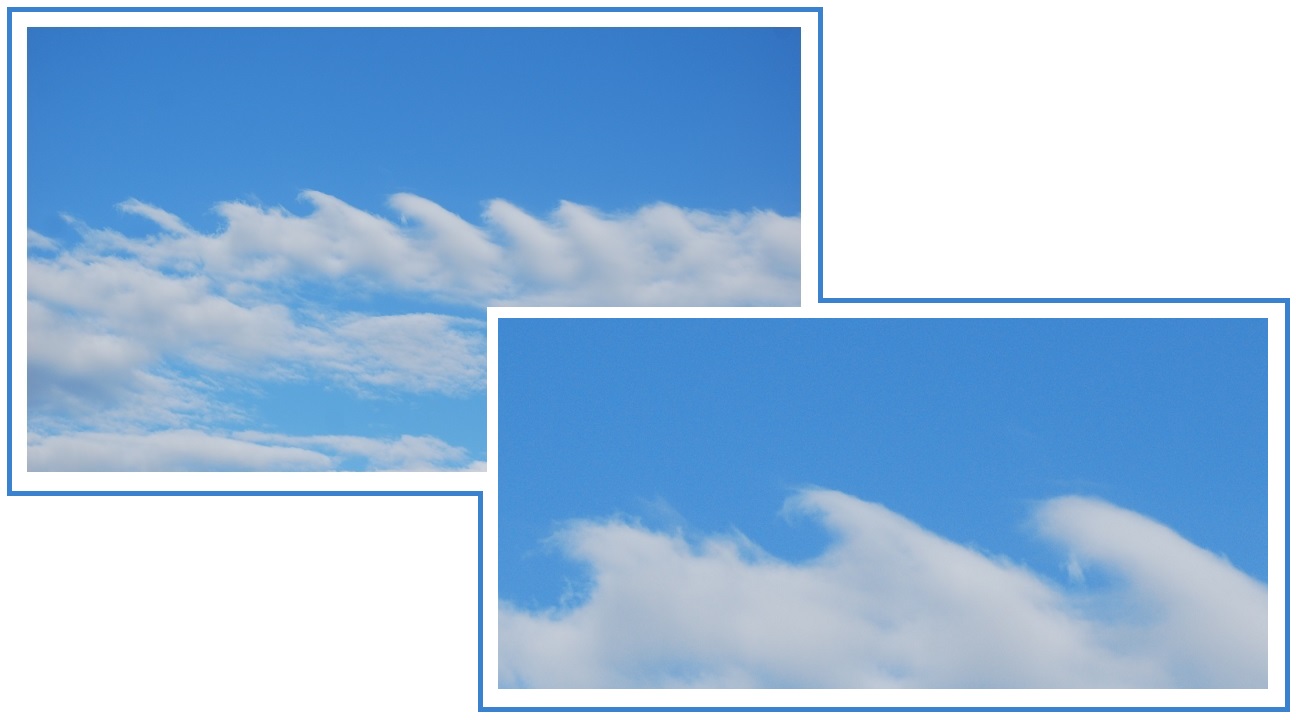 Corduroy Road . . .
(30 March 2016)

[

Nostalgia

: The first corduory road I saw was before I had even heard the designation. In the early 1930's, my Father, helping me with my mineral collecting hobby, found out about an old mine -- the abandoned Sterling Mine, near Antwerp, Jefferson County, New York -- and took me there. To get to the mine area, we walked -- carefully!! -- on what was the rotted (etc.) remains of a corduroy road. This group of clouds immediately made me recall that outing.]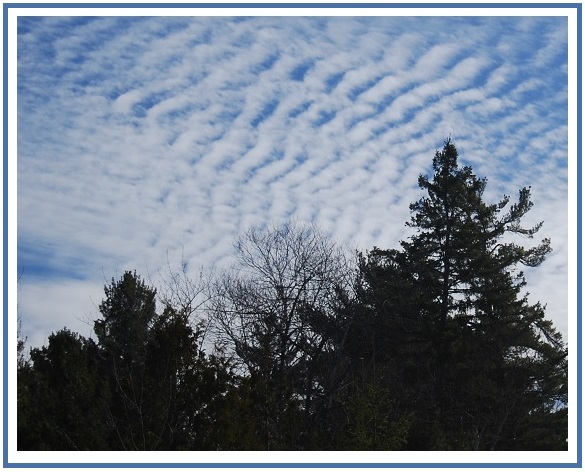 I have my eyes on you!
[?I'm watching over you!]
(30 July 2015)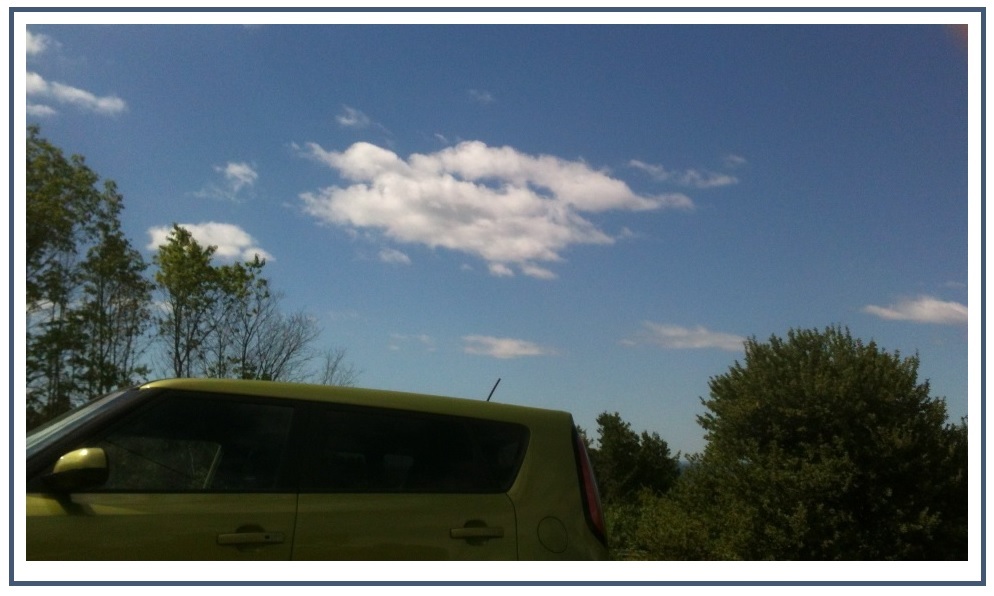 I See You !
(15 October 2015)

[This group of clouds Note: The identity of the dark spots ("eyes) is not known. Perhaps, but unlikely, dirt on the window of my counterpain area that was between the clouds and camera(?!) OR spots on the recently cleaned camera lens(??); NOT birds!!. --- So, ? ? ? ? ? ? ? .]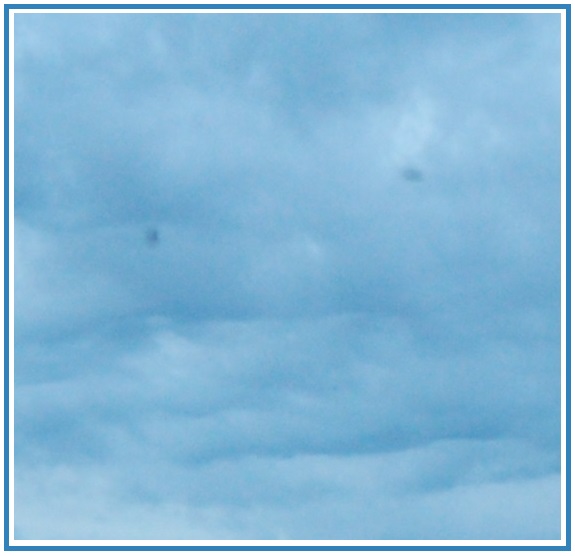 I Huff and I Puff, and
. . .
(10 September 2015)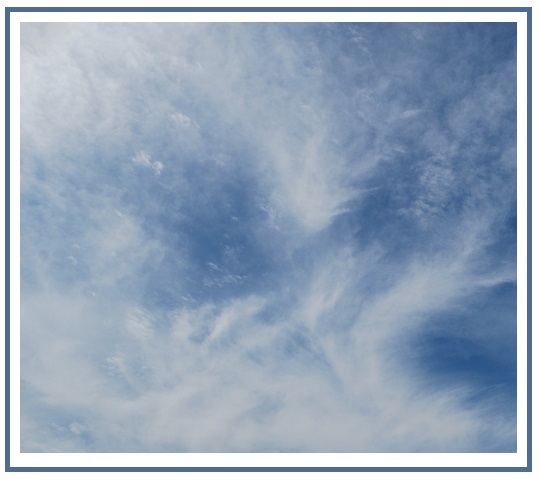 . . .
OH -- the things I puff out . . . ! !
(12 August 2015)

[The bottom-left cloud complex, with the "huffer" on the left is shown with the opposite assumed role in the Epilogue. ¶ The top-left complex is shown
on the right side of this composite with its original, near horizontal position vertical. This provides an example that shows how characteristics of some
clouds, depending upon how different viewers "see" them, may lead to quite different ideas about what some individual clouds and cloud groups resemble.
This orientation led me to the title "Standing atop Grandpa's unruly hair."]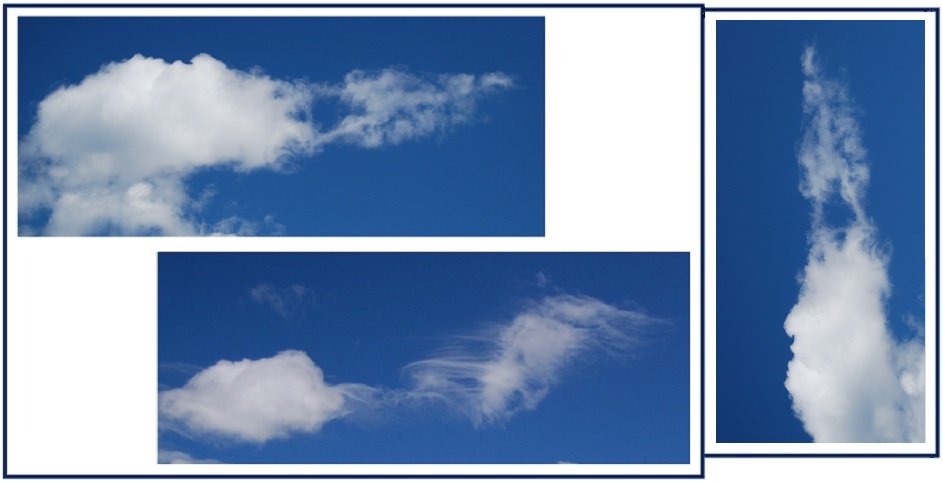 She just loves to SING !!
(10 September 2015)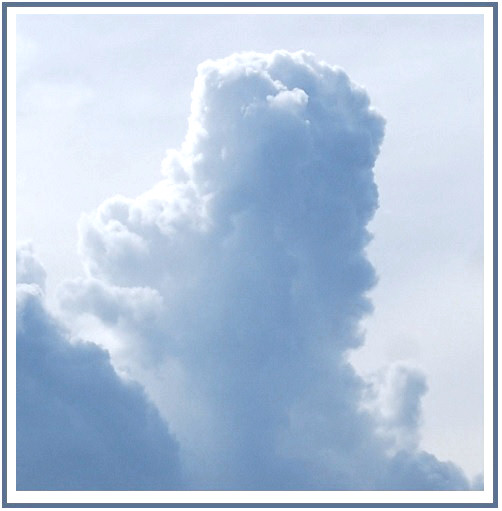 May I have this dance?

[You didn't --] (15 September 2015)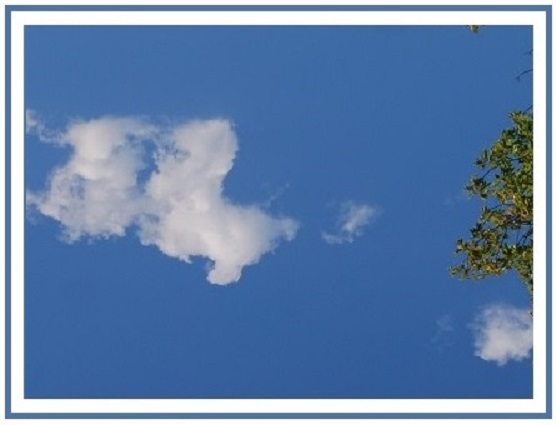 Jay leaving its nest on high
(30 July 2015)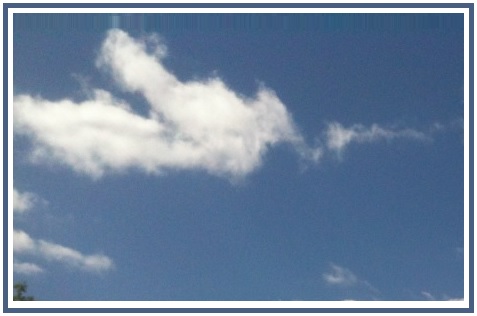 Migration time
[Off I Go --]
(20 September 2015)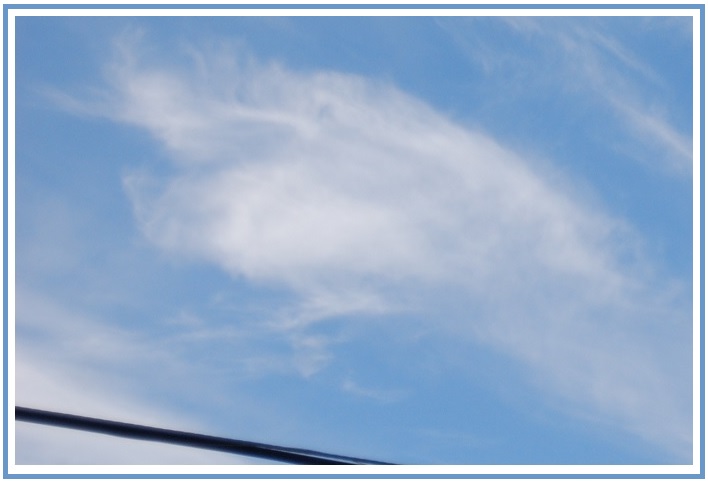 Southward Ho --
(16 October 2015)

[Note: These three clouds were all of the same complex.]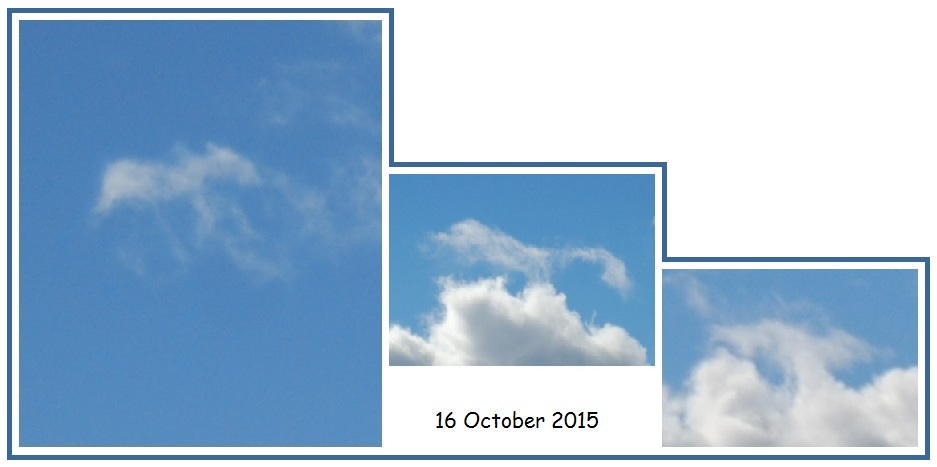 I made it! -- Now, only a short jump to the hot tin roof

. . .
(12 August 2015)
[Note: The original horizontal is vertical in below photograph.]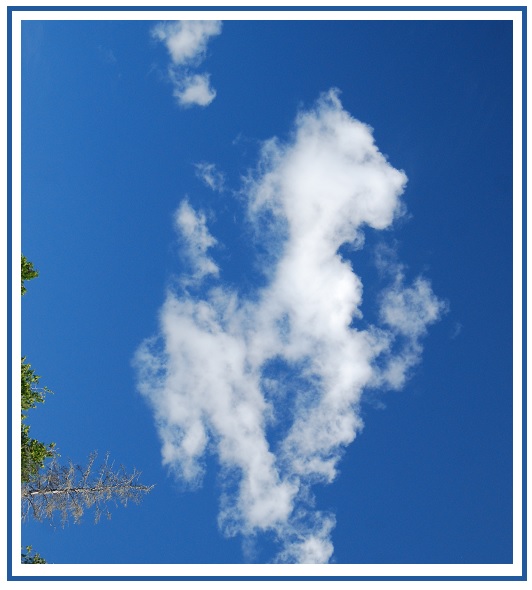 "Fos" is floppin' high!!
(19 February 2017)
[i.e., Dick Fosbury, just a few days before his 70th birthday]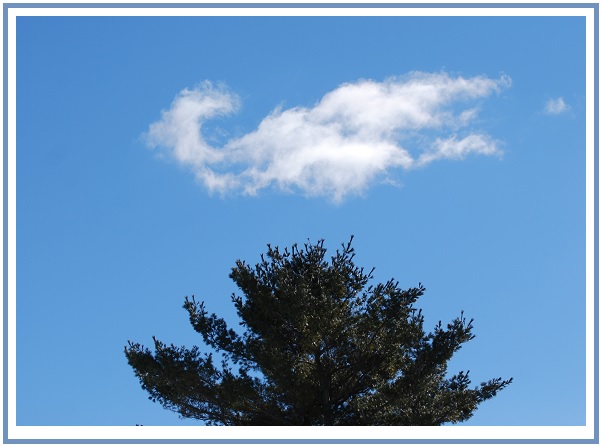 You missed! --- I'm off to see my pussycat --*
[*with apologies to
Edward Lear, "The Owl and yhe Pussycat"
1871]
(23 August 2015)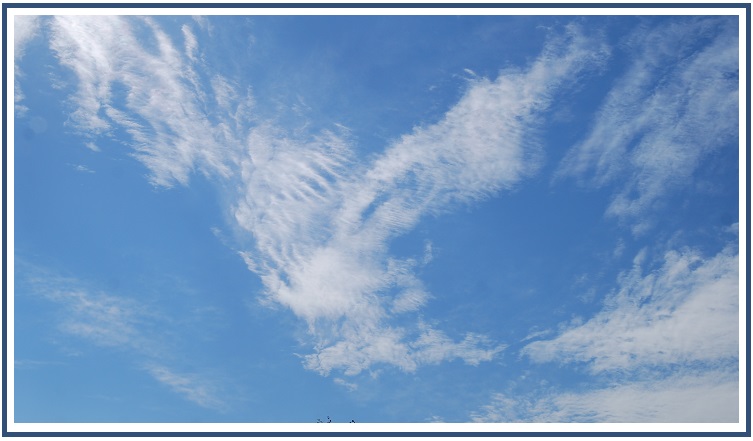 Soaring gull(s) --
(18 Febriaru 2016)

[This was taken from the same place as the entry "Tenting tonight": That one was taken by an Iphone camera; this one was taken with a Nikcon with a telephoto lens.]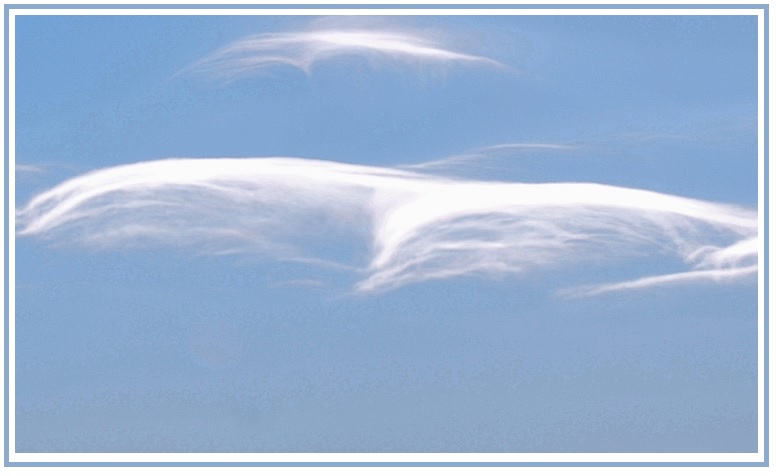 Pegasus' Wings
[?Mare's tail?

/

?Horse's Mane? … Plus onlookers!]

(15 August 2015)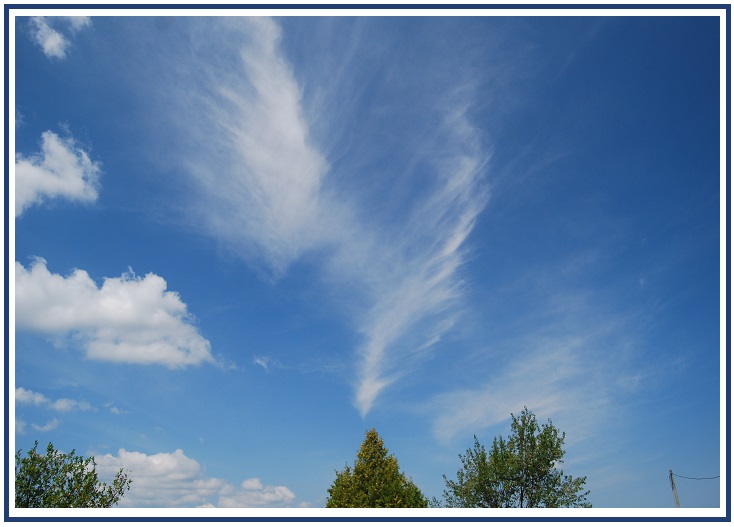 "What/Who-ever"
(23 August 2015)
[As I looked at this both

in situ

and in this photograph, five different names/associations came to mind -- thus the title
.]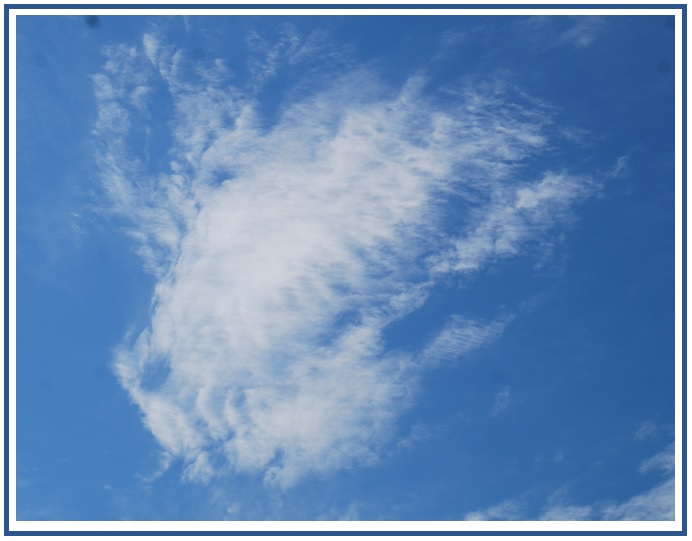 En Gard . . . . Gotcha!!!
(20 September 2015)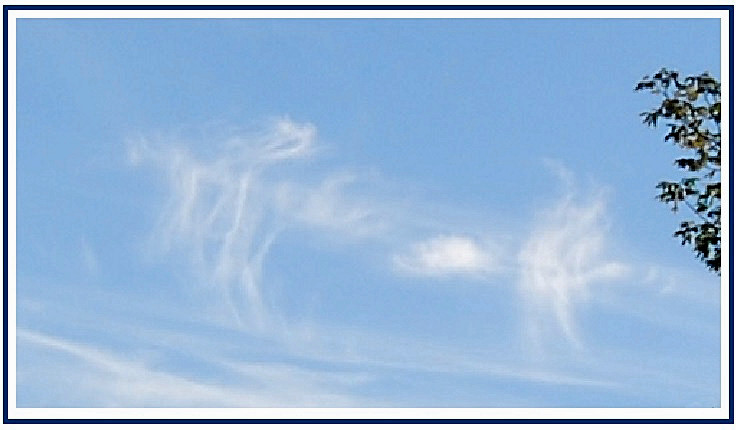 Surfing
(20 September 2015)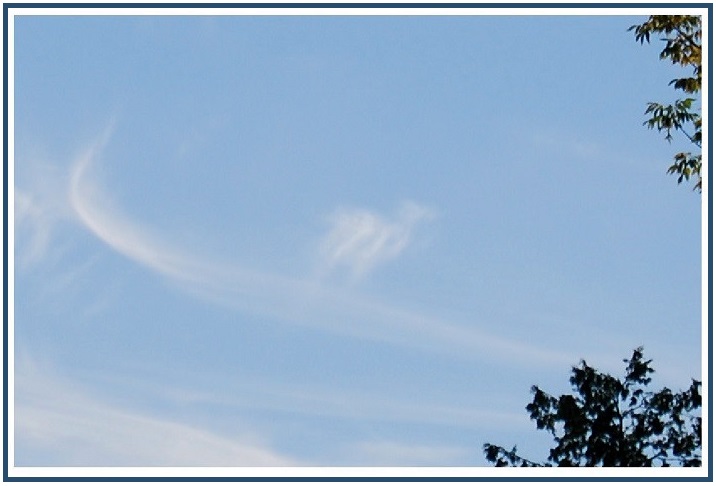 x!?!

*

?!?x:
--
That one really broke up!!
[Just When]
(20 September 2015)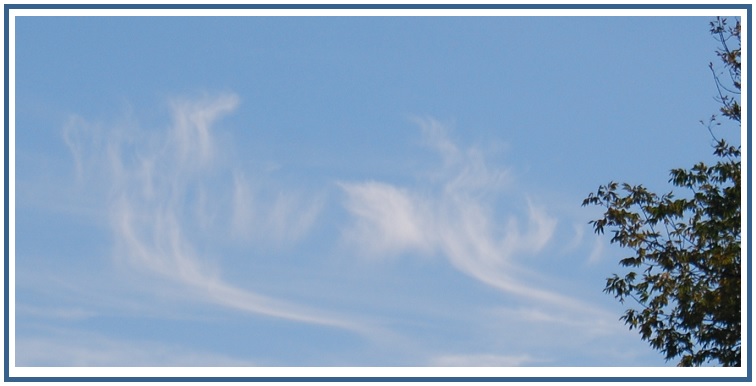 I pose where'er I go --
(29September 2015)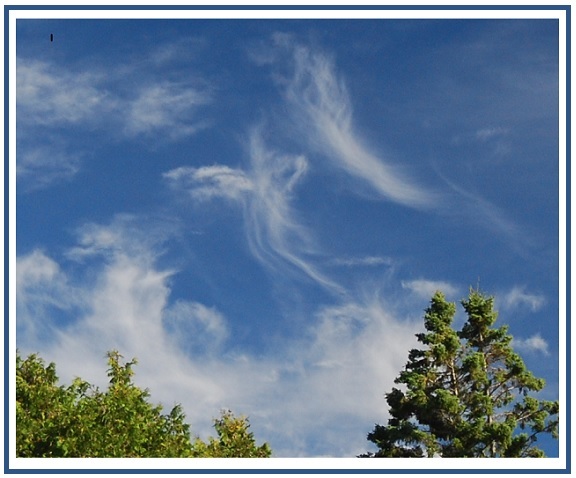 Thunder and lightning -- on the way
[? Beauty and the Beast ?]

(Summer 2009)
[
Several names have been suggested for this one. Examples are "Beauty and the Beast" and "Pregnant and At Rest." T.]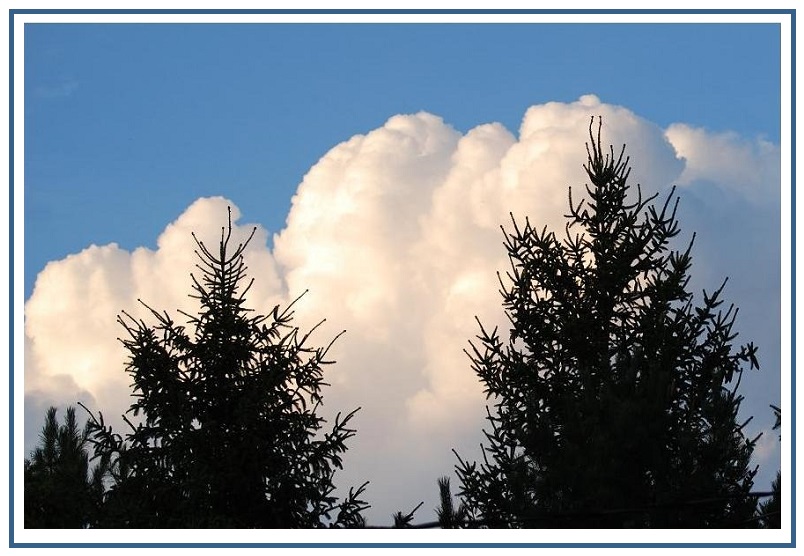 Low Ceiling
(soon to spring a leak, flashing lights and dissonance)
(2 July 2015)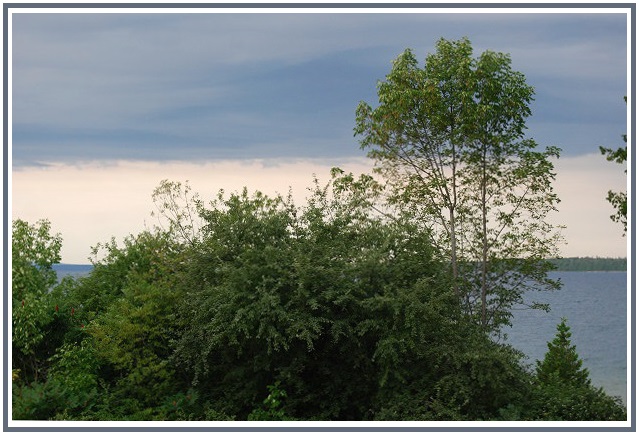 Gargoyle
(10 September 2015)
[
This reminded me of several of the rather simple gargoyles that were used to drain rainwater from the roofs of some of the Medieval cathedrals of western Europe -- especially one at the 13th century Gothic Cathedral of Amiens in the Picardy region of northern France.]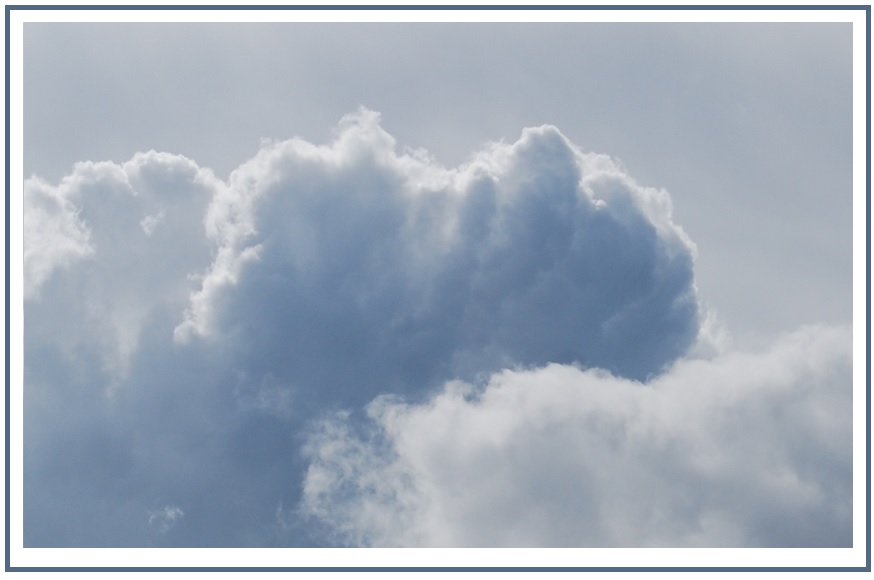 A really Low cloud (where I come from, it's called FOG!)
(22 June 2015)
[The towers, above, and the anchorage structures, below, this "cloud" are of the Big Mac Bridge across the Straits of Mackinac]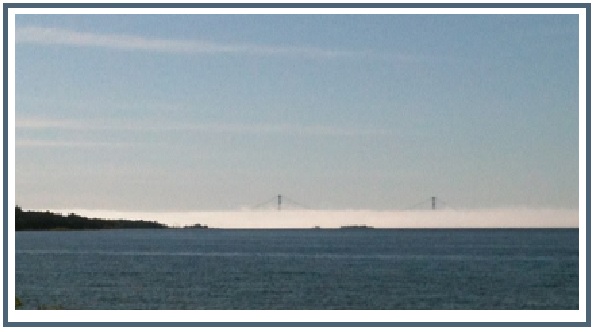 Air Controller: "Just follow the Vees."
(28 May 2014)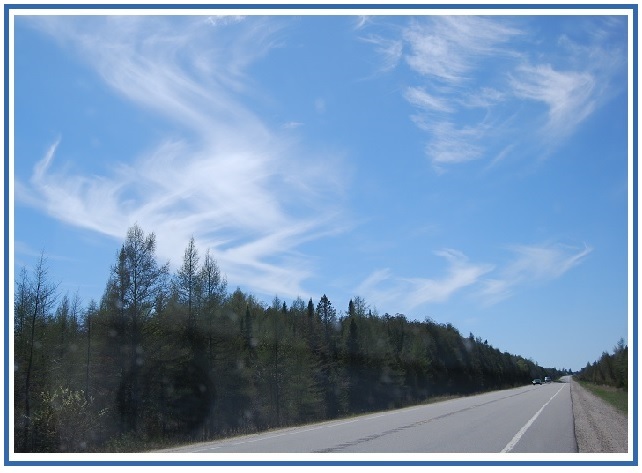 An interesting concept?!? (15 September 2014)
[This group has led to several suggestiedl alternative captions -- e.g., Quartet [?stamding on their heads?]; Decoded: You shall see; The cloud above us? -- The Matterhorn!]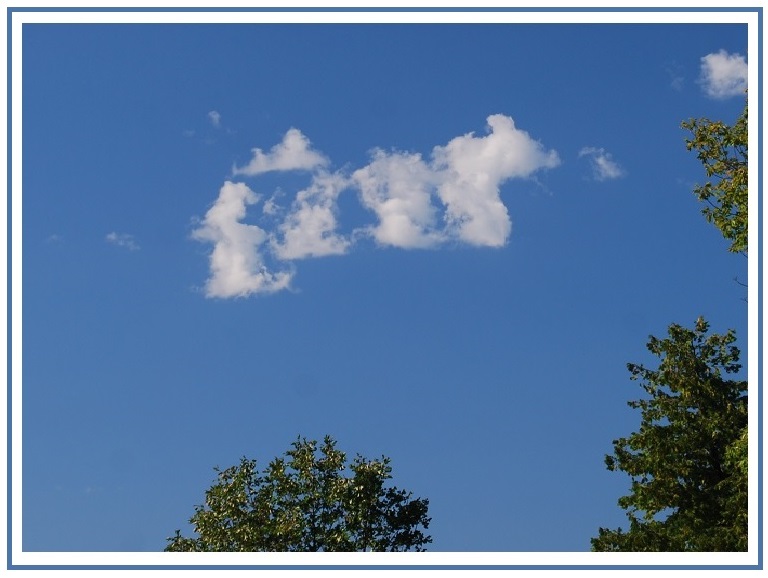 . . . and Our World changed. [August 6, 1945 -- Hiroshima ...; Enola Gay ...; HST ... >> . . . ] (25 September 2015)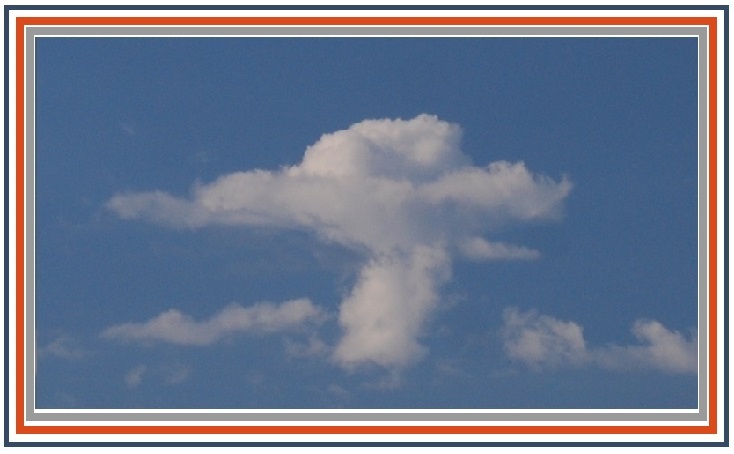 I am the Future! (Late Summer 2013)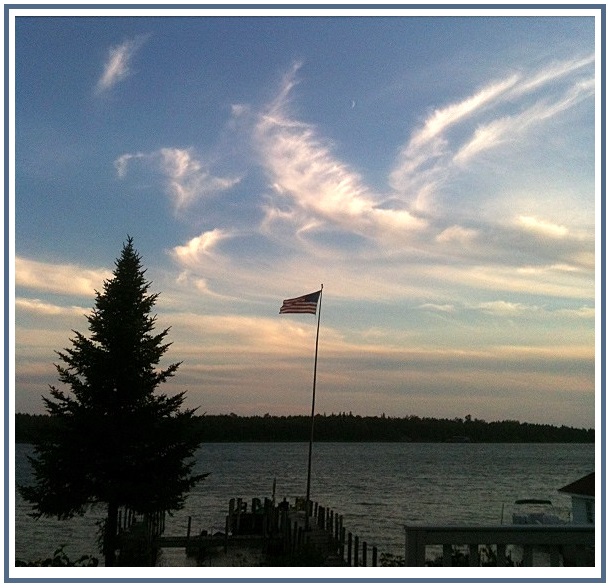 Yes . . . A Feather!! (September 2015)

Feather in the Breeze ---
(2 June 2017)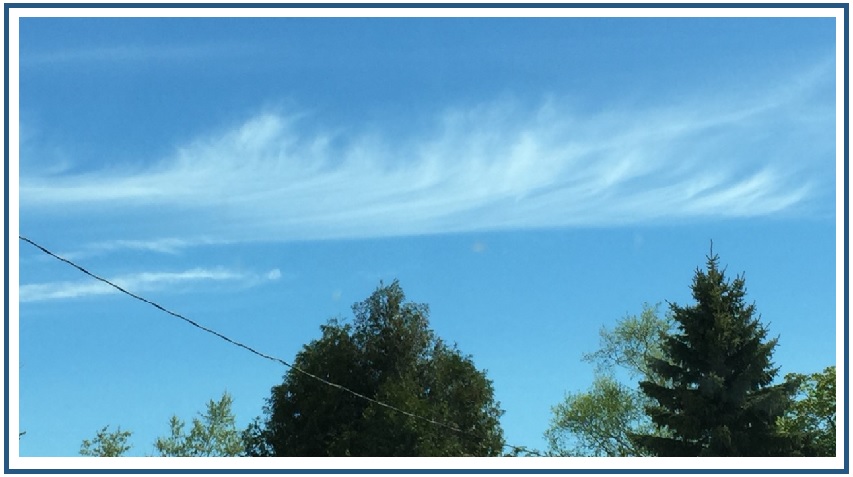 A Fleet of Saucers -- up-side-down!!
(18 Febriaru 2016)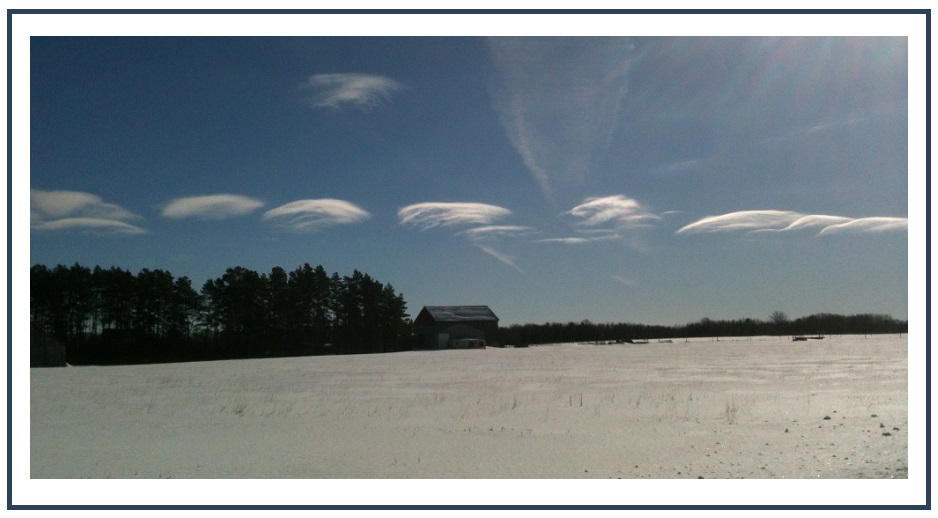 Now I lay me down to sleep, with a favorite toy at my feet

.
(Late July 2015)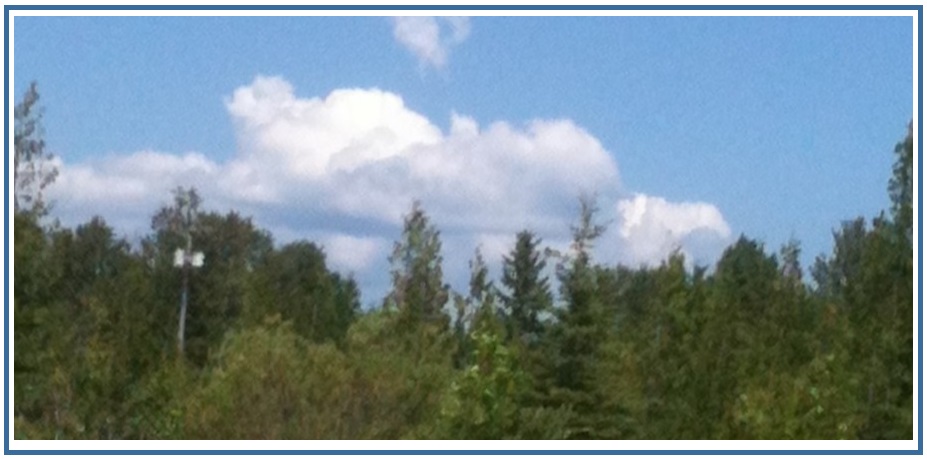 Angels I have seen on high . . .
(7 June 2013)
Sunday morning plus ...

(Left, 9:12 a.m. EDT, 18 October 2015; Right ~6:30 p.m. EDT, April 15 2016.)

[These clouds -- jet trails -- are so-to-speak man-made "clouds." The first two words of the caption are based on the time when the "trails" shown in the left photograph were recorded; the day when those on the right were taken -- a Friday -- led to the plus ... .
The original of the left photograph, taken with a Nikon camera, was flipped horizontally to give the prespective shown; the original of the right photograph was taken with an Iphone camera.
]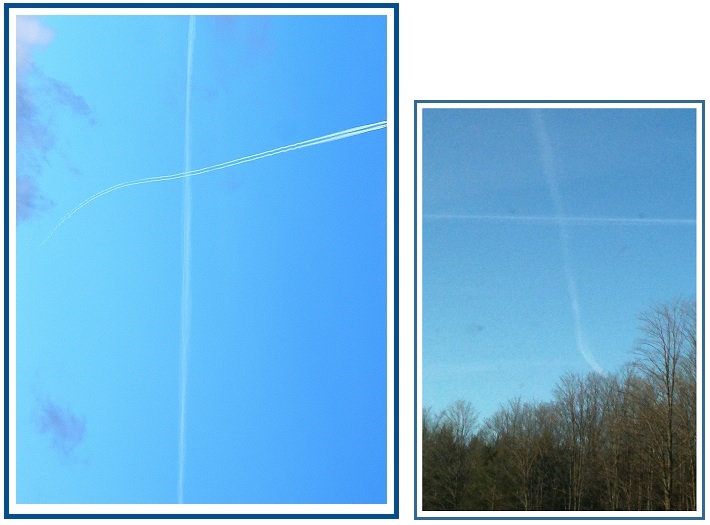 Naught --
(11:08 a.m. EDT, 22 March 2016)

[ Nary a cloud . . . for the third morning. ]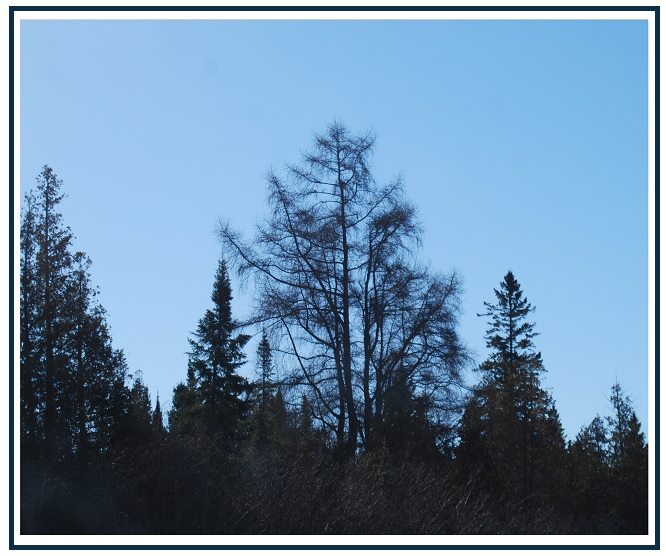 =====================================================================================================================================


Epilogue.
I leave this over-my-head collection with two, albeit quite different from each other, cloud forms: The first reminds me of a childhood amusement. The second, a Hope for the future. And, a poem (doggerel?). --
Do you like my new hairdo?
[Whether you do or not, see comments below this photograph.]

(20 August 2015)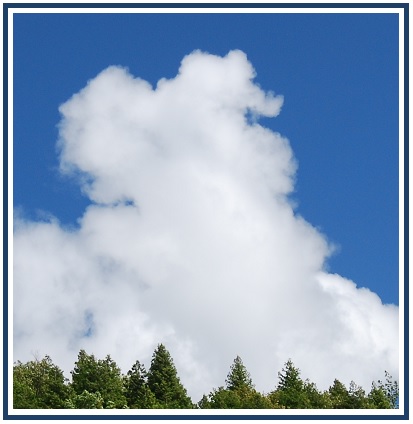 As a youngster during the Great Depression (1929-~34) , when the daily newspaper cost only a couple or so pennies, a hidden picture puzzle was often on its page of comic strips. Each "puzzle" was a sketch of an overall scene that included some "hidden" smaller features or characters. Viewers were to find the smaller features. I looked forward to those challenges.

The above cloud reminded me of those sketches. For me, it has an overall shape that one might give the title "Do you like my new hairdo?"
PLUS
four other characters. The latter are left unnamed – i.e., for viewers to find and name.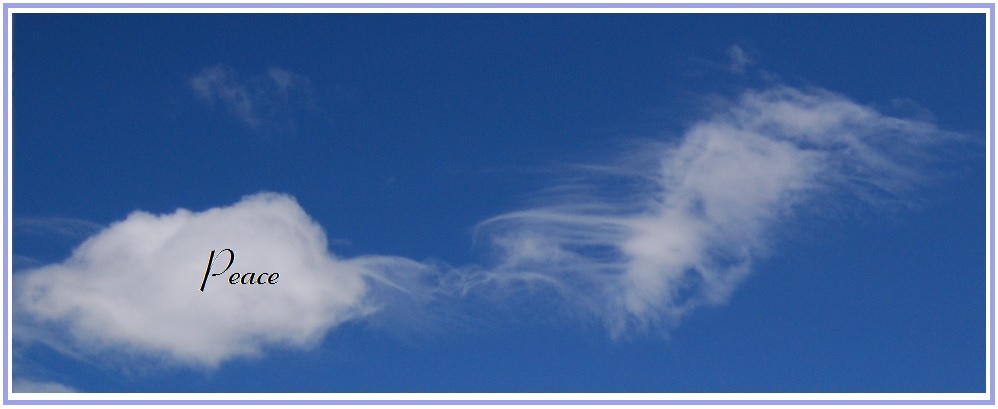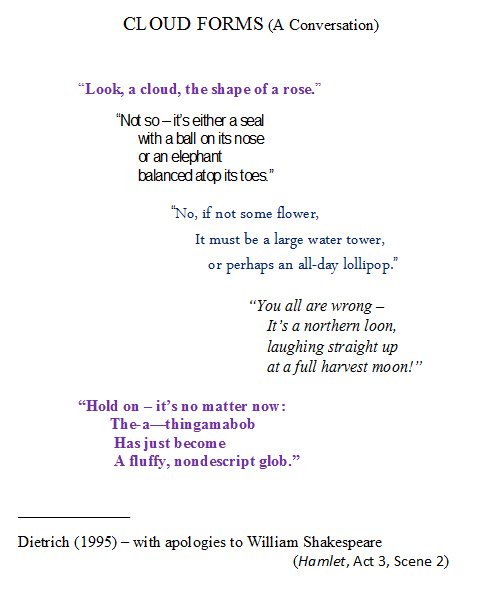 Appendix.
The following photographs of clouds and their captions have been sent for inclusion in this album.

They are given in the order they were received.



"Alligator ..." -- Photo © Krista Brown -- (2 August 2015)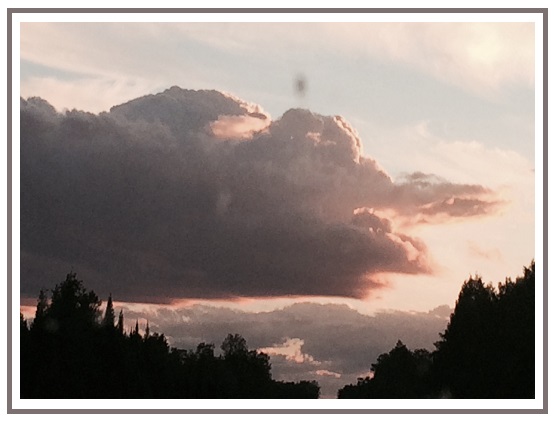 (Photographer's Name to come!!) -- Photo © Mac Heller -- (3037 - ? ????? 2015)
[This group led me to suggest the alternative name -- Watching oe'r my flock (albeit a herd).]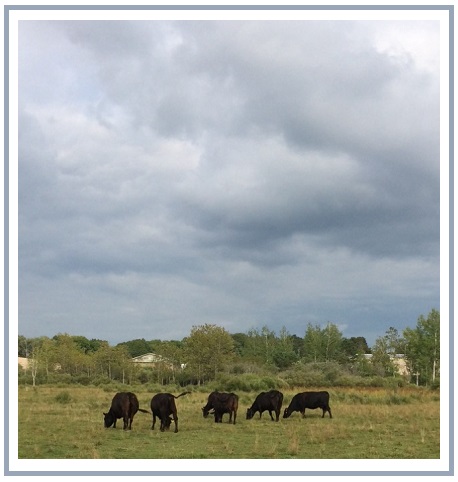 (Photographer's Name to come!!) -- Photo © Mac Heller -- (8 June 2015)
[This cloud cover led me to suggest the alternative name -- Impending Gloom.]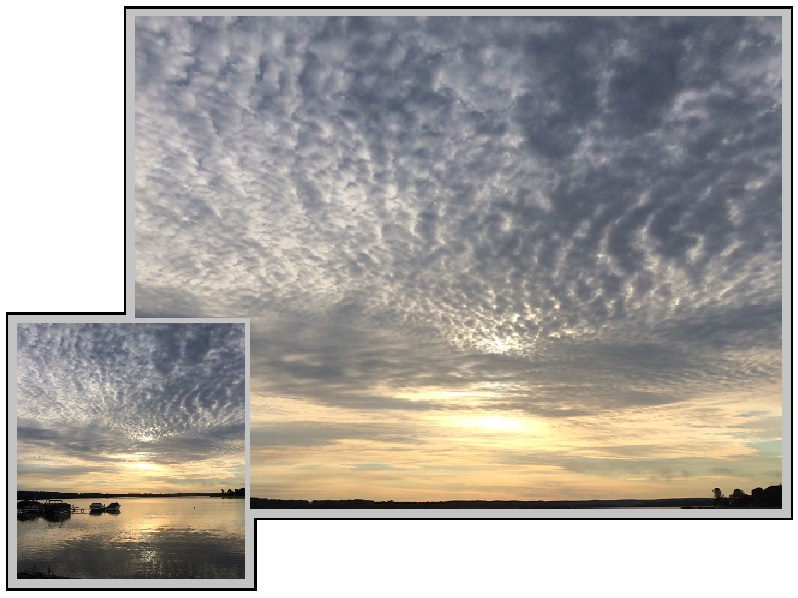 (Photographer's Name to come!!) -- Photo © Mac Heller -- (31 July 2015)
[This group led me to suggest the names Pegasus, Hi Yo Silver, and Kemo Sabe.]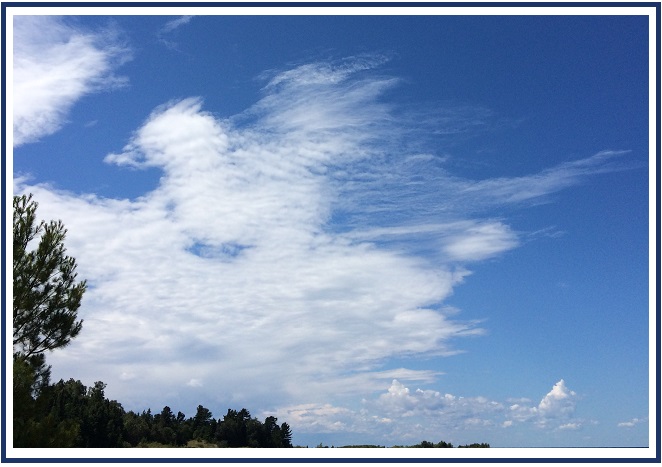 Wider ! ! -- Photo © Mac Heller -- (#2587 - ? ????? 2015)
[Title rvd's, not photographers. This grouping originally led me to suggest Oyez! Oyez!!; later, I thought of the word I heard so many times a wooden tongue-depressor was placed in my mouth to examine my often tender throat, even after I had told the doctor that I had my tonsils out (in the 1920s).]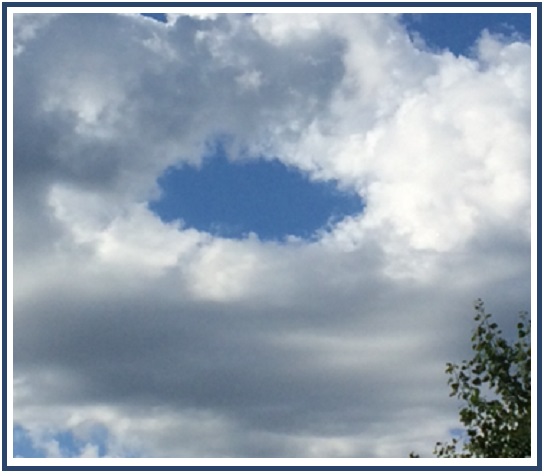 Dancing atop a ball ... -- Photo © Krista Brown -- (2 October 2015)
[This dog apparently thought that dancing like Elischer's young lady did would be a great activity. And, an alternative name: I Did Indeed! (lay it).]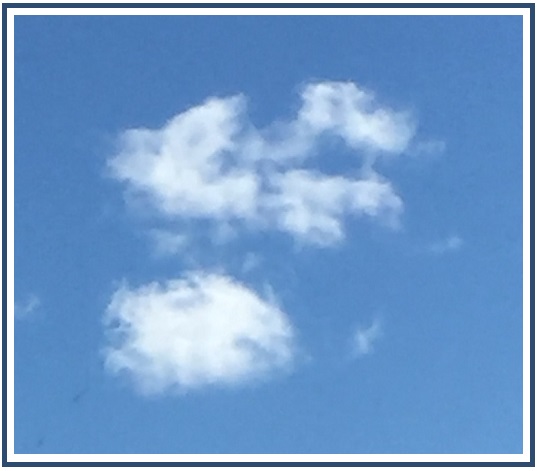 (Photographer's Name to come!!) -- Photo © Mac Heller -- (12 October 2015)
[Immediately, when I saw this photograph of clouds..., I thought "Tchaikovsky -- 1812 Overture" including the fireworks and punctuated by cannon fire and ringing church bells.]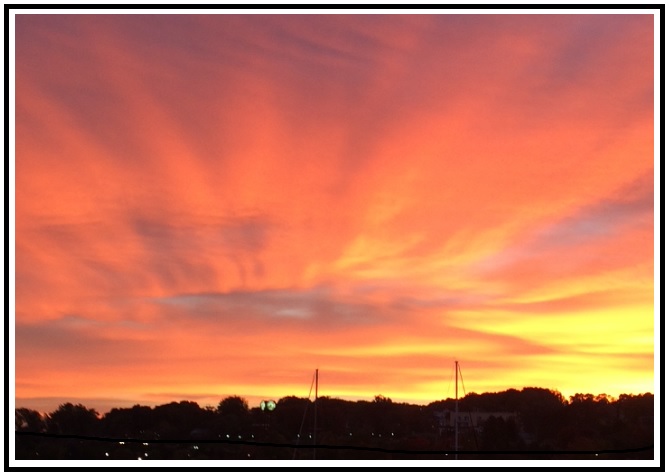 My hairdo UPSWEPT

!

--

Photo

©

Krista Brown

--
(23 October 2015)

[The big white bird? The jet trail? A high wind? -- Results quite obvious. Cause unknown.]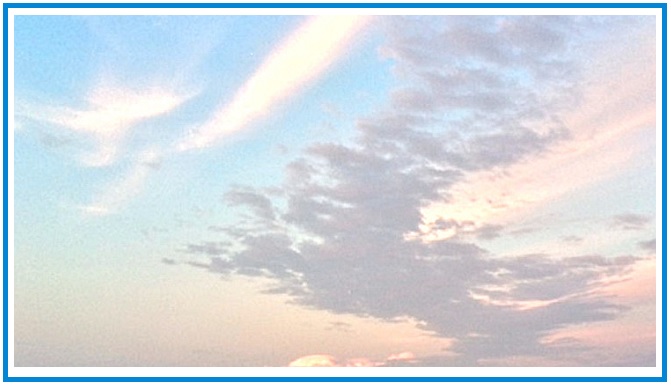 Boiling Over

--

Photo

©
Mac Heller
--
(2 January 2016)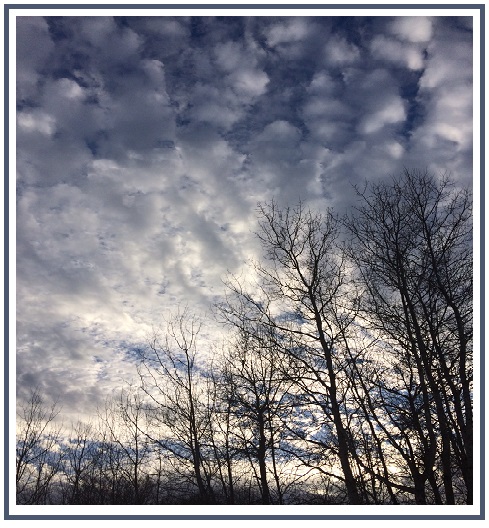 (Photographer's Name to come!!)

--

Photo

©
Mac Heller
--
(28 January 2016)
[

"I can see right through you, Harpo!"

]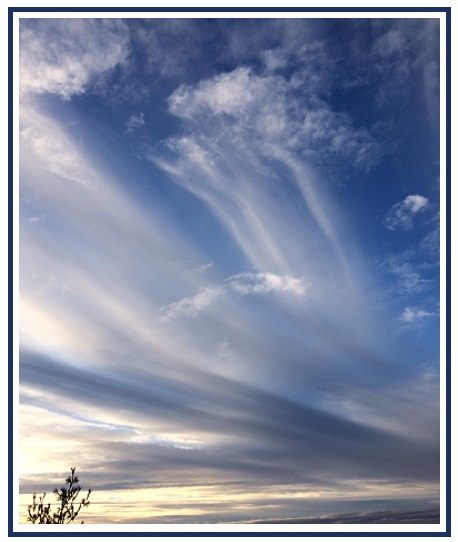 I Just Liked the Pattern ...

--

Photo

©

R. Dirk Titamgim

--
(29 January 2016)

[
Reminds me of a late 1920s "Belly Flop" at the North Side Pool.
]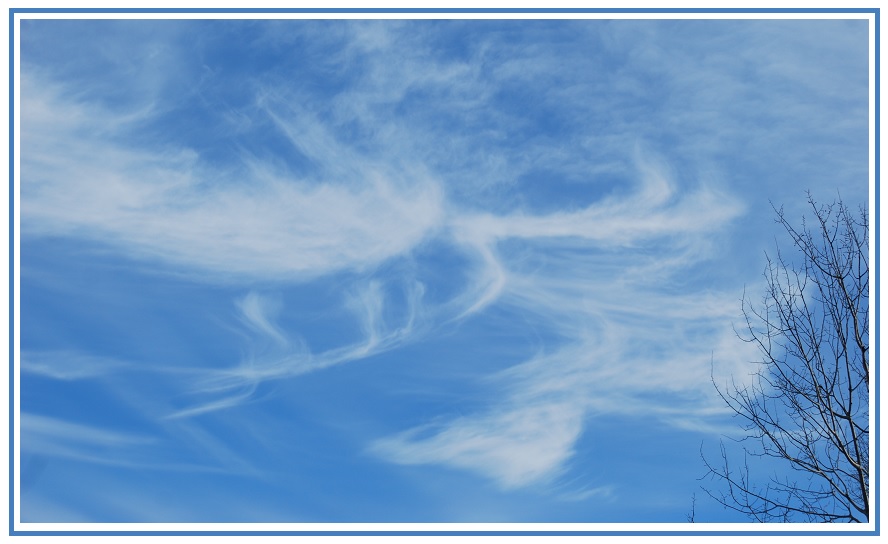 "Tree Smokestack"

--

Photo

©
Mac Heller
--
(29 May 2016)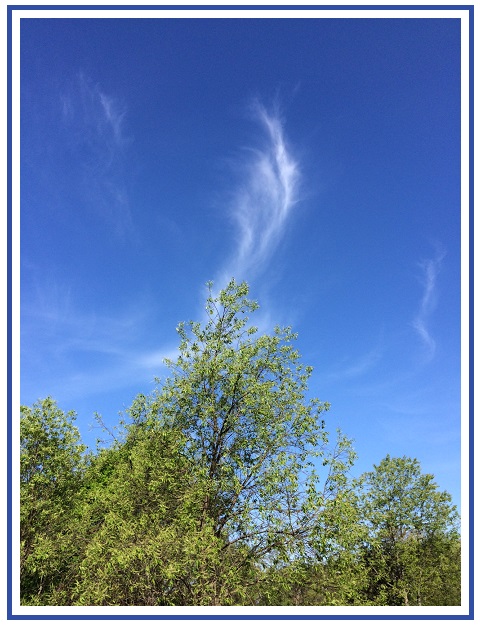 "Dr. Seuss is at it again!"

--

Photo

©
Mac Heller
--
(8 July 2016)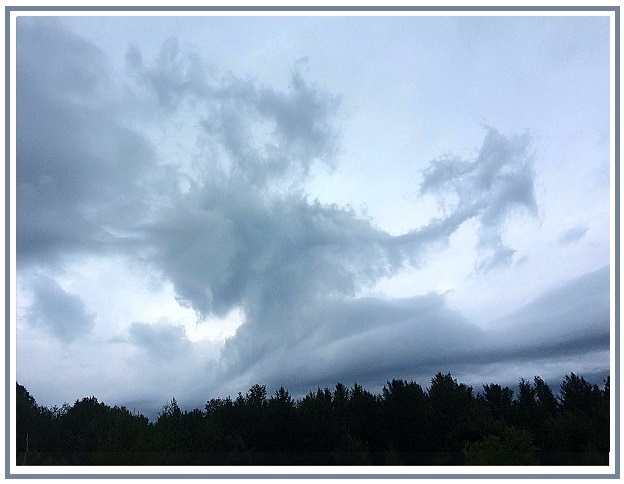 "

E.T.
"
--

Photo

©

Krista Brown

--
(12 July 2016)
[ This cloud form, the title of which is Krista's, and the overall backgroun reminded me of "Sky Blue-Pink" the description I heard Krista's Grandfather, whom she never knew, use many times when he saw skies like this one. ]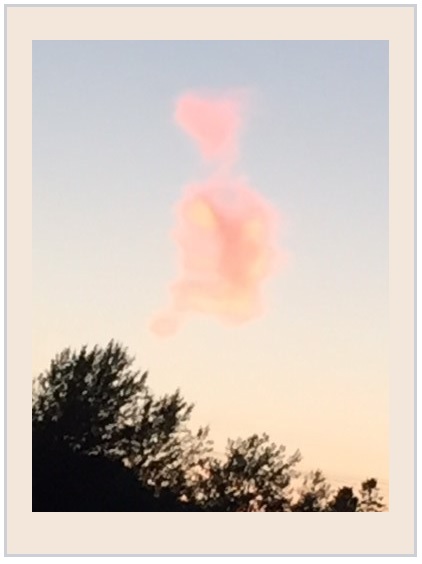 "Cloud Resting"

--

Photo

©
Mac Heller
--
(6 August 2016)

[ When I saw this fine photograph and Mac's title, I immediately wondered if this cloud and the sand dune setting were at Michigan's Sleeping Dunes area; among other things the cloud critter seems to have its eye closed. Thus, something like "Just WHO's Sleeping" seems to be a possible alternative caption, at least to me.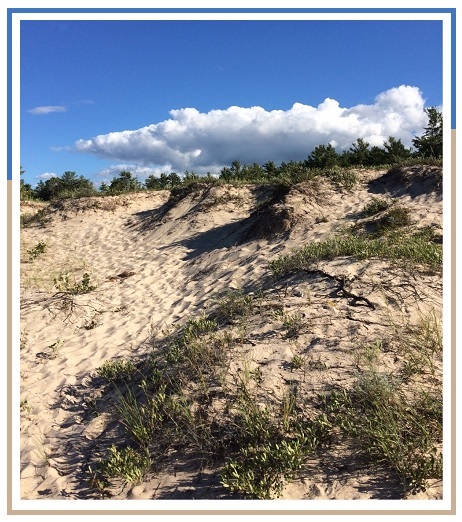 '
"

T.

Rex
" . . .
OR . . .

--

Photo

©

Krista Brown

--
(11 September 2016)
[ Selecting a caption for this cloud form was difficult -- e.g., should T. Rex be noted as having a problematic lower jaw(?) OR perhaps the form is just trying to be something else, perhaps related to the date it came this way(?) OR ? ? ? ? ? ? ? ? ]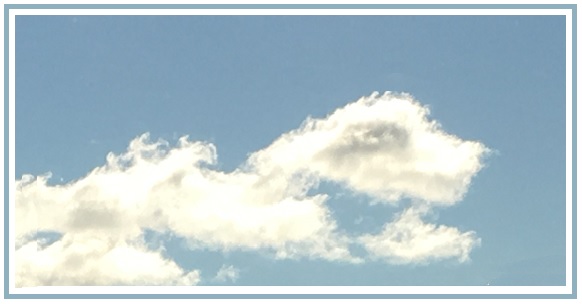 "Santa & His Reindeer"

--

Photo

©
Mac Heller
--
(September 2016)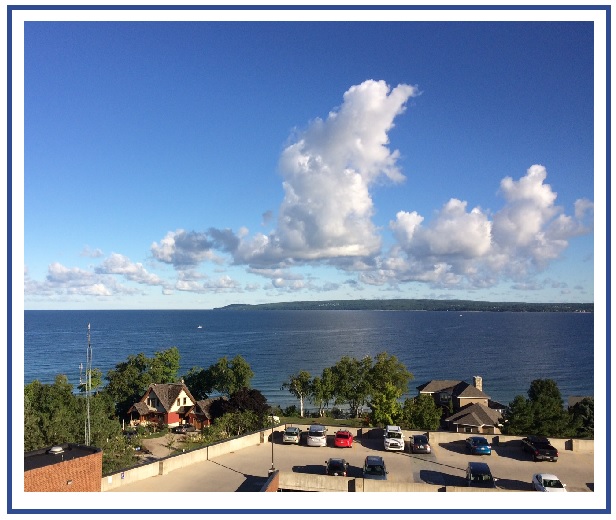 "The Whale"

--

Photo

©
Mac Heller
--
(October 2016)

[ This cloud-reflection combination seen to resemble a whale, by its photographer, made me wonder how many Jonah's were in the area between thie jaws of this whale. -- Knowing where this area is indicates to me that there were many more than the relatiavely few where lights of their homes, including those of a condo, appear in the photograph. ]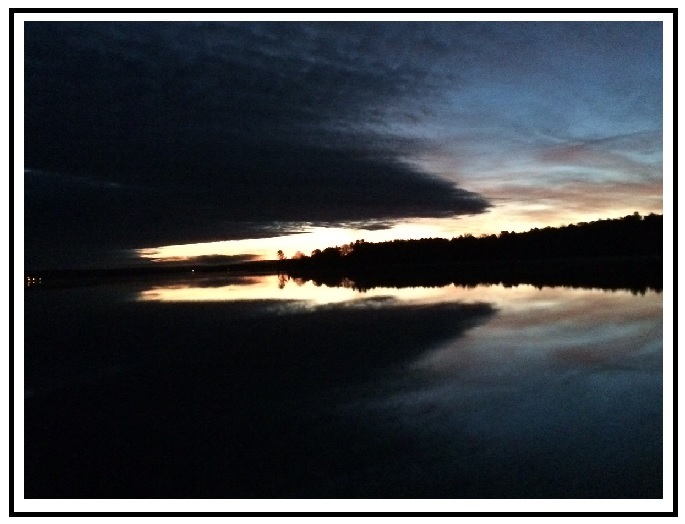 "Musing"
--

Photo

©

Krista Brown

--
(12 March 2017)
[ This photograph was tak
en from the French section of St. Martin Island in the Caribbean. Despite the fact that it seems of no connection, when I first saw it, I thought of the line "Not by the hair of my chiny chin chin." (source information per
Wikipedia: "a fable/fairy tale ... The Three Little Pigs
was included in
The Nursery Rhymes of England
(London and New York, c.1886), by James Halliwell-Phillips.")
. The "Musing" title, my choice (okayed by Krista): I thought of my "brother" Allen Chase, and how, after he had a major stroke, used to sit on his porch and "muse" as he watched wispy clouds as their shapes changed and many of them "dissolved" into the surrounding blue of the sky ... ]
"The Hand of God"
--

Photo

©

Mac Heller

--
(17 June 2017)
[ This photograph, and the title, given by Mac Heller, the photographer, made me wonder if his interpretation means that God is left-handed, a thought I hope is not considered sacrilegious -- among other things lefthandedness and ambidexterity has long be of interest to me because of my ambidextrous Grandfather Dietrich, my daughter Krista's lefthandedness, my erratic tendencies along this line, and
research that was done by a friend, Prof. I.D. Wilson (V.P.I.), that related to the effects on lefthanded people who during the early and mid 1900s had been prevailed upon to write with their right hands.]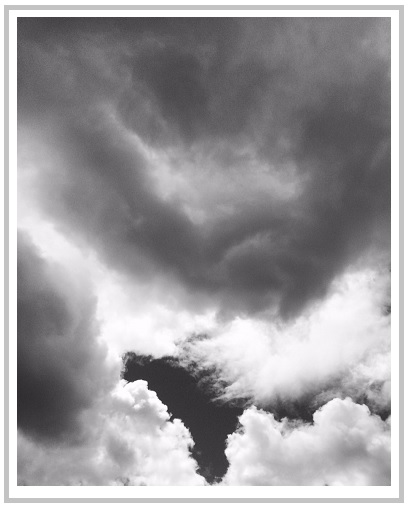 "V for Victory"
--

Photo

©

Mac Heller

--
(3 September 2017)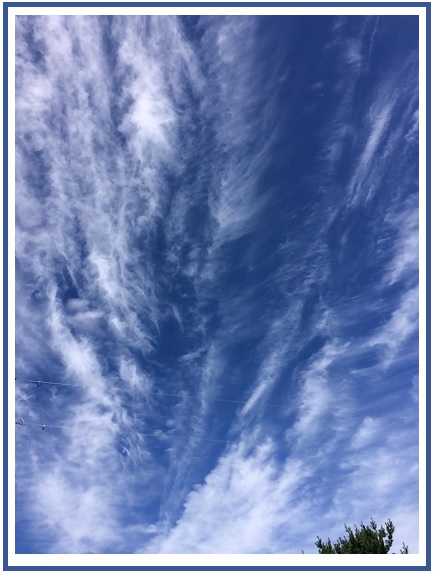 "Take Care ! ! ! "
--

Photo

©

Naomi Overton
--
(January 2018)

[ This photograph, was taken from the "Big Mac" bridge that extends across the Straits of Mackinac, which is between Michigan's Upper and Lower peninsulas. The title, mine (accepted by Dr. Overton) went through several -- some emphasized aspects of the cloud, others referred to the presence of the ice in the water below and to the west of the bridge, etc., etc. The chosen one kept coming to mind as the eyes of the dischevelled cloud "creature" seemed to say, "I am . . . "
This photograph is especially interesting in that one gets different ideas as to what it resembles by merely slightly changing the angle from which it is viewed. Three alternative titles: ?It's Cold Down there" (per flying fish, out of the water), "I'm Watching O"er You" &
"Keep Your Eyes on the Road !"
Yet another viewer "saw" a sea turtle swimming towards the left. Oh well -- ]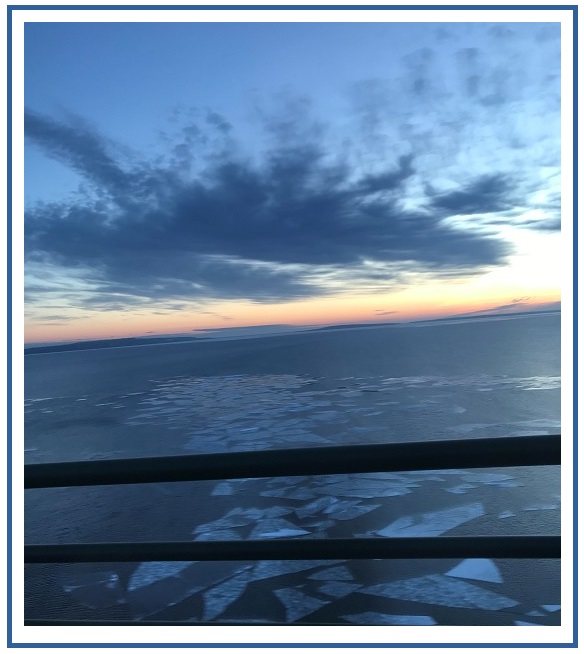 "Homing in"
-

Photo

©

Krista D. Brown
--
(January 2018)
[ This photograph, was taken in Boulder, Colorado One observer noted that the homing-in characters were "certainly not 'birds of a feather'.".]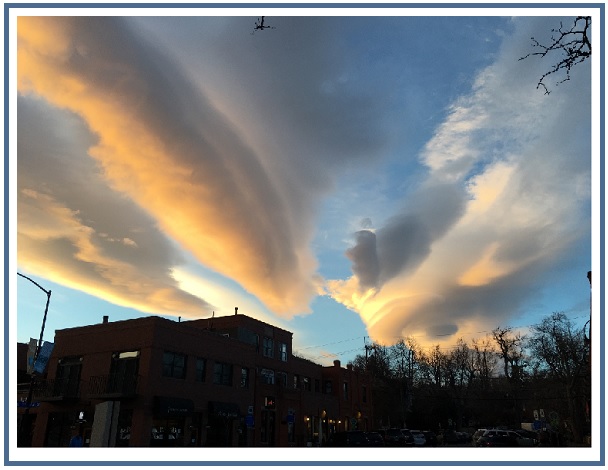 ---
---
Last Update
:
22 April 2018