CHRYSOCOLLA
( Fr- chrysocolle; Ger- Chrysokoll; Nor- krysokoll; Rus-

)
CHRYSOCOLLA, (Cu,Al)2H2Si2O5(OH)4·nH2O.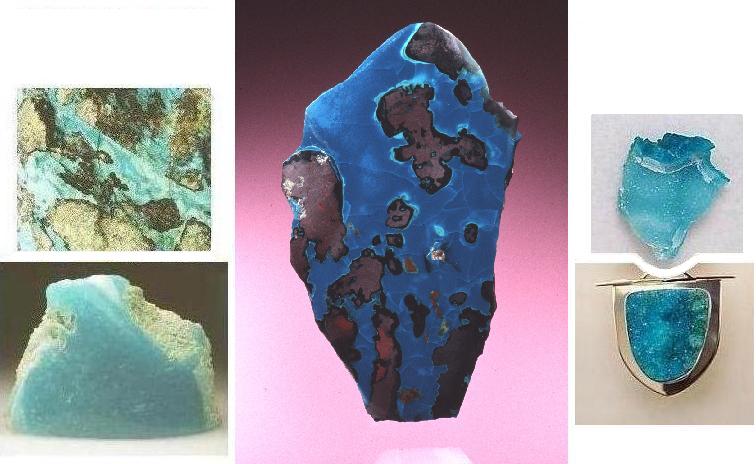 A. Chrysocolla, upper left, (width - 8.7 cm) from Inspiration Mine, Globe, Arizona. Arizona-Sonora Desert Museum. (© photo by Jeffrey A. Scovil)
B. Chrysocolla, middle, coating on cuprite (height - 4.5 cm) from the Allouez mine, Allouez, Michigan. Seaman Museum, Michigan Technological University. (© photo by John Jaszczak)
C. Drusy chrysocolla, upper right, (width - ca. 2.5 cm) from unnamed locality, Arizona. Bernardine Fine Art Jewelry, www.bernardine.com (© photo by Nancy Bernardine)
D. Chrysocolla, lower left, (width - 9.5 cm) from Silver City, Grant County, New Mexico. Canadian Museum of Nature. (© photo by Jeffrey A. Scovil)
E. Drusy chrysocolla pendant (width ca. 3.2 cm). This is actually the lower half of a pendant that includes two other stones. Bernardine Fine Art Jewelry, www.bernardine.com (© photo by Nancy Bernardine)
DESCRIPTION: Nearly all natural gemrocks marketed as chrysocolla consist largely of SiO2 -- i.e., they are chrysocolla intermixed with, impregnated by, or encrusted by quartz or chalcedony. The chrysocolla designation is applied because the chrysocolla content is responsible for the color, which is the selling point for these gemrocks. The chief difference between chrysocolla and the silica-bearing (etc.) chrysocollas relates to their effective hardnesses (1½ - 3½ versus ~7, respectively). In addition, chrysocolla tends to be fragile whereas silica-bearing (etc.) chrysocollas are not, and this is, of course, a major consideration so far as most gemrock uses. Nonetheless, some massive chrysocolla per se has also been used -- albeit only rarely -- as a gemrock (Robertson, 1981). The following properties are for chrysocolla per se.
Colors - diverse blue and bluish green hues
H. 3
S.G. 1.9-2.2
Light transmission - translucent to opaque
Luster - earthy, dull to vitreous
Breakage - brittle with subconchoidal fracture
Miscellany - typically cryptocrystalline; is decomposed by HCl. For some people, especially collectors, it may be significant to note that minerals such as ajoite, papagoite and shattuckite can be, and may have been, mistakenly identified as chrysocolla (Kammerling and Fryer, 1995, p.120); anyone who feels the need to have specimens or fashioned gemrock pieces, indicated to be chrysocolla, checked with regard to these possibilities should have the identifications made by a professional mineralogist.
OTHER NAMES:
Azurlite (azurchalcedony, chrysocolla chalcedony) - name sometimes given to blue or greenish blue chalcedony (most commonly marketed as "chrysocolla"), which also has been termed gumdrop blue (Koivula, Kammerling and Fritsch, 1994, p.49). See CHALCEDONY and TURQUOISE entries.
Blue chrysoprase - marketplace name sometime given for greenish blue chalcedony (

i.e.

, "chrysocolla").
Chalcedony chrysocolla (chrysocolla chalcedony) - chrysocolla intermixed with, impregnated by, or encrusted by chalcedony; the first two are the ones most commonly called "chrysocolla."

Chrysojasper - blue to greenish blue jasper that has chrysocolla as the pigment.
Chrysocolla-containing chalcedony - "chrysocolla," the appearance of which is somewhat similar to that of chrysoprase, from copper mines in the Globe mining district of Gila County, Arizona.
Chrysocolla quartz - chrysocolla intermixed with, impregnated by, or encrusted by quartz;

and

also sometimes applied to greenish blue chalcedony from copper deposits of Arizona and central Mexico, most of which is chalcedony that contains disseminated chrysocolla. Some of this latter material closely resembles high quality turquoise, for which it has been marketed as a simulant.

Copper malachite - misnomer for chrysocolla.
Demidovite - name that has been applied to blue compact chrysocolla from Nizhne, Tagilsk.
Druzy chrysocolla - name sometimes applied in the marketplace to chrysocolla, chrysocolla quartz, and chrysocolla-containing chalcedony encrusted with tiny, commonly sparkling, colorless quartz crystals (see Fig 3). For the most part, this is a marketplace name applied to jewelry with gemstones fashioned to retain these surfaces as part or all of their exhibited surfaces.
Eilat (Elat, Eliat, Ellat, Elath) stone - variegated blue and green mixtures of chrysocolla and other copper minerals (e.g., malachite, pseudomalachite and turquoise) from the so-called copper "Mines of King Solomon" near the Gulf of Aqaba, near the northwestern end of the Red Sea. A similar rock from Peru has apparently also been marketed as Eilat stone (Kammerling et al., 1995, p.206), and in the past, some Eilat stone has been described (and marketed?!?) as impure turquoise.
Gem silica chrysocolla - a marketplace name for chrysocolla quartz that is sometimes shortened to "gemsilica" or "silica chrysocolla."

Keystoneite - blue chalcedony the color of which is due to included chrysocolla.
Siliceous malachite - misnomer sometimes applied to "chrysocolla."
USES: Cabochons for diverse pieces of jewelry and ornaments, including figurines and carvings, some of which have been marketed as a turquoise substitutes.
OCCURRENCES: Typically as crusts, small stalactitelike, and/or botryoidal masses spatially associated with other secondary copper minerals within oxidized zones of copper deposits.
NOTEWORTHY LOCALITIES: Copper districts Congo (formerly Zaire, formerly Belgian Congo); Chile and Peru (e.g., Lily mine, near Ica); Barranca del Cobre, Chihuahua, Mexico. Also Arizona -- e.g., the Bisbee mine, Conchise County; mines of the Globe-Miami district of Gila County; the Morenci mine, Greenlee County; and the Ray mine, Pinal County. And, sporadically in copper-bearing rocks of Utah and New Mexico.
REMARKS: The designation chrysocolla is usually attributed to Theophrastus (ca. 315 B.C.); Mitchell (1979) notes that it is "from Greek words meaning gold and glue, originally given by the ancients to a mineral or minerals used for soldering gold, but long applied to various green copper minerals." Bisbeeite, a discredited mineral name, is the name given to chrysocolla, especially that from Arizona, in some publications.

Pure chrysocolla is fragile and tends to break easily, especially after undergoing what is frequently called spontaneous dehydration, when exposed to the atmosphere. Although much chrysocolla is marketed as "stabilized," to date I have found nothing recorded about the "stabilization" process(es) used other than a few cryptic remarks about suggesting the use of epoxy resin .
Some chrysocolla-colored chalcedony undergoes repeatable changes when soaked in water, dried, etc., or even with changes in humidity -- i.e., its blue color becomes more intense; it appears to become less opaque; and, as one might suspect, it takes on weight, attributable to the absorbed water. Examples of this material have been recorded from Mexico (Koivula, Kammerling and Fritsch, 1992, p.59-60) and Arizona (Johnson and Koivula, 1996, p.129-130).
According to Zeitner (1985), this gemrock was "voted the most popular American gem by lapidaries" during the 1950s.

SIMULANTS: None that I have seen or seen described.
REFERENCES: Robertson, 1981; Zeitner, 1985.
---
R. V. Dietrich © 2015
Last update: 16 Juley 2005
web page created by Emmett Mason