DATOLITE
( Fr- datolite; Ger- Datolith; Nor- datolitt; Rus-

)
DATOLITE, CaBSiO4(OH).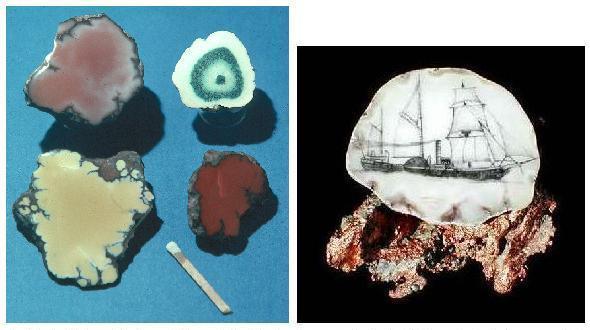 A. Datolite polished slices (match gives scale) from Keweenaw Peninsula, Michigan. (© photo by D.L. Brittain)

B. Datolite from Keewenaw Peninsula, Michigan with U.S.S. Michigan "scrimshaw engraving" (width - 12.3 cm) atop a native copper easel, also from the peninsula. Engraver, Jim Billings - for a description of processes Billings uses, see Robinson (2000). (© photo courtesy of Jim Billings, www.swedesgifts.com)

DESCRIPTION: Gemrock variety that comprises porcelaneous fine-granular masses, widely referred to as nodules:
Colors - dull rose-red, pink, orange, diverse yellows, pale to olive-green, purplish, white, off-white, gray, brown, nearly black; several of the colors are so-to-speak pastels (

i.e.,

light delicate hues) whereas others appear soiled (

i.e.

, a bit dirty); the colors of some nodules are mottled and/or zoned either irregularly or roughly concentrically.
H. 5 - 5½
S.G. 2.8 - 3.0
Light transmission - translucent to opaque
Luster - porcelaneous, pearly to subvitreous


Breakage

- subconchoidal to irregular
Miscellany - external surfaces of some nodules and of material in facture (

etc.

) are botryoidal; "bumpy, irregular surface of datolite nodules resembles a head of 'dirty cauliflower.' Broken surfaces show the interior's color. Weathered surfaces appear chalky white." (Robinson, 2003); some nodules from Michigan's Keweenaw Peninsula consist of many small nodules (see some of the illustrations in Rosemeyer, 2005); gelatinizes with HCl.

OTHER NAMES:
Botryolite - name ("botryolit") applied as early as 1808 to the botryoidal variety from the type locality, Arendal, Norway (see Dana, 1892); although seldom applied today, this term is listed and so-defined in the American Geological Institute's Glossary (Bates & Jackson, 1987).

Sugar stone - name sometimes applied to a pink datolite from the Keweenaw Peninsula of Michigan's Upper Peninsula that has a slightly coarser "sugarlike" texture than that of the typical nodules.

USES: Usually as cabochons, less commonly as polished "flats" for relatively large pieces of jewelry such as pendants and brooches; also for decorative items such as the illustrated "scrimshaw engraving" (Figure B).

OCCURRENCES: The following are based on data from the Keweenaw Peninsula of the Upper Peninsula of Michigan, with much of the information and the quotations from Rosemeyer (2003): As nodules, ranging up to "more than 18 inches [~ 45 cm] across"; as cavity fillings in basaltic rocks; sporadically as the matrix material of brecciated basalts; as "chalky white pebbles and cobbles" in sporadic gravels within the area; [and] "In the late 1990s the area became popular with many mineral-collectors- turned-scuba-divers or vice versa, who worked the bottom of the lake for loose and in-siu datolites." Also, as might be expected, several nodules have been found in the mine dumps (see under next subheading).

NOTEWORTHY LOCALITY: Michigan "Copper country" -- see localities on the Keweenaw Peninsula and Isle Royale National Park of northwestern Michigan given by Rosemeyer (2003), who notes that "datolite nodules have been found at more than eighty mines and prospects in the Michigan copper district (excluding Isle Royale National Park), but only about forty have supplied specimen-grade datolite in both size and color. Three localities stand out as being "classic," based on the sheer number of nodules recovered and their sizes and diversity of colors and patterns. These are the Delaware mine, the Pewabic lode (Quincy, Mesnard, and Franklin mines), and the Caledonia mine."

REMARKS: Dense massive datolite used as a gemrock is quite unlike the more widespread typically transparent crystals of datolite. It is of at least passing interest, however, that the mineral name was based on the compact massive variety --

i.e.,

gemrock type, porcelaneous datolite. This name, which Dana (1892) notes as introduced in 1806 by Professor Jens Esmark of the famous

Mining Academy at Kongsberg

,

is based on the Greek δατέισθαι (

to divide

), which alludes to the granular texture. The type locality, where both the compact massive variety and crystals occur is Arendal, Norway.

Although cause(s) of some of diverse colors of these nodules is not proved, it appears that the presence of microscopic inclusions of native copper and very likely its alteration products (

e.g.

, paratacamite and tenorite,which have been recorded) are responsible for at least some of those colors. According to Rosemeyer (2003) "A limited amount of microprobe work carried out at Michigan Technological University in the last few years indicated that the copper

and silver

in porcelaneous datolite act as coloring agents. (my emphasis)"

Lindsay Tomasic,

Composer, Singer/Songwriter, Producer, Recording Engineer -- of whom it is said "she may not be a household name, but her music is in every household. With percussionist and writing partner Quinn, Tomasic has the unusual job of writing television and film 'trailers,' snippets of songs (ten to thirty seconds) used to advertise everything from prime time series ('Chicago Hope,' 'Murphy Brown,' 'Touched By an Angel,') to upcoming attractions and special events (CBS' coverage of the Nagano Olympics)." (www.datolitemsic.com) -- named her music production company Datolite Music Productions after this mineral. I suspect this relates to her coming from Michigan's Upper Peninsula, where her father was a copper miner and musician. In any case, one wonders how many minerals have had such exposure outside the world of minerals, rocks and gemstones.



SIMULANT:


Bakerite, Ca4B5Si3O15(OH)5 (i.e., the massive porcelaneous variety found as nodules) - although the appearance of both nodules and polished pieces roughly resemble datolite, I have never seen any bakerite marketed as datolite; nonetheless, one should be on the lookout for such a substitution. - [inferior hardness (H.4½)]. (By the way, bakerite has also been used as a trade name -- i.e., "Bakerite [,] oven-tested" -- for porcelain chinaware items such as cake plates, pie "tins" and bean pots.)


Howlite, Ca2SiB5O9(OH)9 (i.e., the massive porcelaneous variety found as nodules) - although the appearance of both nodules and polished pieces resemble datolite, and it is know that it is rather easily dyed and consequently could be dyed to more or less match at least some of the diverse colors of datolite, I have not seen any howlite marketed as datolite; nonetheless, one should be on the lookout for such substitution. - [inferior hardness of howlite (H.3½)].



REFERENCE: MacFall, 1983; Rosemeyer, 2003, 2005 & 2009.
---
R. V. Dietrich © 2015
Last update: 8 March 2009
web page created by Emmett Mason