FOSSILIFEROUS ROCKS
( Singular nouns: Fr- fossile-riche roche/roche fossilifere; Ger- fossilienhaltig Gestein;
Nor- fossilførende stein; Rus-

... )
FOSSILIFEROUS ROCKS (See also the AMBER entry.)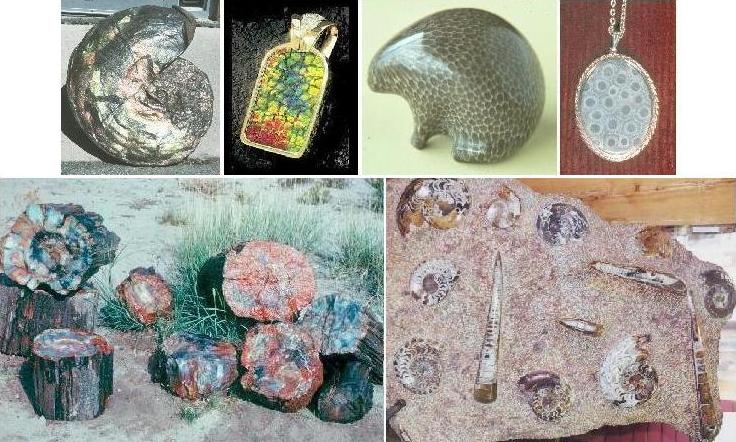 A. Iridescent nacreous aragonite outer layers of a fossil ammonite (Placenticeras meeki), from Bearpaw Formation exposures on the Kormos Farm, Magrath, Alberta, Canada. This material, which exhibits several diverse qualities and color intensities (cf. "B"), occurs sporadically in the vicinity of Lethbridge, Alberta, Canada. Pieces incorporated in jewelry have been marketed as ammolite, calcentine and korite. Canadian Museum of Nature. (© photo by Frederick H. Pough)
B. Iridescent aragonite. Pendant (greater dimension - 4.0 cm) of ammolite with fractured outer layer of a fossil ammonite (Placenticeras intercalare) from near Lethbridge, Alberta, Canada. (© courtesy of Korite International Ltd.)
C. Fossil favosites coral carved and polished to resemble a porcupine (height - ca. 10 cm).(photo by D.L. Brittain)
D. Petoskey stone pendant (greater dimension - ca. 5.0 cm). (© photo by Dick Dietrich)
E. Petrified wood, Petrified Forest National Park, Arizona. (© photo by Dick Dietrich)
F. Fossiliferous rock. Well prepared and in part polished slab (height - ca. 100 cm) with diverse Mesozoic cephalopods. Comstock Rock Shop, Virginia City, Nevada. (© photo by Sue Monroe)
G. "Turritella" agate polished piece -- see at end of OTHER NAMES list.
DESCRIPTION: The term fossiliferous rock may be applied to any fossil-bearing rock. Those mentioned herein are only a few examples of many that have been used as gemrocks. Some fossiliferous rocks have been selected for use as gemrocks because of the identities of their contained fossils; others have been chosen because of the patterns their included fossils give when cut in certain directions. The name usually applied to these rocks in the marketplace is the name of the rock preceded by either the name of the predominant fossil (e.g., coraline marble) or the adjective fossiliferous if the rock contains more than one kind of fossil with none predominant (e.g., fossiliferous limestone). Several other names, however, have been used, most of them based either on the locality from which the rock came or someone's idea of a term that might increase sales of anything made from the rock. Because each of these gemrocks is so-to-speak unique, descriptions, noteworthy localities, etc. are included in the comments given after several of the materials listed under the OTHER NAMES subheading.
OTHER NAMES:
Agatized coral - silicified coral from the Ballast Point area of Tampa Bay, Florida that has been fashioned into jewelry and ornaments.
Agatized wood - silicified wood, most of which is chalcedony or jasper from several localities. Most of the petrified wood that is so- designated doesn't have the characteristics of agate; for accuracy, each piece should be called by its correct name -- e.g., chalcedonized wood, jasperized wood or, perhaps even better/safer, just silicified wood.
Ammolite (calcentine, korite) - trade names given to vibrantly iridescent bits of the nacreous aragonite layers fossil ammonites (Placenticeras meeki/Placenticeras intercalare) that occur in the Late Cretaceous Bearpaw Formation near Lethbridge, Alberta, Canada. Marketed as "One of Nature's rarest gems" and dubbed "Grandmother of Pearl" (Pough, 1986), this material has been fashioned into gemstones used in rings, brooches etc. For an extensive, well illustrated description of this material, see Mychaluk, Levinson and Hall (2001);

for an update, see Mychaluk, 2009

. Many of the fashioned cabochons (etc.) are assembled stones -- see under SIMULANTS subheading.

Baculites - members of this genus of extinct ammonites, especially those that have been pyritized -- e.g., internal molds that consist largely of the mineral pyrite (= "fool's gold") -- have been use as pendants etc. At least one of these was marketed "as (spelled phonetically) 'declenite', and [indicated to have grown] ... in smoke/steam stacks of chemical processing plant or factory in eastern Europe." (Jenesa Spiva, email dated Jun 11, 2008). By the way, some people refer to baculites -- especially those that are relatively long -- as "walking stick rocks."

Beckite - a general term sometimes applied to several different silicified fossil-bearing rocks that have been used as gemrocks.
Bethersden marble - a dove-gray to reddish brown limestone that contains fossil snail shells, possibly of freshwater origin, from England.
Bone turquoise - fossil bones or teeth colored blue by some iron phosphate -- see under SIMULATES subheading in TURQUOISE entry.
Calcentine - see Ammolite.
Chinarump - name sometimes given to petrified wood from Arizona.
Coraline marble (or limestone) - a number of diverse coral-bearing rocks have been fashioned as cabochons for jewelry and carved (and often also polished) into diverse ornaments. A few of them have been given special names -- two examples are Petoskey stone and Ogwell marble.
Crinoid "stems" - segments of fossil crinoid "stems", which are thick-walled circular cylinders (commonly with star-shaped central holes). Sometimes referred to as "Indian beads" because of their use by pre-Columbian native Americans, today these stem segments continue to be used as beads, especially by beachcombers but also by some jewelry designers, who incorporate them in "arty" necklaces and bracelets.
Cycad - an exceptionally fine silicified example, found along the eastern side of the Henry Mountains, about 25 miles south of Hanksville, Wayne County, Utah exhibits an amazing array of diverse colors along with diamond-shaped configurations (Spendlove, 1979).
Dinosaur bone agate - an overall red, brown or rarely dark blue, chiefly silica material that exhibits a pattern that resembles a fine-grained breccia with the larger lighter colored fragments surrounded by a relatively sparse darker matrix, which, respectively, are thought to represent porous bone and hard bone matrix. (A few pieces represented as this material have other colors, probably as the result of dyeing.) Many specimens fashioned into, for example, cabochons have come from Arizona, Colorado, New Mexico, Utah, and Wyoming.

[

Dinolite - this name has been introduced for composites that consist of ammolite, dinosaur bone, sugilite and turquoise and/or malachite that have been crafted into , for example, pendants (Mychaluk, 2009).

]

Dinosaur bones replaced by carnelian have been found in Dinosaur National Monument in northwestern Colorado and adjacent Utah, east of Vernal, Uintah County, Utah.
Dinosaur dung - bookends marketed as such were noted as "fossilized droppings . . . millions of years old and probably the most remarkable accent piece you can find. Your friends will be amazed (and amused)." One has to wonder about the taste of both the merchandiser and anyone who buys such pieces, eh (?).
Encrinite (also encrinal or encrinital marble) - term(s) applied widely to crinoid-rich, for the most part stems, calcareous rocks that take a good polish -- examples are the so-called bird'seye marble quarried at Iowa City, Iowa; the crinoid-bearing limestone of the Lambert Ranch in San Saba County, Texas; and a widely known one from Derbyshire, England.
Figure stones - a widely applied name, especially in the past, to all sorts of fossiliferous rocks, many of which are mimetolithic.
Fire marble - a brown limestone from Bleiberg, Carinthia, Austria that is characterized by sporadic areas that exhibit firelike appearances as the result of reflections emitted from included fossil shells that are chatoyant.
Fossil pearls - dark olive green and brownish "pearls" that appear to represent Melo and/or conch pearls (one of which appears to have been a blister pearl) are recorded and illustrated in Anonymous (nd.); my attention was directed to them by Bruno Jordan (personal communication, 2006).

Fossil rock - a term that could be used for virtually all of the gemrocks treated in this entry. I actually saw this simple designation applied to a fossil-rich rock, the identity of which I did not check, from Baja California, Mexico.
Fossilipherous - trade name, used as a noun, for diverse fossil-bearing rocks fashioned into ornaments. In my opinion, this term tops the list so far as inanity!.
Goniobasis agate - "About 20 per cent of the results of a Google search on the work 'turritella' [q.v.] are

Goniobasis

agate." (Allmon, 2009)

Griotte - name given to a fine-grained, reddish colored, goniatite-bearing limestone.
Korite - see Ammolite.
Lens stone - fossiliferous limestone from vicinity of Caen, France; actually used more as a facing stone than as a gemrock, a fine example of this rock may be seen where it graces the walls of the vestibule and reception foyer of the National Academy of Sciences building, Washington, D.C.
Lithoxyle, lithoxyl and lithoxyli - terms sometimes applied to opalized wood in which the original woody structure is well-preserved.
Lumachelle - iridescent fossil pelecypod shells that occur within a dark gray or brownish marble that occurs in the vicinity of Bleiberg, Kärnten, Austria.

Madammolite - iridescent ammonite from Madagascar that has been fashoined into cabochons and various other shapes have been marketed under this name (Laurs, 2011).



Ogwell marble (also Red ogwell marble) - a limestone containing fossil favosites (corals) from Devonshire, England.
Oolitic (or pisolitic) cherts and limestones - these rocks from several localities have been tumbled, cut and polished as cabochons for jewelry, or carved into such things as fetishes.
Opalized wood - term applied widely to silicified wood that consists largely to wholly of opal. Typically, this material constitutes only part of any given silicified tree.
Petoskey stone (sometimes called Petoskey agate) - colonial rugose coral (Hexagonaria percrinata) within rocks and as beach pebbles derived from those rocks in the region around and generally south of Petoskey, Emmet County, Michigan. Typically gray or grayish tan, these rocks' use as gemrocks depends upon their patterns: Cabochons for jewelry are usually cut to exhibit the characteristic hexagonal pattern formed perpendicular to the direction of growth of these corals; some carvings and ornaments, however, are fashioned also to exhibit the pattern of relatively long subparallel lines parallel to the direction of growth -- e.g., mushrooms with hexagonal-patterned caps and linear stems.

A recent report (Robinson and Reed, 2013) records Petoskey stones with diversecolors -- i.e., "... from almost white to tan, dark gray, or brown, with darker colorations presumably due to higher petroleum content. The rarest coloration, however, is a pink hue that may be restricted to a small area of the stone or saturate the entire stone. [However,] Only one in perhaps three hundred to five hundred stones will show a pink color. ... Most [of which] show a mottled pigmentation, ... " They conclude that the pink coloration is due to the presence of iron, probably hematite.



Petrified live oak - this silicified wood, some with wood-borer holes, has also been found here and there within this same region as is listed for Petrified palm wood, the next listed term.
Petrified palm wood - orange-tan, reddish brown, medium brown, and multicolored silicified palm wood. Materials so identified have been given a number of names such as opal wood, palm root agate and jasperized palm. Most have come from unconsolidated rubble of Tertiary and Quaternary terraces and gravel deposits in eastern Texas, Louisiana, Mississippi and Alabama, inland from the Gulf of Mexico and also in southern Arkansas.
Petrified wood in general - most petrified wood consists largely of one or more of the silica minerals/rocks (including opal). This has led to frequent, and more prudent, use of the general term silicified wood. Some petrified wood faithfully preserves such features as bark structures, wood grain, and even pith of the precursor wood. Many especially well preserved specimens of petrified wood have been found within volcanic ash deposits from which the silica appears to have been derived. Petrified wood with precursors of several diverse species and also petrified cones and related ferns and cycads have found use as gemrocks. Other names used include names such as agatized wood (= wood agate), jasperized wood (=xyloid), and opalized wood (xylopal, lithoxyle, lighoxyl or lighoxylite). A well known locality for petrified wood, most of which is best characterized as jasper, is the Petrified Forest National Park, east of Holbrook, Arizona; another well-known occurrence is the petrified forests near Cairo, Egypt. Items have been fashioned from diverse petrified wood rough of several different colors, with a greenish blue seemingly the most eagerly sought (see Quinn, 2004).
Shell agate - agate containing silicified mollusc shells. An especially well known example is "Turritella" agate, a highly siliceous rock so-to-speak chuck full of gastropods (Elimia tenera) <>replaced by chalcedony. Most of this material is chalcedony or jasper rather than either of the varieties of chalcedony usually characterized as agate. This fact not withstanding, much so-called shell agate used for fashioning costume jewelry and diverse ornaments has been recovered in Wyoming.
Silicified wood - a good, all-inclusive, noncommital term used for silica-rich petrified wood -- it can be used to describe, for example, the so-called agatized woods, wood replaced by either chalcedony or jasper, opalized wood, and all combinations of such petrified wood.
Stingray coral - white, gray and blue-gray fossilized Favosites coral from a Silurian reef "exposed in the intertidal zone of a remote island off the coast of Alaska's Prince of Wales Island" that has been fashioned into polished slabs and used for "inlay[s] in men's accessories such as rings, tie tacks and cufflinks." This marketplace name is said to have been chosen because the pattern exhibited on surfaces cut perpendicular to the "cells" resembles that of stingrays' skins. (Laurs, 2002, p.93).
Turritella agate - See Shell agate. -- This is one of the most widely used fossiliferous gemrocks. Attention is directed to the article by Allmon (2009) in which he states " 'Turritella agate' is not what its name says it is: it is not agate, and it is not made of fossil snails of the marine genus

Turritella

."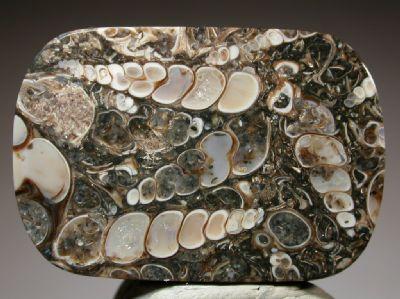 G
.
"Turritella" agate
polished piece (width - 4 cm), Wamsutter Ridge, southwestern Wyoming.
(
© photo by courtesy of Webminerals s.a.s.
, www.webgemshop.com)
USES: Necklaces (dating to ca. 28,000 B.C.) that include fossilized pelecypods and gastropods as beads have been recorded from a Gravettian Culture site at Pavlov, which is about 25 km west of Jihlava in central Czech Republic (Dubin,1987). More recently, several gemrocks that are best designated as fossiliferous rocks have been used as the "rough" for fashioning gemstones -- usually for larger pieces such as brooches, pendants, belt buckles and ornament bars for bolo ties; many of these rocks have also been used as the rough material from which both functional (e.g., buttons, dishes, bowls and guitar picks) and diverse decorative ornaments (e.g., carved figurines for "whatnots") have been fashioned. Another group of objects that falls into this category of uses comprises the decorative rocks created by the ultra-fine preparation of fossil-bearing specimens that contain either individual or groups of fossils; several such specimens are displayed in offices and homes because of their so-to-speak artistic appearance and/or value as conversational pieces rather than because of their scientific (i.e., paleontological) value -- see Figure F and examples shown in Jones (1999). Also, dinosaur bones have been fashioned into such things as pendants, ear rings and cuff links. In addition, individual fossils -- e.g., well defined trilobites and brachiopods carefully removed from their host rocks -- have been used as pendants by merely drilling holes in or through them for insertion of a post, loop or chain, and some of these kinds of individual fossils have been used to make molds for, for example, gold castings that are used as pendants, earrings, tietacks, etc.

Attention is also directed to the statement about the clams that are replaced at least in part by carnelian -- see Chalcedony entry, under the USES subheading.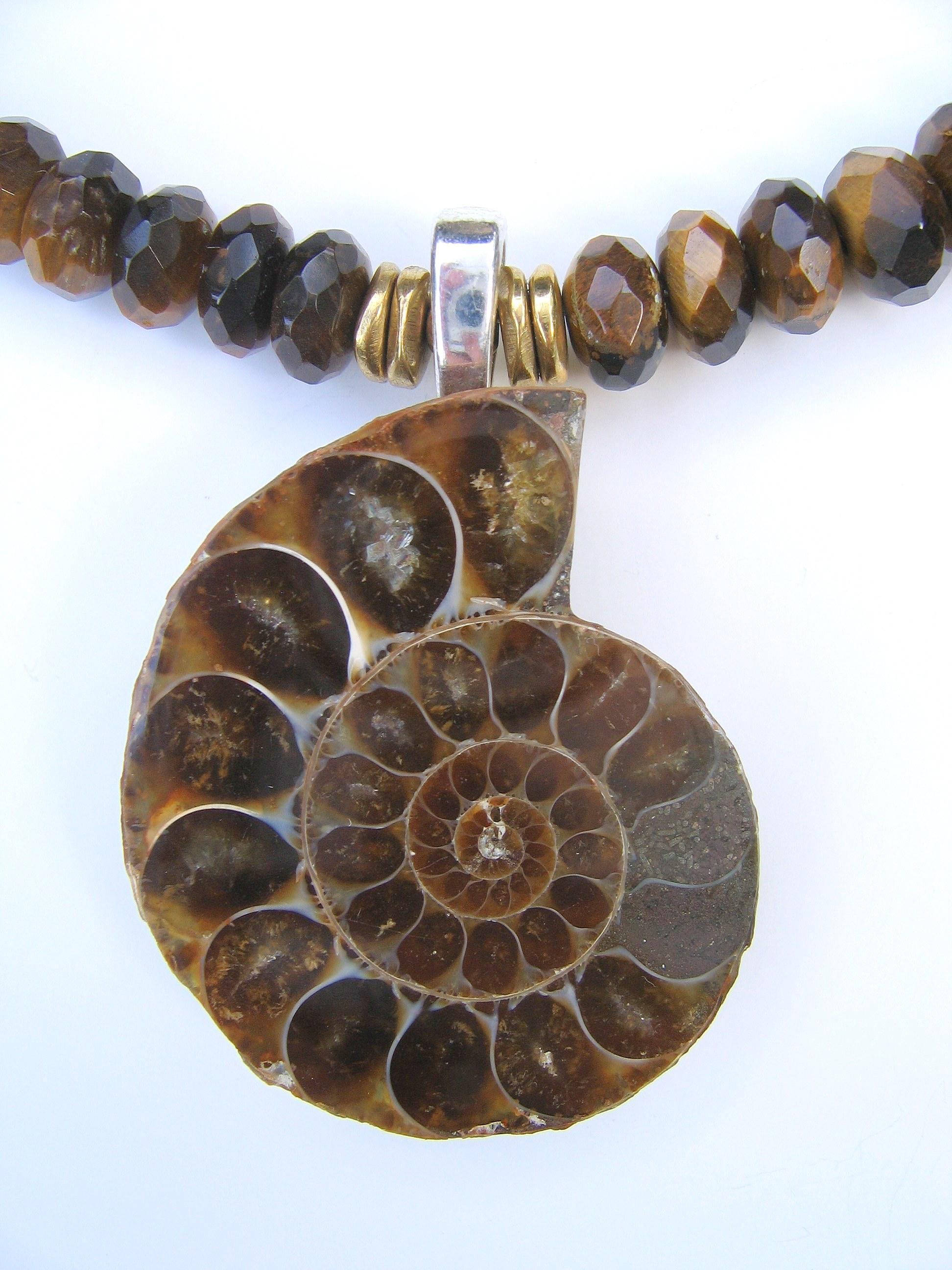 H. Ammonite pendant. This cephalopod (41 cm. - height as shown) is from Madagascar. It was sliced to show the internal structure of its shell before being mounted for use as a pendant. The reverse (out) side exhibits a multicolored sheen similar to that exhibited by mother-of-pearl. The necklace to which it is attached is faceted tigers-eye. (© photo by courtesy Gail Coppock, http://www.gailsart.com/Jewelry.html)


OCCURRENCES: Most fossils occur in sedimentary rocks; a few occur in volcanic rocks; fewer occur in the metamorphosed products of these rocks; [and] some petrified plants and animals have been found in unconsolidated sediments.

LOCALITIES: Widespread -- a few examples are noted in the statements following the terms listed under the OTHER NAMES subheading.

REMARKS: I have always been somewhat nonplussed about the origin -- or perhaps more, the general application -- of the term fossil: It comes from the Latin fossilis(dug up), and my observations and experience indicate that fossils are less frequently dug up than minerals and rocks, and especially ores. To add to my bewilderment, I early learned that Georgius Agricola (Georg Bauer, 1494-1555) is widely recognized as the "Father of Mineralogy" because of his classic De Natura Fossilium, which is widely considered to be the first textbook of mineralogy. In any case, since at least the middle 1600s, the term fossil has been applied almost exclusively to remains of plants and animals, most of which have been so-to-speak lithified.


The Petoskey stone and the city in Emmet County, in the northwestern part of Michigan's lower peninsula, were named after Chief Ignatius Petoskey (1787-1885) who founded the community. Petoskey's father was a French fur trader and his mother was an Odawa (Ottawa) Indian. His first name Ignatius was bestowed upon him by Jesuit missionaries; his Odaw name was, as spelled by the Indians -- in order make it closer to their ponounciation -- was Biidassige or Pe-to-se-ga, which translated means "One who brings light" or "Light shines through." In any case, his name became recorded as Ignatius Petoskey. One has to wonder if "Biidassige stone" or even "Petosega stone" would have gained the wide recognition that Petoskey stone has.


Ammolite (etc.), much of which occurs in relatively thin pieces, is commonly impregnated with a polymer to give them strength and, in some cases, increase the depth of their diverse colors -- see Figure B.

The name buffalo stone was given by North American Plains Indians to fossils considered to be charms that would insure those who carried them success while hunting buffalos.

Petrified wood is Arizona's representative among the nearly 200 commemorative "stones," including at least one from each of the 50 states, that are mounted inside the Washington Monument.


The Petoskey stone is the official state stone of Michigan. Petrified wood is the state fossil of Arizona, the state stone of Mississippi, and the state gem of Washington. Teredo petrified wood is the state fossil of North Dakota. Petrified palmwood is the state stone of Texas. The "sea scorpion," the euripterid Eurypterus remipes, is the state fossil of New York.


SIMULANTS: As indicated by a story frequently repeated within the geological community -- although apparently not wholly correct (Sanders, 1960) -- fakery of fossils is nothing new: Briefly, that story holds that several of the "fossils" described and figured by Johann Bartholomaeus Adam Beringer -- Professor of Natural History, University of Wurzburg -- in his treatise "Lithographiae Wirceburgensis" (1726) were carved by students, who placed them where he would find them, which he did, only later to learn he had been so-to-speak become the spokesman for a hoax. Another such hoax that involves the "Cardiff Giant," first reported as a fossil man, is described in the third paragraph under the REMARKS subheading in the ALABASTER entry.

Assembled ammolite - strictly speaking, these units are not silimulants. Many are triplets -- e.g., a "Triplet, consisting of a glass top and mosaic inlay of natural fossilized ammonite shell fragments with a thick black backing," (Johnson et al., 2000, p.261-262). - [Many assembled stones can be seen to be such by examination with a handlens; also, the glass of the one just mentioned has a superior hardness (H. ~5).]. Other triplets have also been marketed -- e.g., those backed by such things as glass, onyx or even shale, and so-to-speak covered with relatively hard materials such as synthetic quartz or spinel. These top layers serve to protect ammolite, which is rather soft and often even crumbly; indeed much of it that has been fashioned into jewelry has also been stabilized with a polymer even before being assembled, as just noted.


***Glass - a glass bead apparently made to resemble fossiliferous limestone is illustrated by Liu (1995, p.222). - [appearance].

***Plastic (in part) -The following are hybrids rather than simulants per se. -- Whereas most cabochon ammolite doublets and triplets have a thin slice of ammolite along with one or two plastic layer(s), in some of the more recently marketed ones, the ammolite layer consists of a plastic-bound mosaic of small fragments of ammolite (Johnson et al., 2000).

***Resin - Two examples: 1.Winterthur has recently advertized and illustrated 12-inch spheres ("faux seashell sculpture[s]") the surfaces of which are covered with mollusc-shaped masses in relief. 2.Design Toscano has recently advertized some cast resin faux fossil display pieces as follows: "Recently the remains of two fossilized creatures thought to be Dragons, arrived at our offices via a mysterious Parcel Post. . . We opened the . . . wooden crates, and unfolded the burlap . . . to discover bas-relief, two-toned . . . dragon fossils unearthed in Wales and sent by Dr. Rex Solomon, an eccentric British anthropologist. . . . [you can be the owner of and thrilled by] the 'authenticity' of these [fossils]." - [Appearance suffices for any of these I have seen; if one is undecided, check with a paleontologist.].

Snake skin agate - misnomer applied to some chalcedony within lava (?) that roughly resembles snake skin -- e.g., those from Grants area, Cibola County, New Mexico. - [Appearance suffices.].

***Two additional examples of so-to-speak falsifying fossils are noted in the AMBER entry, under the SIMULANTS subheading.

Also, see "fossil turtles" under the REMARKS subheading in the SEPTARIUM entry.

REFERENCES: No general reference. BUT a number of paleontology and historical geology textbooks contain indirectly interesting information about fossils and their occurrences; examples are Black, 1988 - paleontology; and Wicander and Monroe, 1993 - stratigraphy.
---
R. V. Dietrich © 2015
Last update: 18 February 2015
web page created by Emmett Mason