MIMETOLITHS

Compiled by R.V. Dietrich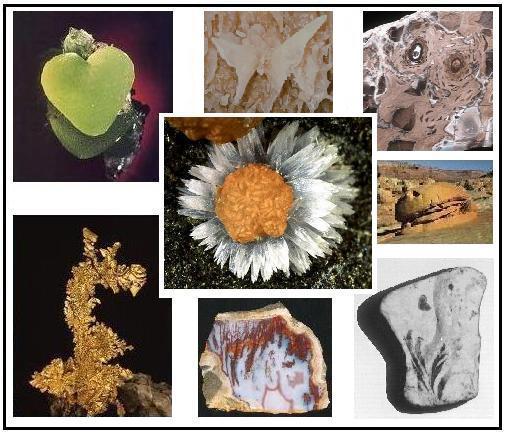 Click thumbnails to see larger images.

---
---
The material given on this web site as of May 12, 2011 is now available as a PDF file on the following URL.
(Users should be aware of the fact that the PDF version frequently takes a rather long time to download.)

Any thing added to this file after the May, 2011 date has its captions in
red
print
.
(Users who want to view this PDF file should use Firefox 10 or IE9;
other browsers usually require a much long time for the PDF version to download.)

>>&+&<<

UPDATES and REVISIONS are being made continually to entries on this site.
A few have been made since the above mentioned PDF file was prepared.
The updates and revisions appear
in red.
---
---



INTRODUCTION

*

Nearly everyone has, I suspect, looked at one thing and imagined it looked like something else. Indeed, many observations of this kind have been recorded. -- Four examples are: the Chinese poet Lo-tien (773-846) mentions viewing stones (see www.bonsai-nbf.org/); Shakespeare (1564-1616) has Hamlet exclaiming about cloud shapes that resemble "a camel," "a weasel," and "a whale" (Hamlet -- Act iii, scene 2); Mark Twain (1835-1910) has Adam, in The Diaries of Adam and Eve, lamenting " . . . always that same pretext is offered -- it looks like the thing."; Robert Williams Wood (1868-1955) in his little book How to tell the birds from the flowers . . . (1917) provides several delightful sketches and poetic remarks that pertain to such observations; and, there are , of course, the implications, especially in some peoples' minds, that relate mimetoliths and pareidoliac apophenia.


An EPILOGUE, which follows the acknowledgments near the end of this text, includes much of the introduction that appeared in Dietrich (1989) and a short paragraph about pareidoliac apophenia.

It seems prudent here to recommend users to view the larger versions of the illustrations, which may be seen by clicking the thumbnails; some of them show more than an enlarged version of the thumbnail. Also, anyone who knows about other features (s)he thinks should be included, please contact me. This file will be updated continually by adding comments about and/or illustrations of noteworthy mimetoliths not previously included on this site.



_




* Some of the text and a few of the illustrations in this file were published in the

Rock Chips

column in

Rocks & Minerals

(Dietrich, 1989).



DEFINITION +

mimetolith (m0· m'!· tÇ· l0th) n. 1.a. a natural topographic feature, rock outcrop, rock specimen, mineral specimen, or loose stone the shape of which resembles something else -- e.g., a real or fancied animal, plant, manufactured item, or part(s) thereof. b. a topographic feature, rock outcrop, rock specimen, mineral specimen, or loose stone, the surface pattern of which resembles a real or fancied animal, ... . c. a topographic feature (et alia) with any combination of shape and pattern that resembles a real or fancied animal, . . . . [Greek mimetes (an imitator) and lithos (stone); term coined by Thomas Orzo MacAdoo, first appeared in (Dietrich, 1989).] Discussion: Some people have applied this designation to forms exhibited by minerals and rocks that have been cut (e.g., sliced) or shaped (e.g., eggs and spheres) -- see, for examples, Figures 32, 61-78 and AppB1-AppB9. Although it has been suggested that this is an overextension of the designation, it seems quite justified because natural weathering and erosion could have exposed the features that would have led to their being referred to by this term.


So far as their origin, diverse mimetoliths have been formed as the result of solidification of magma, crystallization from solutions, chemical weather, physical weathering, abrasion either in place or during transport, etc., etc. as well as the result of several different combinations of such constructive and destructive geological processes.

Two cautions: 1.The term mimetolith should not be applied to terranes and exposures or to rocks and minerals strictly on the basis of such characteristics as their color, how they feel or smell, or any sound they emit when, for example, they are hit with another object or wind blows across or through them. Examples of each of these categories that should not be called mimetoliths are the minerals achroite (a variety of elbaite), kyanite, purpurite, and rhodochrosite; the rocks commonly called grease stone (soapstone), stinkstein (bituminous limestone), and phonolite (feldspathoidal trachyte); [and] "Whistling rock" near Esperance, Western Australian and "Roaring Cove" (if it actually exists), Newfoundland.
2. Welcome to the world of equivocation/ambiguity. During the considerations and discussions Dr. MacAdoo and I had before we decided it worthwhile to introduce the term, we tried to think about all the diverse kinds of features to which future observers might apply the term. Two things we considered seem noteworthy here: A) We do not think the term should be applied to a mineral pseudomorph (i.e., to any mineral mass that has the crystal form of another mineral rather than that characteristic of its own composition). B) We had mixed feelings so far as applying the term to all features called by such names as natural bridge, natural arch, natural tunnel and pothole -- I do not think all so-named features should be automatically considered mimetoliths; future usage, however, may dictate otherwise.

---------- >>>>> <<<<< ----------
LANDSCAPES and ROCK FORMATIONS
Features included under this subheading are integral parts of their environments. Although most features in this group are large as compared to the detached specimens included under the other subheadings, a few are relatively small -- e.g., some of the cave formation mimetoliths.


One question, in particular, has arisen about this group: "Should such features on the moon, planets and other celestial bodies included?". My "off the top of my head" answer is a rhetorical question: "Considering general application of geological nomenclature to other bodies in the universe, is there any good reason not to include such features?" See, for example, Figures 1 and 2. On the other hand, I would not include such things as the following (directed to my attention by a friend who keeps abreast this web site): "NASA's Hubble Space Telescope captures a the [sic] celestial equivalent of a geode in this gas cavity carved by stellar wind. Real geodes are baseball-sized rocks that start out as bubbles in volcanic flows." Among other things, this quotation, a caption given for the accompanying photograph in the Photo Gallery: Amazing Space Photos -- <http://news.aol.com ...> (accessed 3 Oct. '07) -- relates to general ideas relating to geneses of the illustrated feature and one of the hypothesized origins for vesicles (Not geodes), rather than to appearances.


Another question has arisen about masses that appear to be mimetoliths but have been modified either to preserve or to enhance their original appearances. Two examples: New Hampshire's famous "Old Man of the Mountain," to which concrete, steel cables, and turnbuckles were added to preserve its shape -- i.e., keep the rocks in place; and "The Devil" near Kenora, on The Lake of the Woods in southwestern Ontario, Canada, which I have been told had its original shape changed to improve (enhance) its mimicking appearance, I presume by rough sculpting. In my opinion, the "Old Man . . ." is (

i.e.,

was--see caption for Figure 5) a mimetolith whereas "The Devil" should not be so-designated.


Large scale features


Click thumbnails to see larger images.



1a. "The Face of Mars," a mesa (~1.5 km across) in the Elysium region of Mars. (photo P-1174-023, taken July 25, 1976 by Viking I Orbitor; courtesy Conway W. Snyder). Added 22 September 2006: For more recently taken photos

etc

., see

http://www.esa.int/SPECIALS/Mars_Express/SEM09F8LURE_1.html

[On July 8, 2009, I received an email that indicates the location given and the illustrations are "false, they are sketches." I have not been able to verify this recently received information.]



1b. "Rabbit on the Moon," pattern of darker areas of full moon (circumferance- 10,864 km --

i.e.

,~ 6790 miles) as seen from Chile. Clicked image consists of three parts: Left to right, the Full moon, the "Rabbit on the moon," and a glyph of the Mixtec culture of Mexico. It is hypothesized that "the Mixtecas probably saw a rabbit-like shape on the surface of the full moon, and thus elaborated the glyph that represents the moon as a rabbit." (Patricio Bustamante, personal communication, March, 2008). For an explanatory text (in Spanish), see

http://rupestreweb.info/hierofania.html



2. "Peppered pasta," "bread sticks," "cinnamon rolls" and "mashed potatoes sprinkeld with spices" are among suggested names for this "field of spotted ... [sand] dunes ... near the Martian North Pole." The original caption for the complete photograph (to see, click thumbnail), which spans ~3 km, indicates this appearance to be ephermal -- i.e., during thawing "Thinner regions of ice typically thaw first revealing sand whose darkness soaks in sunlight ... [but] By summer, ... the entire dunes will then be completely thawed and dark." (

© Malin Space Science Systems, MOC, MGS, JPL, NASA

:

from

http://antwrp.gsfc.nasa.gov/apod/astropix.html

, dated 31 August 2004

).
3a. "The Sleeping Giant," a plump face and body profile landscape that can be viewed along the northern edge of the Helena Valley, Montana. (photo U.S. Department of Interior, Bureau of Land Management).
3b. Human-shaped landscape. View from road between Los Perales and Céspedes of the upper Illapel River Valley in the Coquimbo Region, which is north of Valparíso, Chile. For further information about this mimetolith, see the following web site (in Spanish):

http://rupestreweb.info/entorno2.html



4. "Pyramid" near east shore of Pyramid Lake, which is in the Pyramid Lake Paiute Tribe Reservation north-northeast of Sparks, Nevada. Click thumbnail to see a sketch of John C. Fremont's expedition "paused at the Pyramid in 1844" and a recent photograph of more of the lake around the pyramid. (© photo and sketch from

www.nevadaweb.com/cnt/r-t/pyramid/

, permission of David W. Toll).
5. "Old Man of the Mountain" (also called "Great Stone Face") is the age-old erosional remnant of granite is the state symbol of New Hampshire. Here shown on a 1955 commemroative U.S. postage stamp, it also is the focus of the New Hampshire's $.25 coin of the U.S. sates series. This granite profile (height ~12.5 m.), which jutted out as a cliff from near the top of Cannon Mountain near Franconia Notch, was held together for several decades by steel rods etc. until May 2, 2003, when it met a Humpty Dumpty fate. The fall, which destroyed the profile, led to several diverse suggestions as to what might be done to the remains -- see, for example, Susan Ager (Detroit Free Press, 11 May 2003, p.K1). (© photo of stamp by Malcolm Back).





6. "Elephant Rock" (

Fil taşi

in Turkish). This natural arch, which consists of "basaltic(?) lava," is one of several mimetoliths in the Black Rock Mts. of southwestern Turkey. According to the photographer, it is about 1.5 miles from the village of Karakya and about five miles northeast of Gümüşlük, which is on the Aegean Sea. (©

photo by

Algis Kemezys

).



7. "Grey Man of the Merrick" rock exposure on the northwestern side of the NE-SW trending niche between Redstone Rig and Craig Neldricken about 0.5 km southwest of the southwestern lobe of Loch Enoch, about 18 km N.11o E. of Newton-Stewart in the Dumfries and Galloway Region of the Southern Uplands of southwestern Scotland. (© photo by Douglas E. Wilcox;

see

www.gla.ac.uk/medicalgenetics/gallery

).
8. "von Hindenburg with his earmuffs on," an erosion remnant of diversely colored sandstones of the Wasatch Formation in Bryce Canyon, Utah. (© photo by Dick Dietrich).
9. The seven mimetoliths on the clicked image are in Turkey. The one on the upper left and the four in the bottom row are near the coast, ~7 kilometers south of Bayir (Bayirkoy) in southwestern Turkey; the middle one in the top row is near Oren in southern Turkey; the one on the upper right is near Datça, which is down the penninsula, ~60 kilometers west of Marmaris. The names given on the features on the clicked image are mine (RVD's). (

photos © Algis Kemezys

).

10. Bandana(-topped) Man -- Part of an outcrop of a cross-bedded sandstone of the Milk River Formation in Davis Coulee, Writing-on-Stone Provincial Park in southern Alberta, Canada; height ~20m along right margin of photograph. (© photo by Rudi Meyer)



11. Lion Head -- This is one of a number of mimetoliths in the igneous terrain along the path to the aquarium south of the Bitez Boat Harbor , which is just north of Bodrum, southeastern Turkey. The feature is said to be "almost life size." (©

photo by Algis

Kemezys

)




Sizewise

, this and the following mimetolith are so-to-speak transitions between the preceding features and those shown in the "Rocks and Rock Specimens" group

.



12. "Sidney Sphinx" -- "The eagle head image is about two feet [~60 cm] high from top of its head down to the rocky base. ... The rock is sandstone. ... [It is on the] rocky islet ... locally called 'Ship Rock' and it's part of The little Group, off Tsehum Harbour just north of Sidney, BC on the Saanich Peninsula of Vancouver Island. Ship rock is about halfway betwen Ker Island and Dock Island." (Paula Johanson, personal communication, August, 2009). To me, there is yet another mimetolith in this view -- see the head near the base of the "sphinx." (© photo by John W. Herbert)

Others in the literature: Several natural features that occur sporadically on our Earth have been given names that support their status as mimetoliths. Three of the larger ones are the "Horn of Africa" -- i.e., the Somali Peninsula of East Africa that so-to-speak juts into the Arabian Sea, which was apparently so-named because its shape was seen to resemble that of a rhinoceros horn; Italy, the peninsular country that extends into the Mediterranean Sea, with its widely noted boot shape; and Michigan's lower peninsula, which is frequently referred to as a mitten. A few of literally scores of examples of relatively large mimetoliths, like those shown in figures 1 through 7, that could be listed, follow:


Cathedral Mountain -- the one west of Lake Louise, Banff National Park, Alberta, Canada (see

www.cathedralmountain.com/

).
Chimney Rock -- the one south of the North Platte River, southeast of Scottsbluff, in western Nebraska (see

www.nebraskahistory.org/sites/rock

/

)
Chinaman's Hat -- the name given to Mokolii Island, chiefly basalt, which is about a quarter of a mile offshore of Kualoa Point, Oahu, Hawaii. (

see

en.wikipedia.org/wiki/Mokolii

}.

Devil's Postpile -- columnar basalt along the John Muir Trail about 10 miles southeast of Yosemite National Park, California; note also that the eroded top of this mass is referred to as "Mother Nature's Tile Floor." (see

www.choisser.com/gallery/posttour.html

).
Elephant Foot glacier -- this feature consists largely of glacial ice (a rock!). It is located on the east coast of Greenland (

80.5

ºN latitute

, 18

ºW longitude

). (see the form as photographed in July 1997 by Philippe Huybrechts on the internet --

http://homepages.vub.ac.be/~phuybrec/images-big/elephant.html

). So far as I know, the current appearance of the form has not been described or photographed.

Ewuana

or

Face Rock, which is off shore in the Pacific Ocean about a mile south of Brandon, Oregon, has a profile that closely resembles the profile of a female's head. See

http://pdxsurr.blogspot.com/2006_01_01_archive.html

for a photograph and some Coquille Indian lore about this formation.

Fairy chimneys -- basalt-capped tuff erosion forms in the Cappadocia region of central Turkey: Some resemble Saturday Night Live's "coneheads;" others look more like mushrooms. (see

www.hat.net and www.villacappadocia.com

).
"Fairyland" -- described as "1,000 grey sandstone sentinels of fantastic shapes": Photographs show "The Sea-horse," "The Vulture" and "The Wolf," and mention The Camel" and "The Sitting Hen." The area is located near the edge of the Klein Drakensberg escarpment of the Kruger National Park, in the Graskop area of Mpumalanga, South Africa. (see

www.graskop.co.za/jock/index.html

)

.



Fort Rock -- an ancient volcanic crater, near the town of Fort Rock, northwestern Lake County, 0regon, that looks like a citadel with one of its sides breached (see

www.wukkisorubgsqyestranch.com/fortrockpix.html

).
Goosenecks -- especially those of the San Juan River, west of Mexican Hat, southeastern Utah (see

www.desertusa.com/goout/du_goout_vvc.html#anchor737098

and the lead photo on

www.magnum-hd.com/RoadTrip9c.html

).
Guardian of Deseret -- sometimes referred to as "naturally carved" lava, this feature, in Millard County, Utah, was apparently seen by early Mormons to resemble Joseph Smith, their founder, in profile (see

geology.about.com

).
Hopewell Rocks -- billed, especially in travel brochures, as the "world's most famous flowerpots," these erosional remnants, which are in the Bay Fundy of New Brunswick, Canada, apparently owe their shapes to erosion by what are widely called the world's highest tides -- i.e., those with the greatest height-wise difference between the low and high tides.

Kannesteinen -- sometimes called "pot rock," is a wave eroded feature on Vågsøy, which is about 10 km west of Måløy on the west coast of Norway (about twothirds of the way from Bergen towards Alesund). It is shaped like a goblet or a mushroom, the latter of which in the local parlance were called "kannes." Several photographs of this rock are displayed on internet web sites.

"Lincoln's profile" -- topographic profile exhibited by a group of mountains west of Route 54, north of Van Horn, Texas.
Little Flowerpot -- a lake-eroded stack near the shore of Flowerpot Island in Lake Huron, near Tobermory, Ontario, Canada: In order to preserve this tourist attraction, Parks Canada has shored up the open lake side of this mimetolith and so-to-speak paved the top of it with asphalt. (for photographs, see

www.marineinsureservices.com/Photos3

; for sketch, see

ndtoth.tripod.com/nicksphotos/id4

).

Lot's wife --Some of the "pillars of salt" of Mt. Sodom, which is southwest of the Dead Sea, have long been looked at, and "Ancient tradition thought it could fully identify the encrusted remains of Lot's

wife" (Plaut, 1981). [See Genesis 19:26 where it is written that Lot's wife looks back at the burning cities of Sodom and Gomorrah and is "thereupon turned into a pillar of salt."] It is known, however, that the shapes of these so-called pillars have been and continue change with the climate: At times, new salt has been added; at other times, disintegration has occurred. In any case, at just about any time at least some of the "pillars" are mimetoliths. As noted in his commentary on The Torah, Plaut (ibid.), "To this day, salt-encrusted rock formations in the area suggest all manner of shapes."

Mollys Knob (locally called "Molly's Nipple") -- a prominence underlain by shale in Smyth County, southwestern Virginia.
Pair of Mittens -- "East and West Mitten Buttes" in Monument Valley, northeastern Arizona (see

www.americansouthwest.net/utah/monument_valley/mvbutte.html

).
Pancake Rocks -- along the shore of Paparoa National Park, about 55 km southof Westport, on the west shore of South Island, New Zealand consist of differentially weathered alternating layers of limestone and mudstone (see,

www.dingwerth.de/Bjoern/photography/nz_1999/pancake

)
Plumbers Rock (also called Buttcrack Rock) is a rather large boulder that is so-named by locals in Hemet, in the San Jacinto Valley of Riverside County, southern California. The person who directed my attention to this mimetolith, and I agree, noted that this is not only a fitting name but also is humorous. As she said, "Mother nature is a cool chick!"
Pulpit rock -- as a child, I was shown one near Oxbow, Jefferson County, New York; while a Fulbright Research Professor in Norway, I saw the world-famous one, described as a "natural rock formation with a 25 meter squared plateau [that] stands 604 meters above the sea" on the south side of Lysefjord, in Rogaland county near Stavanger. (see

www.stavanger-web.com/touristinfo/prekestol.htm

); others are relatively common here and there around the world.
Shiprock -- a volcanic neck in northwestern New Mexico. The Navahos, to whom it is sacred, see it otherwise -- they call it Tse Bi dahi ("Rock with Wings"); the resemblance they see includes the dikes that extend outward from the central neck; the sacred aspect stems from an ancient legend that has the rock representing the great bird that transported ancestral Navahos to the area.
Sugar Loaf (Pão de Açucar) -- the granite porphyry dome in Guanabana Bay, Rio de Janeiro, Brazil (see

www.peakware.com/encyclopedia/peaks/photos/sugarloaf

).
Teapot rock (Wyoming) -- this mass, which gained its notoriety because of the Teapot Dome scandal of Warren Harding's presidency, no longer has its spout (see before and after photographs on Andrew Alden's web site -

geology.about.com

). I have often wondered what Native Americans called this rock before teapots came onto the scene.

Tent rocks -- conical teepee-shaped erosion remnants -- some up to 90 feet high -- in Recent volcanic debris (chiefly pumice and tuff) of the Jemez volcanic field, near the Cochiti dam, about 35 miles west-southwest of Santa Fe, New Mexico. In 2001, Kasha-Katuwe Tent Rocks National Monument was established to assure preservation of these forms and the surrounding area. (For photographs showing these forms see the web site

kevingong.com/hiking/TentRocks.htm

.)
The Hunter and His Dog (sometimes referred to as The Old Man and His Dog) and other rock outcrop features given such names as Elephants Head, The Singing Bird, and The Smuggler can be viewed from or near Vermont Route 108 in the Smugglers Notch area northeast of Stowe, Vermont
Three gossips and the "parade of elephants" in Arches National Park near Moab, Utah are two of my favorites among these relatively large mimetoliths.
Totem Pole -- this feature and several other erosional forms, many of which resemble people and animals, occur in chiefly volcanic rocks at Chiricahua National Monument, southwest of Willcox, southeastern Arizona. The "duck rock" and "organ pipes" are other especially noteworthy mimetoliths in this National Monument. .

Whale's Back -- a small island in the Saint Lawrence River, southwest of Oak Point, Town of Hammond, St. Lawrence County, New York.
Whiskey Island (of the Beaver Island Group of northern Lake Michigan) -- Lore has it that the kitelike shape of this island led to its name because of the old saying that one who has drunk much whiskey is sometimes "higher than a kite."

Whale's Back (next to last on the preceding list) -- from which I fished as a youngster and later mapped while working on my doctoral dissertation -- served as an early incentive, so far as spurring me on, to look at profiles of islands, mountains, inter alia, to see if they might remind me of anything else. Subsequently, I have enjoyed looking for (and finding!!) mimicking shapes exhibited by many landscapes -- especially mountainscapes and seascapes -- here and there around the world. The fact that several people have "seen" such resemblances led to compilation of the Minnesota Museum of Mississippi's database, presented as the "Stone Faces Gazetteer" on the internet (see

http://www.mnmuseumofthems.org/Faces/Index.htm

l). That site gives locations and a few photographs, of natural mimicking features -- faces, profiles involving cliff faces and other outcrops and boulders (some enhanced by, for example, paint to exhibit more clearly the "seen" feature), and other anthropomorphic features including several "sleeping giants" -- most of which are in the United States of America. Two additional web sites of interest so far as these kinds of mimetoliths are "'Indian Heads' and other humanoid rocks" (

http://astro.wsu.edu/worthey/astro/html/im=indian-heads/indian.html

) and "Stone-Faced Sober," which shows several examples in the Laurentians north of Montreal, Canada (

http://www.pbase.com/alkeme/stonefaced_sobe

r).

Speleothems (i.e., cave formations), many of which are mimetoliths, occur in many caves throughout the world. Examples of fairly common speleothems that have been given names indicating what they resemble include the following: angel hair, bacon strips, draperies, frostwork, honeycombs, parachutes, shields, soda straws, and veils; flowers, needles and pearls (usually preceded either by the word cave or the name of the component mineral, as an adjective). In addition, several commercial caves feature formations to which they have given names such as "The Great (Pipe) Organ," "Christmas trees," and "Eagle's nest." Of these latter, less common forms, my favorite is "Abraham Lincoln's Profile" in Longhorn Cavern State Park, Burnet, Texas. Many of these features can be seen on web sites that list caves/caverns/grottoes.
Speleothems


Click thumbnails to see larger images.



11.

Draperies

and

bacon rind

speleothems (no dimension specified) in Wolf River Cave (known locally as "Blowing Cave"), Pall Mall, Tennessee, near the estate of the famous Alvin C. (Sergeant) York. (© photo by Jay Greene, courtesy James Greene).
12.

Bacon rind

, calcite speleothem approximately 15 to 30 cm wide on the inclined ceiling of the entrance room in Las Grutas de Bustamante, Bustamante, Nuevo León, México. (courtesy of Thomas Shimer and Shannon Woodward, Texas A&M University at Galveston Biospeleology class, 2002).
13. Cluster of

soda straws

(no dimension specified) in "A Classic TAG ["TAG refers to an area of heavy concentration of caves located at the junction of the states of Tennessee, Alabama, and Georgia, USA."] Commercial Cave." (© photo by Jay Greene, courtesy James Greene).
14. "

Frostwork

on popcorn and boxwork" in Wind Cave, Custer County, South Dakota. Remarkably, the crystals

and

"popcorn" resemble two kinds of frost

per se

that I saw while spending a year in Norway; although a native of the St. Lawrence River Valley of northern New York, where plants (

etc.

) are frequently frost-covered, I had not previously seen popcorn-shaped frost. (

photo by Keven Downey & Urs Widmer,

from the Wind Cave National Park Service web site --

http://www.nps.gov/wica/

).
15. Gypsum

flower

(size not specified) in "A Classic TAG Commercial Cave." (© photo by Jay Greene, courtesy James Greene).
16. "Butterfly" ("wing span" ~ 22 cm) helictite in the Caverns of Sonora, Sutton County, Texas. --Helictite is the name given stalactites whose growth are controlled largely by forces other than gravity. (© photo by Jack Burch, courtesy of the Caverns of Sonora).


MINERALS, ROCKS and STONES
Most mimetoliths included in this group are in museum and private collections or on beaches, in gravel pits, etc. -- several of the illustrated examples representing the last two environments were photographed and left for others to collect should they want them. The stone called "Eternity" is of particular interest so far as this group of mimetoliths: It is is about fist-sized, resembles an old woman's face and is said to be "worth 96 million yuan (US$12 million)" (see http://english1.peopledaily.com.cn/200406/29/eng20040629_147918.html). Whatever, the mimetoliths consdiered in this group are smaller than most of those mentioned and illustrated under the preceding subheadings.
Many mineral and rock specimens that can be designated as mimetoliths have undergone preparatory procedures -- e.g., extraneous material has been removed. However, the original shapes, which comprise their mimicking components, have not been altered by those procedures. Cross-shaped twinned crystals of staurolite are probably the most widely known examples of mimetoliths of this category. Although some of these crosses occur loose where they have weathered out of their host rock, many have been freed from their surrounding minerals by collectors and preparators. These mimetoliths, which resemble either Roman and Maltese crosses are frequently referred to in the vernacular as "fairy stone crosses." Along this line, it seems noteworthy that staurolite's commonly occurring as cross-shaped twinned crystals led to its name, which is based on the Greek word stauros (meaning "cross"). One noteworthy example of a mineral mimetolith that is not shown here is "Bird Wing." Described as a "Shimmery, dusty-rose piece [of hematite] from the English Midlands," it is illustrated by a fine photograph in "Audubon" (magazine, September-October 2012, p.76). For the record, the specimen, now in the Academy of Natural Siences Museum in Philadelphia, Pennsylvania, is said to have been collected by William S. Vaux.
Mineral Specimens (Dana System order)


Click thumbnails to see larger images.



21. "The Dragon" (height - 11.5 cm), gold from the Colorado Quartz mine, Mariposa County, California is said by Jeff Scovil to be the finest gold specimen on matrix in the world. Houston Museum of Natural Science collection. (© photo by Jeff Scovil).
21a. "Auric Geezer, the old prospector" [R.V.D.'s designation] (height - 5.8 cm) gold specimen from Khoral deposit, Tuva (+Charal, Tuvainskaja A.S.S.R. in some atlases), which is approximately 500 km east of the southwestern tip of Lake Baikal, Russia. Specimen is in Fersman Mineralogical Museum of the Russian Academy of Science, Moscow, Russia -- see Leibov, 2004. (© photo by Michael Liebov).


22. "The Tyrannosaurus Rex Silver" from near Rockland, Ontonagon County, Michigan (longest dimension, ~11.5cm). This photograph has been used by Western Minerals in its advertisements -- e.g., on page 348, volume 87 of "Rocks & Minerals" (© photo courtesy Western Minerals, www.westernmineralsaz.com).
23. "The Buffalo" (height ~ 14 cm) – silver crystals and native copper from the Calumet and Hecla mine, "most likely one of the Kearsarge mines or the Wolverine mine". John T. Reeder collection, #1726, A.E. Seaman Mineral Musem, Michigan Technological University. (© photo by George Robinson).
24. "Gamboling – Fast and Free" (18 x 13 cm) – copper crystals from the White Pine mine, Ontonagon County, Michigan. Benjamin Webb donation to A.E. Seaman Mineral Musem, Michigan Technological University. (© photo by John Jaszczak).

24a. "Elvis" – "!0.5-cm. cluster ... copper crystals from Michigan ... " see clicked image, which includes the complete caption and additional information. (

photo by Richard Jackson

;

permission to include here, Collector's Edge Minerals, Inc.

;

first published in

The Mineralogical Record

, January/February, 2011, p.4)



25. "Sir Walter Raleigh and his first cigar" (height

~

6 cm) – nodular "psilomelane" from Crimora mine, Augusta Co., Virginia. (© photo by G.K. McCauley).
26. Plane-bounded "Heart" (height ~3.2 cm) – twinned calcite, which exhibits phantoms, from Fivemile Point, Keweenaw County, Michigan; specimen found by Bob Williams in 1975 is currently in the Pam and Jerry Hall collection. (© photo by John Jaszczak).
27. "The Snail" (width - 8 cm), rhodochrosite on crystallized manganite from the N'chwaning Mine in Kuruman, South Africa. Bill Larson collection. (© photo by Jeff Scovil).
28. "Heart" (width -1.3 cm) of smithsonite from San Antonia El Grande Mine, Chihuahua, Mexico. (

© photo by Gabriele L. Berndt

).
29. "Onion dome on a Russian church" (4.3 cm high) – "Malachite ... from Kerouchen, Morocco. Heliodor specimen Wonderful aesthetics and an uncanny resemblance to an onion dome on a Russian church" (Scovil, 2010, p.139) (© photo by Jeff Scovil).

29a. "Malachite, mushroom-shaped concretions, 7.0 x 6.5 cm, from the mashamba West mine, Kolwezi, Democratic Republic of Congo, Boniscoli specimen 4089". Photograph previously published in "Rocks & Minerals" -- see Pagano, 2014 in references.

(

© photo by Jeff Scovil

).




30. "Hedgehog" (greatest dimension ~4 cm) – natrolite from vug in pillow basalt, Robertson Pit, near Dayton, Mason County, Washington. Additional information about the specimen is on the following web site: http://www.washingtonminerals.com/rp.htm. (

© photo by Jeffrey Schwartz

).



30a. "Candelabra" (overall size ~ 25 x 23 x 15 cm) – red, white, and blue, color-zoned tourmaline (elbaite) crystals with quartz, albite and lepidolite from the Tourmaline Queen mine, near Pala, San Diego County, California. NMNH #132377. (© photo by Dane Penland; courtesy of the Smithsonian Institution). A photograph of another fine predominantly tourmaline and quartz mimetolith, the "Steamboat," may be seen in Dietrich (1985 -- Plate IV, Figure IVb ).
Although most of the mimetoliths illustrated in the Loose Stones, Miscellany and À la carte groups are rocks, only those shown here as Figures 31 through #39a seem best designated simply as Rocks and Rock Specimens.
Rocks and Rock Specimens


Click thumbnails to see larger images.



31. "Owl eyes" (width ~16 cm) is orbicular granite from the Matopos Granite, near Rhodes' Grave, Zimbabwe (formerly Rhodesia). Owl collection of Margaret Gibson, Corlette, New South Wales, Australia. (© photo by Craig Gibson).
32. Graphic granite: Left, sphere (diameter - 9 cm) from the Little Three mine, Ramona, San Diego County, California; right, plane surface of a specimen, locality unknown. Patterns exhibited by these rocks are widely described as resembling letters of the Hebrew and Arabic alphabets or cuneiform inscriptions; indeed, non-English names that are given these rocks in several languages reflect this perception --

e.g.

, French -

pierre hébraïque

and German -

Schriftgranit

. (© photos by David London, University of Oklahoma).
33."The Fallen Queen" the shape of which resembles that of a queen chess piece; length of slab (clicked image) - 12.5 cm; the entity in the thumbnail "seems to be a fragment of a crinoid column, probably from near the top of the column where it joins the crown. The alternation of wide and narrow columnals [(stem segments)] occurs in several genera and quick perusal of the Treatise volumes suggests that the specimen may have been a member of the Flexibilia. All the debris in the slab is echinodermal, with various fragments and orientations of columnals." (J. Thomas Dutro, Jr., personal communication, 2007). The slab is said to have been collected from Mississippian strata exposed on the C.B. Lambert Ranch at San Saba in central Texas. (© photo by Mel Hixson).
34. "Wow! -- I am startled." polished slab (greatest dimension -15 cm) of Cycadoidea armor showing cones with leaf bases. From a conglomerate of the Cedar Mountain Formation northwest of Moab, Utah. (© photo by Richard Dayvault).
35. "E.T." weathered surface of a block (width ~ 40 cm) of a silificifed concretionary sandstone, termed "swirly sandstone" by Dayvault and Hatch (2005), of the Cedar Mountain Formation just west of Arches National Park, northwest of Moab, Utah. (© photo by Richard Dayvault).



35a.

"Stone face" (= DOĞAL TAŞ YÜZ) -- specimen (6.5 x 7.8 cm) picked up in "karain cave" Antalya, Turkey. The specimen is designated as jasper by the owner; according to a report of the Ankara University Earth Science Application and Research Center, the rock "is mainly composed of chalcedony, trydimite and quartz minerals." The owner notes that "I am sure the stone fact is formed by natural processes" (H.B. Bostanci, p.c. 2012), and, in additional responses to my inquiries has said that it shows no sign of carving or other kind of fashioning by humans. (© photo by H.B. Bostanci

).



36. Butte -- Potsdam Sandstone cone (width - 25 cm) formed either as shear cone during post-glacial doming/sheeting or as the result of man-imposed percussion. Specimen from Michael W. Johnston of Hammond, St. Lawrence County, New York. (© photo by Dick Dietrich).
37. "Between Worlds" (height ~ 20 cm), noted as "A convergence of cultural and religious symbology." An unidentified rock exposure in Santa Monica Mountains, near Ventura, California. (© photo j. Madison Rink,

http://www.rinkarte.com/PrimitiveNature/TheShaman.html

).

37a. "Tribal Island

:

existential sleep" (height ~ 40 cm; width ~ 12.5 cm) An unidentified rock exposure in the Santa Monica Moutains, near Ventura, California (© photo j. Madison Rink,



http://www.saatchi-gallelry.co.uk/showdown/ index.php?showpic=204022

). This photograph is described as "inspired and influenced by the antique tribal and Asian Art created by the aboriginal peoples from around the world." To me, there is something Easter Island about it - a primitive power(?).

38. "Monkey's face" (leaves give scale). This mimetolith consists of three juxtaposed stromatoliths in the Cambrian Hoyt Limestone in Saratoga County, New York. They are preserved in Lester Park, a natural history site of the New York State Museum. Attention was directed to these stromatolites by John Steele, in 1825, in his notes about the mineral waters of the famous springs of the area. I first found out about them some 70 years ago, while talking with Winifred Goldring, then state paleontologist of New York State. (© photo courtesy Wendell Mohr).
39 "Human footprint" mimetolith (knife gives scale) in unidentifed rocks said to be more than 100 million years old in Oklahoma --see Monroe, 1987. (© 1975, Oklahoma Today magazine.

Reprinted with permission

).
39a Kikkaseki, "stone/rock of chrysanthemum flower" ("flower" width ca. 2.7 cm), from Gifu Prefecture, central Japan -- a metamorphic rock that contains clusters of carbonate crystals (dolomite, calcite and/or aragonite) arranged in a radial manner. (© photo courtesy Nobuo Ishihara).
Most stones that are viewed as mimetoliths are tektites or beach- or stream-abraded stones; a few are ventifacts -- i.e., stones that have undergone wind erosion. All of those illustrated are just as they were picked up -- i.e., they have undergone no preparatory procedures.
Several resemblance-based adjectives are applied to tektites. In most cases, each is followed by a hyphen and the word "shaped." Along with those noted in the caption of Figure 40, additional fairly common designations include ball, bean, bowl, button, disk, gherkin, hourglass, mushroom, and pear as the first word of the hyphenated adjective -- e.g., ball-shaped . . . .
Tektites
Click thumbnail to see larger image.
40. Tektites. Upper row (left to right) --

peanut

-shaped indochinite;

lens

-shaped australite (diameter - 2.4 cm), typical of those formerly called "emu eyes" by Australian aborigines and "Blackfellows' buttons" by some of the early white settlers of Australia;

dumbell

-shaped phillipinite; and

cudgel

-shaped australite. Bottom row -- diverse

teardrop

-shaped tektites from different localities. (© composite made up of images from a photo by David Britain).
Several water worn stones, ranging in size from small pebbles to large boulders, have shapes that resemble other things. Also, as already mentioned, some loose stone mimetoliths are ventifacts. The ever increasing list of things "seen" as imitated -- along with those noted in captions of the illustrations -- include the following, each of which I have seen or otherwise verified: ape's head, coins (discs), eyes (e.g., thomsonite "eyestone" pebbles), a heart, "Indian beads" (e.g., segments of fossil crinoid "stems"), a Laplander's hat (or shoe), a loon, a man on a donkey, a number of letters (e.g., F, S, & D – see illustration in the GNEISS entry of the "GemRocks . . ." pages) and numbers (e.g., 5, 7, & 8 and the Roman numeral 20 -- i.e., XX), diverse mushrooms, Pinocchio, "Really?" (a questioner), a smiling fraternal elk with his fez on, a sprinter crossing the finish line, a tadpole, George Washington's bust, "toothy bald man," and a whale. In addition (not seen by me), a recently described meteorite (Anon. Sports Illustrated. 2003. 98(#19):24) seems to be a mimetolith that belongs in this group: Along with an illustration, it is reported: ". . . 'home plate meteorite.' The 18-by-18-inch space-rock . . . fell in a meteorite shower 1,000 years ago in Chile and is expected to fetch $65,000- $80,000 at auction. Its owner, Darryl Pitt . . . acquired the piece from London's Natural History Museum partly because it looked like home plate. 'That hadn't occurred to the cricket-playing British,' says Pitt, who hopes a big league team enters the bidding. 'The Houston Astros would be a natural.' he says."
Note: The stones shown in Figures 41A - F were collected from ancient and present-day beaches on Beaver Island, Charlevoix County, Michigan (those shown in Figures 41A through 41D are taken from photos by David Darst).
Loose Stones


Click thumbnails to see larger images.



41a. Left, "Butterfly and reeds," Oriental brush painting (specimen height ~ 5.5 cm) - chert with bryozoan fossils(?) constituting dark areas; right, "Chinese pagoda" - transection of a fossil crinoid stem in limestone.
41b. Left, "Potato head" (height - 5 cm)

limestone ; right, "Cyclops" dolomitic limestone, the eye of which is a coral, Class Anthozoa, Order Tabulata(?).
41c. Top, "Petroglyph" (greatest dimension - 5.5 cm) - image consists of two different corals

:

"critter" is coral or bryozoan, otherwise unidentified; underscoring consists of tabulate coral fossils. Bottom: Left, "Star-eyed smiling, grouper" - the star eye is a cross-section of a crinoid columnal; right, "Moon fish" - the eye is a relatively simple ring-shaped crinoid columnal.
41d. "Marshmallow rabbit" (greatest width - 6.5 cm) Easter treat - calcite-cemented sandstone.
41e. "Mother and child" (height - 4.5 cm.) - highly weathered sliver (greatest thickness - 5 mm) of fine-grained sandstone from highlevel wind-eroded beach deposit on Beaver Island, Antrim County, Michigan. An impure iron-cemented quartzite collected on the Lake Superior beach at Whitefish Point, Luce County, Michigan serves as the background in the clicked image. (© photo by Dick Dietrich).
41f. "Michigan's lower peninsula" (height - 9 cm.) - both the pattern, an unidentified coral, and the "background" rock are dolostone; stone is from a beach on Beaver Island in northern Lake Michigan; the photo is reversed in order to exhibit this image. (© photo by Dick Dietrich). A similarly shaped granitic rock that was found near Weidman, Isabella County, Michigan and its caption is also shown when this thumbnail is clicked. It also seems noteworthy that another rock with the general shape of the lower peninsula of Michigan was found by Harry Diehl in Broomfield Township, Isabella County (see Razenberger, 2005). These mimetoliths are especially interesting because they are mimetoliths, thought by their collectors to resemble Michigan's lower peninsula, which is a large geographic/geologic feature that is, in itself, a mimetolith, that resembles a mitten.

42a. "Chicken (width ~ 50 cm.) and its eggs" - fieldstone, which consists largely of the the granitic portion of a migmatite, that was collected from glacial deposits. The "eggs," apparently attained their shapes during glacio-fluvial transportation. All were collected by Gale Willoughby in Isabella County, Michigan. (© photo by Dick Dietrich).
42b. "American Indian grooved axe head" (length ~ 20 cm.). This fieldstone consists of grantic gneiss transected with quartz veins or granitic dikelets, the latter of which were weathered in relief, likely before it was carried by "Ice Age" glaciers into Isabella County, Michigan where it was found by Gale Willoughby. (© photo by Dick Dietrich).


43. Makapansgat jasperite cobble (height ~ 8 cm). This cobble is described as a manuport because its diverse markings have been shown by "detailed microscopic analysis" to be natural -- i.e., neither made by nor modified artificially. It was found in South Africa at a site to which it was carried "either by

Australophithecus africanus

, or by an as yet unknown hominid" "between two and three million years" ago. Additional information and references about this cobble are on the web site: http://mcw.vicnet.net.au/home/portable/web/manuport.html. (© photo by R.G. Bednarik).






44a. " Duck" - This bas-relief form, which resembles the head and neck of a duck, consists of chert on dolostone. The overall stone has a greatest dimension of ~7 cm. The specimen was found by Mary Margaret ("Diggy") Brown Clement in a deposit that probably represents a former lakeshore environment in the area, now several feet above lake level, near the Straits of Mackinac, Michigan. (

© photo by Dick Dietrich

).



44b. "Frog" -

i.e.,

a squashed roadkill(?) frog (longest dimension of host cobble -- see

clicked image -- ~16 cm), from Rockport, Alpena County, Michigan. This "frog" is a remnant of a fossil solitary rugose coral; the cobble is a limestone with shale partings, apparently derived from the Devonian Traverse Group of the Michigan Basin Sequence. The specimen was found by Elizabeth Shaw Antkowiak in what I suspect is beach desposit of ancestral Lake Huron when it was at a higher level during post-Pleistocene isostaic rebound in response to deglaciation of the region. (© photo by Elizabeth Antkowiak).
45. "Samurai Stone" (greatest dimension - 4.3 cm). The white exhibited by this limestone pebble, which Maziar Nazari sees as resembling a 'samurai' (and our mutual friend, George Robinson, sees as an 'angel'?), is the remains of the 'petals' or ambulacral areas of the echinoid

Echinolampus

sp. found in the Alborz Mountains, north of Tehran, Iran. (© photo by Maziar Nazari, Azad University of Ashtiyan, Tehran, Iran)..
46. "The Nosy Neighbor" (height ~11.5 cm) from a dry creek bed in Central Kentucky. (© photo by Michael Capek,

www.aestheticsense.org

)


47. "Alien" (height ~3.8 cm). Found "among one ton of 'Scottish pebbles' I bought for my garden... so ... must have come from Scotland if the company followed trade description rules." (© photo and quotation by Mark Cory)





48. "Rocks with faces" - clicked image includes four of these stones: A."Sleeping rock," B. unnamed (= the thumbnail), C."The alien and " D. "A Picasso." Each of these stones, which range from small pebble to small boulder in size, was collected near Fanny Bay, on the eastern coast of Vancouver Island, British Columbia, Canada. (©

photos by Glen Peters, the collector

)

Others in the literature: The following "hand specimen size" mimetoliths do not fit readily into either of the above subgroups: Aragonite, Barite and Gypsum roses -- for illustrations of these features, see Figure 51, below, and photographs on the following web sites, respectively -- math.cochise.edu/~mathsci/phpwiki/index.php/Aragonite%20Rose & www.greatsouth.net/p-.M102.html. The fact that barite roses, sometimes called "rose rock," is the state rock of Oklahoma is of interest so far as these "roses." Concretions -- diverse concretions such as imatra stones, which have been seen to resemble several things such as buttons (see Figure 52, below); so-called sand spikes from Imperial County, southern California (Sanborn, 1976, p.82); and septaria, of which small ones have been called "beetle stones" and larger ones, as "turtle backs" (see Figure 53, below). Liesegang bands -- see Figure 55, below. Pele's hair -- natural, typically brown-colored glass hairs some with diameters measuring less than a half millimeter and some with lengths measuring up to a couple meters (see Figure 56, below); an anecdote indicates how much these may resemble animal hair -- a handful I collected in Hawaii, before it became a state, was shipped along with several other rocks back stateside was confiscated (apparently by a Department of Agriculture inspector, who replaced it with a note to the effect that "hair is organic and can not be shipped into the United States"). Pele's tears -- small nearly spherical or tear-shaped glassy masses commonly associated with Pele's hair.
Several additional rocks exhibit diverse mimicking forms and "scenes;" a few are described and a few illustrated, in the "GemRocks" file on this web site -- e.g., see the succeeding listed resemblance-based terms under in the following entries: AGATE- eye, oxeye, owl-eye, flame, fortification, frost, joshua tree, moss, pagoda(stone), plume, polka dot, pom pom, ruin, snake skin, star, topographic (also, photographs of a few of these are also given in Appendix B of this file); AMPHIBOLE ROCKS - Arizona zebra stone; ARGILLITE - zebra rock; BRECCIA - ruin aragonite and ruin marble; CHLORASTROLITE - turtle back; CONGLOMERATE: puddingstones; DATOLITE - sugar stone; THE JADES - leopard, morning dew, moss in snow, snowflake; JASPER - leopardskin, picture, poppy-patterned, scenic, zebra; LEOPARDITE and LEOPARD ROCKS; MARBLE, . . . - landscape and ruin marbles and limestones; OBSIDIAN - Apache tears, peanut, snowflake; PORPHYRY - Chinese writing stone, chrysanthemum stone, mouse-track porphyry, flowerstone (etc.); RHODONITE - spider web; RHYOLITE - birdseye; SANDSTONE - picture, scenic; SEPTARIUM - the aforementioned beetle stones and turtle backs; TURQUOISE - cobweb, spider web, and turtle back turquoise matrix; [and] VARISCITE - turtle back.
It also seems noteworthy that several fairly common fossils or their parts are frequently referred to by names of something they resemble -- e.g., brain, chain, and horn corals, and Iowa's state fossil, crinoids, which are frequently referred to as "sea lillies." In addition, some scientifically accepted generic and species names have been based on things the fossils were seen to resemble -- e.g., the bryozoan Archimedes (generic name), which has a shape that resembles a device widely credited to Archimedes (ca. 287-212 B.C.) that was used in the mideast, especially in ancient Egypt, to remove bilgewater from boats and to lift water from streams to irrigate nearby lands (see Figure 57).
In addition, it should be recalled that a fairly large number of mineral and rock specimens have been identified as pseudofossils because they resemble certain fossils. -- The already twice-mentioned septaria, which have been frequently been misidentified as fossil turtles (see Figure 53), are but one example.
Miscellany


Click thumbnails to see larger images.



51. Gypsum

rose

, also called "Desert Rose," as depicted on a Tunisian postage stamp. (© photo of stamp by Richard Busch, (see stampmin.home.att.net/), used by permission).
52. Imatra stones (Finnish - imatrankivi). For untold decades, these mimetolithic "stones" (a type of carbonate oconcretion) have been characterized as petrified money (

etc.

) and used as toys and trinkets (each named on the basis of its fancied, imitative shape). Historically important lithographs and heliographs and a photograph of a few of these concretions are shown, along with their captions, when this thumbnail is clicked.
53. Septarium concretions, such as this one (coin gives scale) in the Beaver Island Museum, St. James, Michigan, have frequently been misidentified, and even mislabeled in collections(!), as

fossil turtles

. (© photo by David Darst).
54. "Twin Peaks," a concretionary mass of calcite (greatest dimension ~ 7.5 cm) from Cretaceous shale in the Shelby-Cut Bank area of northern Montana. This mimetolith, Stewart Monroe's "worry stone," has been seen to resemble diverse features including a pair of volcanic cones with breached craters. (© photo by Sue Monroe).
55. "Bull's eye" (diameter of outer ring ~ 6.5 cm) liesegang rings or bands, which are the thin reddish brown iron-rich (hematite and/or goethite and/or "limonite") zones in this lighter colored sandstone, from an unknown locality. (© photo by Sue Monroe).
56. Pele's hair. "Hundreds of strands . . . intertwined on the surface of a pahoehoe [ropy lava] flow at Kilauea Volcano, Hawaii. The glass strands were erupted from Mauna Ulu, a shield that formed on the east rift of Kilauea between 1969 and 1974." (

http://volcanoes. usgs.gov/Products/Pglossary

). (photo by D.W. Peterson, U.S. Geological Survey).
57. "Archimedes screw" - Top left, diagram of water-screw invented by Archimedes about 2250 years ago (drawn after diagrams in a number of publications); top right, sketch of Archimedes sp. , a bryozoan (redrawn after sketch in "North America index fossils," 1944 edition); bottom, fossil and matrix (block ~13 x 8 cm) from Mississippian age strata of Missouri. (© photo by Sigmund J. Kardas, Jr., used by permission from

www.kardas.net/Fos

).
58.

Sakura ishi

- "Cherry Blossom Stones" -- (average diameter ~6 cm) from Kameoka, Kyoto Prefecture, Japan. Masutomi Museum specimens. The "stones" are sericite pseudomorphs after sixling twins of cordierite. Minor amounts of hematite give the reddish hue evident in some of these specimens. (© photo by John Rakovan).

59. "Seahorse" - This composite (height ~8 cm) consists of calcite crystals (back,

etc.

), calcite-cemented mud/sand (body), and part of a

Mercenaria permagna

(Conrad 1838)

shell (tail) from the Pleistocene Nashua Formation. It was collected at Rucks' Pit in Fort Drum, Okeechobee County, Florida. (© photo by Mickey Cecil)
60. "Alien skull fossil" - Calcite deposit on mudstone of the Jurassic-Cretaceous "Great Valley sequence," collected at Knoxville-Berryessa Road, Napa County, California. (© photo by Marc Leukhardt)


According to Cook (2009), "One mineral club displays annually at their local show an entire banquet table upon which all food items are natural or sliced rocks and minerals; included are ham, lamb chops, corn on the cob, potatoes, beans, yams, and on and on. [And,] No table setting would be complete without flowers -- for example, the wonderful barite roses from Oklahoma..." I have been unable to find the name of the mineral club alluded to, but see Figures

Àlc1

through

Àlc8.




À la carte


Click thumbnails to see larger images.



Àlc1. " Soft boild egg" with a fire opal yolk. This specimen of M. Budil, which is from Mezezo, Shewa Province, Ethiopia, was exhibited at the Münchner Mineralientagen 2005; the large (clicked) photograph was originally published in the Novembere Décembre 2005 issue of "Le Règne Minéral" along with the following caption -- i.e., a free translation of the caption: A welcome bit of humor that is one of Mother Nature's marvelous constructions. -- You have to admit, however, that if humans didn't eat soft-bioled eggs, this specimen would be only an obvious banality.]] (© photo by Louis-Dominique Bayle; digital file furnished by Eloïse Gaillou, gemologist at the University of Nantes; reprinted here with permission from L.-D. Bayle).


Àlc2. "Grapefruit rock" -- although "breaks in the 'segments' display a reddish color, ... [and thus it is off-color so far as its grapefruit-like appearance, this specimen (diameter ~13 cm)] resembles in size, shape ... a partially peeled grapefruit with five segments and a rind" (Robert Mansfield, personal communication, 2006).; found in the bed of Dry Creek, Hardin County, Tennessee. In any case, the specimen "appears to be the internal mold of a spatangoid echinoid" (J.Thomas Dutro, personal communication, 2007). Fay Myhan collection. (© photo by Robert Mansfield).


Àlc3. "Bunyan's burger" (height ~ 1.5 m), also called "Hamburger Hill," is an erosional remnant (a concretion, I suspect) in the North Coyote Buttes area of the Paria Wilderness in northern Arizona. One story promulgated about this mimetolith is that that Paul Bunyan dropped this sandwich when he became confused during a sandstorm, and it subsequently was petrified. (© photo by John Schwieder,

www.wildernesspics.com

).



Àlc4

. "Meatball sandwich" (width, as shown, ~ 20 cm), a loose stone that was found by Holly Spurlock about three miles south of the Elk Creek, Glenn County, California. It consists of sandstone, the "bread" layers of which are well cemented and hard whereas the "metaballs" are a softer sandstone. These sandstones are part of the Great Valley Group (Stewart Monroe, p.c., 2011). (© photo by Clara Osborne)


Àlc5. "Hot dog"

--

i.e., frankfurter/weißwurst (length -11.3 cm). This abraded piece of a colonial coral (Class Anthozoa, Order Scleractinia) was picked up from a "wash" on a beach on the south side of Aruba of the Netherlands Leeward Islands of the south Caribbean Sea. (© photo by Dick Dietrich).


Àlc6. "Leg of lamb - with lots of fat" (length ~18 cm). This section of a quartz vein, with the "meat" surface on the end consisting of a natural "iron oxide" (hydroxide?), was found in Fountain Hills, east of Scottsdale, Arizona. (Unlike the fare represented by the mimetoliths shown as Figures Àlc3 & Àlc4, this one is for the gourmet.) Mary Lofgren collection, Green Lake, Wisconsin. (© photo by Maria K. Dietrich).


Àlc7. "Half a potato - plenty for some, better than none for others" (height, from flat surface to top of "dome" ~ 45 cm). This stone is quartzite apparently glacially transported into the area during the late "Ice Age." Whether it was rounded before that transport or later -- e.g., while it was on a beach of a higher level, post-glacial phase of Lake Huron -- and also the time and process(es) responsible for formation of the flat surface are unknown. In any case, that surface was present when the stone was found by Edmund Massey in his garden in St. Ignace, Michigan; the stone is now in his and his wife's collection of stones. (© photos by Dick Dietrich).


Àlc8. "Frosted jelly-filled donut" ( diameter ~18 cm). This fieldstone is from glacially transported debris in eastern Michigan. The parent rock was part of the Lorrain Formation of Ontario. The "frosting" -- suggested as resembling strawberry cream -- is widely referred to as jasper puddingstone. The rest of the stone is quartzite -- a metamorphosed sandstone member of the formation. This stone is in the collection of Patty Peek of St. Ignace, Michigan. (© photos by Dick Dietrich)

As already implied, mineral and rock specimens the names of which are preceded by color adjectives related to, for example, flowers (e.g., rose or lilac) are not mimetoliths. Contrariwise, specimens that consists of two or more colors, the patterns of which resemble some animate or inanimate object, are mimetoliths -- see definition 1.b. Three examples are 1) graphic granite, also known as runite and by similar names in several non-English languages -- all names are based on the fact that this rock, which consists of quartz "rods" within a continuum of a potassium feldspar, exhibits a pattern that roughly resembles letters of cuneiform inscriptions or letters of the Hebrew or Arabic alphabets when cut perpendicular or nearly so to the lengths of the rods (see Figure A in the GRAPHIC GRANITE entry of the GEMROCKS FILE as well as Figure 32 in this file). 2) Orbicular rocks, the orbicules of which have certain arrangements -- when broken or sliced these rocks may exhibit forms such as those shown in Figure 31 and in Figure D in the GRANITE entry in the GEMROCKS file. [and] 3) Kikkaseki, the Japanese name of which translates as "stone/rock of chrysanthemum flowers" -- as can be seen (Figure 39), the designation is quite appropriate. The spotted olivine gabbro called troctolite (from the Greek), forellenstein (German), or troutstone (vernacular English) is another fairly well-kown -- at least by petrographers -- example; each of these names directs attention to the rock's appearance, hand-specimens of which are typically speckled "like a trout." In addition, I cannot resist mentioning one of the most intriguing rock specimens I have ever seen: It is a hornblende syenite pebble that exhibits many diverse mimicking images, some consisting of dark hornblende surrounded by light pink feldspar, others the feldspar surrounded by the hornblende, still others involving both minerals so-to-speak in concert.
Calling specimens, such as the agates and jasper shown as Figures 61 through 79, mimetoliths appears to pose a problem for some people: They consider the fact that most such mimicking images have become apparent as the result of chance cuts by lapidaries rather than as the result of natural weathering to be unacceptable so far as calling these specimens mimetoliths. In my opinion, their problem is unfounded -- see definition 1.b. and the discussion at the end of the definition. To elaborate further on the essence of this "problem" -- these features, most of which have "come to light" as the result of chance (so-to-speak random), rather than predictable, cuts could have been exhibited as the result of weathering and erosion (e.g., see Figures 41 through 48 + 90); that is to say, the features were there(!!) -- they were only exposed, not put there, by the lapidary. Along this line, a lapidary, who had a rather sizeable display of such agates, told me that he was sure he had been predestined to find such agates and to make the correct cuts to find images they held. It seems especially noteworthy here that the history for the "owl" exhibited by the specimen shown as Figure 71 indicates its recognition was exceptional: "It was sold as rough material ... broke along a fracture plane ...[and it was] recognized that there was some form of pattern in [it, so the purchaser ] elected to grind the specimen instead of cutting it with a saw. The more he ground ... the more prevalent the image of the owl became." ( Brad Cross, personal communication, 2005). Also noteworthy: Gabriele Berndt sent photographs of additional agate slabs -- e.g., those that resemble "two roosters," a "little white dog" and a "dragon" -- I chose the ones shown as Figures 71, 73, 74 and 79 as my favorites; and Bob Beudry shows several agates, which he calls "Picture agates," that exhibit mimetoliths on his web site (www.fireagate.com) -- e.g., those that resemble an owl, deer, fish, sad clown, and even an eight-ball -- of which my panel and I chose the two shown as Figures 72 and 76 for inclusion on this site. In addition, it should be noted that some mimetoliths of this genre have been discovered by people while slicing and polishing thunder eggs.
Agates (See also Appendix B.) and Jasper


Click thumbnails to see larger images.



61. "Virgin Mary" (height - 14 cm), a "Condor Agate," is from San Rafael , Mendoza Province, Argentina.

www.rexpler.com.ar

collection. (© photo courtesy of the Birnies).
62. This "Modernistic bust that so much resembles early Cycladic [southeastern Greek] sculpture was discovered when an agate boulder was cut and polished" (size not given) - quotation from Hurlbut (1970/1971); others --

e.g.,

Craig Gibson (personal communication, 2006) -- see it as looking "a bit like Munch's 'The Scream'." (photo by David Brittain: The 35mm transparency used for this scan is one of several that David Brittain, former CMU photographer (now deceased), obtained permission from Louis Zara (1910-2001) to reproduce from his

Mineral Digest

for my use.).
63. "Japanese Print" - Deschutes jasper from north-central Oregon (height - 5.0 cm). (© photo by

Kevin N. Daniel

).
64. "The [Comedy] Mask" (diameter - 6 cm) agate from a gravel pit near the Uruguay River in Province de Entre Rios, Argentina.

www.rexpler.com.ar

collection. (© photo courtesy of the Birnies) -- A correspondent suggests that it "looks more to me like 'The Joker' from the Batman series and movies -- [especially like] Jack Nicholson in the role from the 1989 movie."
65. "Hear Ye?" - ear-shaped agate (height ~ 5 cm). This cut and polished Lake Superior agate from Keweenaw Point, Michigan, along with its uncut bottom area, roughly resembles a human ear. Seaman Museum, Michigan Technological University. (© photo by

John Jaszczak

; specimen collected and polished by Robert J.Barron).
66. "Laughing Cyclops" [

i.e.,

"Cíclope Sonriente"] (diameter - 8 cm) agate from Neuquén Province, Patagonian Region, Argentina.

www.rexpler.com.ar

collection. (© photo courtesy of the Birnies).
67. "Leaping Lena, the cloud-hopping angel" – notice that her name, spelled backwards (

i.e.,

an[g]el) emphasizes her status – (egg height - 8 cm). The white form has also been seen as resembling a youngster with water wings jumping into a body of water. (© photo by Claude Pelisson,

http://www.oeufspolis.com/a_/info.html

).
68. "Face" (width ~ 10 mm). Jasper from the Urals, where the Russians call it "agate-jasper." Cut and polished by goldsmith Vasili Litchidov, now in the Netherlands, while in Uzbekistan (formerly USSR). (© photos by Vasili Litchidov).
69. "Beach Scene" agate as pendant (height - 3.5 cm), set in sterling silver. Beach with sporadic brownish material (seaweed? and/or jetsam? and/or whatever?), bluish sea and puffy clouds in the lighter colored sky above the horizon. (© photo by Lori Provo Coogan). The clicked image has the pendant tilted so the "horizon" is nearly horizontal.
70. "Paradise Island" agate from near Nuevo Cassa Grande, Chihuahua, Mexico. This cloud-topped island is, as can be seen on the complete specimen, which is shown tilted so the coastline is horizontal, as the "clicked" image, is a fine cabochon (width - 5.2

cm). (© photo by Dave Salyer).
71. "Horse head" (height of slab -11 cm) agate from quarry Setz, Steinbach, Germany. (© photo and sketch on large image by Gabriele L. Berndt)
71a. "Horse" included in green moss agate from India ( height of slab shown in clicked image ~7 cm). Owner sees this as a horse swimming through seaweed. . (© photo by Michael P. Sousa)
72. "Coyote on Indian blanket" (width of specimen shown on clicked image, which shows complete slice framed by purple heartwood ~15 cm) Laguna agate. Collection of Bob Beaudry, Tucson, Arizona (© photo by Joseph J. Intili).
73. "The Feather" (height of specimen - 4.9 cm) agate from Sidi Rahal, Morocco. (© photo by Gabriele L. Berndt).
74. "Bird" (height of specimen - 6 cm) agate from Neuquén Province, Patagonian Region, Argentina. (© photo by Gabriele L. Berndt).
75. "Apache Hooded Owl" (height of "owl" ~ 5 cm) agate from Rancho La Vinata, Ejido el Apache, Chihuahua, Mexico; Brad L. Cross collection. Photo (and piece), which "have not been 'retouched' in any way. [i.e.,] It is 100% natural." is part of announcement in "Rocks & Minerals" (80:45) of the 2005 (42nd International) Mineral, Gem and Fossil Show in Munich. (© photo by Wayne Baker; permission B.L.Cross; courtesy of Johannes Keilmann, Show coordinator).
76. "The Blue Rooster" or "The Rooster Crowing at the Sun" (diameter of piece ~ 5.3

cm) plume agate from Hindus India Valley, India -- mined in 1996 and bow cut. Collection of Bob Beaudry, Tucson, Arizona (© photo by Joseph J. Intili).
77. "Praying Mantis" in Morrisonite jasper from south-eastern Oregon (greatest dimension 3.0 cm). (© photo by

Kevin N. Daniel

).
78. "Wheatgrass Flowers" - Owyhee jasper from south-eastern Oregon (height - 5.3 cm). (© photo by

Kevin N. Daniel

).
79. "The Roller-skate" (width of specimen - 17 cm) agate from Agùa Nùeva, Mexico. (© photo by Gabriele L. Berndt).
Mimicking appearances of a few so-called mimetoliths of this size-group have been enhanced by dyeing and/or reshaping -- for two examples, see those that look like diverse foods that are illustrated in color in "A Thanksgiving I'll Never Forget" (see Cancalosi, 1990), and also those shown in the article "This Food's . . . a Rock Solid Hit" (National Geographic World, October 1990). In the latter, several rocks and minerals that resemble well-known foods are shown, but several have had their shapes modified so should not be considered to be mimetoliths per se. Yet another group of specimens that might be, but should not be named, mimetoliths comprises the "alphabet agates (etc.)" described and illustrated by Laurs (2003); the shapes of these letters (etc.) were fashioned by creative cutting of agates the layers of which were selectively stained.
Earlier designations -- In 1993, Edna Hesthal of Santa Barbara, California and Tadao Okazaki of Hobara, Fukushima, Japan independently directed my attention to Suiseki, of which I was unaware before their contacts. The definition for Suiseki given in a Japanese dictionary (translated for me by Okazaki) is "A stone or a piece of rock for aesthetic appreciation. Usually displayed on a water-filled tray or a stand; [an] 'ornamental Stone'." And, apparently this "art" has existed for untold centuries in Japan. In any case, it seems to me that they are much more than the dictionary indicates. At least they have evolved to included several other things -- i.e., the photographs of suiseki sent to me by Hesthal, who calls them "viewing stones," resemble panoramic landscapes, other natural shapes such as complete or parts of animals or vegetables (e.g., potatoes), but many are, in my opinion, better characterized as abstract. Only a few that I have seen either directly or in photographs are what I would call mimetoliths -- for examples, see Figure 80. Attention is also directed to the polished marble pieces, widely referred to as "Dreamstones." Apparently dating to the Tang Dynasty (618-907), these polished pieces are described as "Amazing natural art ...[that] are unique pieces of stone, primarily marble, ... from Cangshan Mountain in Yunan Province, China. ... [that are] revered for their captivating imagery... [-- e.g., ] their incredible depictions of the three-dimensional world , for their colors, their beauty, and their symbolism." (International Dali Dreamstone Association)

Suiseki that are mimetoliths


Click thumbnails to see larger images.



80. Suiseki. left. top, sea horse's head; bottom, "lizard stone." (top © photo by Sally Gilmore; bottom © photo by Edna Hesthal; both courtesy of Edna Hesthal); right. top, snow-capped mountain (base sawed); bottom, desert landscape. (© photos by Sally Gilmore, courtesy of Edna Hesthal).
Anyone who wants to learn more about Suiseki could begin with the web site www.bonsai-nbf.org, continue by looking at another web site (www.felixrivera-suiseki.com/), etc. The latter site provides text and illustrations relating to the history and several other aspects of this "art." For example, I found that "Japanese formalized the art of suiseki by naming various rock forms and creating precise ways to display them. [and that] Stones of great beauty were cherished and placed in a Tokonoma (viewing alcove) to be contemplated. [because] It was thought viewing of suiseki helped stimulate the person, purify one's soul and uplift one's spirit."

Some suiseki have been modified by, for example, sawing to give them a flat base. Some so-to-speak purists consider such suiseki to be inferior to those that have not been so-altered. In my humble opinion, this seems like ridiculous hair-splitting. Among other things, virtually all suiseki that have sawn bases could be mounted to show the same characteristics without being sawn.


It also is noteworthy that such terms as anthropomorphic-, biomorphic- and zoomorphic-FORMS and quasi-(e.g. bird-)like figures have been given some mimetoliths. However, these terms have also been applied to all sorts of other things and meterials. For some of these that are, and others that are not, mimetoliths, see Day (2003?).

Also, as one might expect (?!?), (wo)man-fashioned mimetoliths are on the market -- e.g., see

wwwgiltedgegoblins.com

.



MICROSCOPIC FEATURES
Microscopic portions of some rock and mineral specimens constitute mimetoliths, a few in the same sense as the mimetoliths shown as Figures 81 through 85 --

e.g.,

Figure 82.


Micro-mimetoliths


Click thumbnails to see larger images.



81. Aragonite and siderite "

flower

" (diameter of "flower" ~ 5 mm). Specimen from Chastriex, Puy de Dôme, France. Josselyne Salle Collection. (© photomicrograph by Robert Vernet).
82. "Praying Innocent" chondrodite surrounded by a phlogopite-rich area (field ~ 1 x 1.5 cm). Part of a thinsection of the impure marble that occurs near the southern contact of the the Fish Creek phacolith of Macomb township, St. Lawrence County, New York (Dietrich, 1957). (© photomicrograph by Dick Dietrich).
83. Bird-like inclusion in a diamond. The "overall inclusions scene (~1 mm long) [that] shows a striking resemblance to a bird in flight" that is "composed of a mineral (probably garnet) ... surrounded by tension fractures." (Laurs, 2008). (©

photomicrograph by Lori Provo Coogan,

Cohasset Jewelers, Cohasset, Massachusetts).

84 "Bibendum," the Michelin Man (height ~1.1 cm). This individual is more than four times the size of most of those found; this is quite apparent in the left hand image one sees when this thumbnail is clicked. All these masses, which are kerogen, are from the Antrim Formation, near Traverse City, Michigan. (see Dietrich and Chyi, 1995). (photo by David Darst).
85. "Medusa quartz" - Jellyfish-shaped masses of gilalite (Cu5Si6O17·7H2O) like this one occur in quartz from Paraíba State, Brazil (Rondeau & Macri, 2005). Collection of Michele Macri, Italian gemologist. (©

photomicrograph by Benjamin Rondeau

,

Museum National d'Histoire Naturelle, Paris, France).
Others in the literature: Three other microscopic features that may be considered mimetoliths are 1. "Whimpy" (also called "hamburger-on-a-bun") inclusions in Mexican opal -- see brief description and illustration in Crowningshield (1965); 2. a blue chalcedony that contains several red "inclusions" that is described in a news item in Volume I (1935, p.196) of Gems & Gemology as "'Blue Eagle chalcedony' ... because of its natural resemblance to the blue eagle emblem of the N.R.A. ... " [and] 3. the "Apollo space vehicle," an otherwise unidentified inclusion in amethyst, mentioned and illustrated by Liddicoat (1968).
ENHANCED(?) MIMETOLITHS and MICRODRAWINGS

It appears that some mimetoliths have had their similarity to something known enhanced. Though none of the following ones can be definitely said to be such, it seems likely that each has been so modified.


Enhanced(?) mimetoliths


Click thumbnails to see larger images.



90. "The Soul Stone" (height ~ 7 cm), quartz-veined biotite gneiss cobble, described as a natural cameo, was found in a back country stream southwest of Burnsville, northwest of Mt. Mitchell, Yancey County, North Carolina. Several viewers have suggested that this figure resembles the "Bride of Frankenstein" (1935) as played by Elsa Lanchester. L. D. Fink who found the stone, named it on the basis of its "mystical appearance" but adds that it also looks like an Egyptian or Hun lady who is looking at you over her shoulder. (© photo by Lewis D. Fink). Mark S. Frumkin, a professional jeweler and trained in hand engraving who has examined the stone, thinks the pattern was hand enchased by someone using metal tools -- But, "the graver marks I found seemed to me to be as old as the piece, almost as if it were done in another age or time. ... not modern."

91. Fish that, according to Dr. Cristobalo Campana (2005), had its eye and flipper "re-touched" by pre-Columbian indigenous people to make its original resemblance more obvious (Patricio Bustamante, personal communication, March, 2008). Further information is given (in Spanish) on the following web site:

http://rupestreweb.info/pareidolia2.html

(

© photo

).
92. Head of an eagle that, according to Dr. Cristobalo Campana (2005), had its eye and beak "worked" so its original resemblance to an eagle became even more evident (Patricio Bustamante, personal communication, March, 2008). Further information is given (in Spanish) on the following web site:

http://rupestreweb.info/pareidolia2.html

(

© photo

).

The well known "microdrawings" of the volcanologist Alexander McBirney provide another, though quite different, kind of enhancement; His "microdrawings" based on a thin section of the Mt. Jefferson (Oregon) andesite are especially noteworthy. They are on the covers of two publications of the Andesite Conference held in Oregon (McBirney, 1968 and 1969). These sketches include two delightfully whimsical "phenocrysts" -- see Figure 90. Although these particular features were fancied by McBirney -- i.e., they do not represent actual grains in the andesite -- several imitative forms of the same genre have "struck me," and I suspect several other petrographers, while studying thin sections of diverse rocks. (Strictly as an aside: I lament the fact that with the introduction of photomicrography, drawing of relations seen in petrographic sections has become a lost art. In my opinion, such drawing led to insights seldom, if ever, gained by clicking the shutter of a camera. Indeed, I have even wondered if its demise had a role in microscopic petrography's becoming passé in many petrology laboratories. But, that is another story.)


Microdrawings


Click thumbnails to see larger images.



100. Left.

Airplane

, inspired by the Jefferson Airplane Rock Group, which is near lower right of larger version that is seen when this thumbnail is clicked. Right.

Derek Bostok

,

bearded man with his pipe

, which is near center, right side of larger version; he is, by the way, a "Self portrait" of the microdrawing master, who "no longer uses a pipe!!" These diagrams are, respectively, portions of the covers of publications of McBirney, dated 1968 and 1969. (used with permission of A.R. McBirney).
SYNTHETIKITES
This useful term, coined by John VonDerlin, was originally given to "manmade rocks [

e.g.,

diverse bricks, ceramics, concretes and slags] eroded into attractive shapes." With his blessing, I extend his term to include man-made materials that have been discarded and subsequently rounded in surf zones and stream beds, thus leading to their being mistaken for natural pebbles and cobbles. In addition, it would seem that concretes, polymers, resins and fiberglasses that have been cast in molds made of natural cobbles and boulders -- and, in some cases, dusted with crushed rocks -- and marketed for various "stone uses" might be so designated because they too have shapes that make them look like something else --

i.e.,

natural stones

.

Consequently, one probably should also add the relatively large surfaces that have been plastered with one or another these man-made materials in order to make the resulting surfaces appear to be boulders or rock outcrops (in most cases to hide something or to "create" the appearance of a natural environment). Whatever, several additional uses of such non-rock stones are mentioned under the subheading "Pseudo-rocks" in Chapter 3 of "Stones: . . . " (Dietrich, 1980 ) and under the subheading "Man-made stones" in the "Stones: Addenda" file on this web site.

Synthetikites


Click thumbnails to see larger images.



110. "Little Devil"

or

"I didn't used to look like this" [before the fight] (height ~ 5 cm) terrazzo. (© photo by John Vonderlin).

111. "Donald Mitch-Hitchcock" (height ~ 39 cm) exposed side of a faux stone in a masonry siding on a residence at Gros Cap, Michigan (© photo by Dick Dietrich).
This, of course, leaves one group of specimens that appear to fit somewhere in between so-to-speak typical mimetoliths and synthektites -- i.e., angular fragments of rocks such as granite and rock gypsum that have been roughly tumbled to make them rounded and thus resemble natural pebbles. Is there any end to this? ? ?

ROLE REVERSAL IMITATORS

A genre of "reversal of roles" occurs when people's eyes lead them to "see" diverse non-rock entities as stones or rock outcrops. Two examples come to mind: 1.The group of succulent plants called by such names as flowering stone, living stones, stone plants, pebble plants -- all (

Lithops

sp) -- that, except when in bloom, resemble pebbles with which, by the way, they are commonly associated, and 2. sheep on hillsides, usually fairy distant, that passers-by have frequently misidentified as boulders or outcrops (and I might add, pointed them out to their traveling companions!).

Thoughts about imitators such as these have led to a number of questions being sent to me -- most, I suspect, with "tongue in cheek" -- asking whether they should be termed lithomimetes (or the like). -- My response is F0LDEROL! ! ! Call them what they are.

ACKNOWLEDGMENTS

Frances S. Dietrich, Richard S. Dietrich, David Ginsburg, Emmett Mason, and J. Stewart Monroe critiqued different versions of the manuscript and suggested inclusion of some mimetoliths not treated in the versions they read. Reed Wicander identified the fossils shown in the "Loose stones" tabulation and sought out the original photographs that were scanned to prepare some of the illustrations. David Ginsburg also helped me find some of the cited references. The people and organizations who supplied illustrations are noted in the captions. I gratefully thank all of these people for their contributions.

EPILOGUE

First, the rest of the original Introduction:

Also, consider the following poem (which reads in part)
"Look, a cloud, the shape of a rose."
"Not so – it's either a seal
with a ball on its nose
or an elephant
balanced atop its toes."
"No, if not some flower,
it must be a large water tower
or perhaps an all-day lollipop."
"You both are wrong –
it's a northern loon,
laughing straight up
at a full harvest moon!"
. . . ."
and Dave Coverly's Speed Bump cartoon (dated 11/16/2002), which reverses the roles: two clouds are directing each other's attention earthward to a "lake [that] looks like an elephant" and a "clump of trees [that] looks like Peter Jennings." At about the same time, an obituary for the respected Harvard mineralogist, Clifford Frondel (1907-2002), recorded the fact that, after viewing a group of rocks brought back aboard Apollo from the Sea of Tranquility on the Moon, Cliff remarked, "It looked like a bunch of burned potatoes" (Long, 2002). Even more recently, Emmett Mason directed my attention to the July 21, 2003 entry on the web site antwrp.gsfc.nasa.gov/apod/astropix.html that showed a starfield photograph by Gary Stevens entitled "Reflection Nebula in Ophiuchius," which was described as resembling "an impressionistic painting?"; Emmett, however, wondered if it didn't resemble "a romanesque, goateed face -- maybe--eh?".
Is it any wonder that we, usually "down to earth" geologists, when we look at certain topography, rock exposures, rock and mineral specimens, and beach stones sometimes think, "That looks like a ... "? -- Certainly not!!! Imagination is not only one of the capacities that separates humans from other living beings: It is common; it is fun; and sometimes, as Burke's (1940) lyrics go, "Imagination is funny; it makes a cloudy day sunny . . ."
Consequently, it came as a surprise -- indeed, a shock -- to me when one of our would-be professional spokesmen dismissed practices involving imagination exercises of the kind just mentioned in rather negative terms: ". . . faced with the history, the psychology, and the obtuse logic of describing minerals in non-mineral terms, one can only conclude that it will continue despite any complaints. The best defense may simply be to see the humor in it all" (Wilson, 1978). -- Fortunately, I think, Wilson's attitude is not held by many Geoscientists (especially educators). If it were, it might well serve to produce mental blocks in the very people whose curiosity, observations, and imaginations -- coupled with their knowledge -- might otherwise formulate the new ideas and hypotheses that are so important to the advancement of our science. Along this line, see also Appendix C.

Many of us who are active in one or more of the subdisciplines of this diagnostic science called geology have long acknowledged the need for imagination as well as knowledge. We recognize the fact that so-called "uniformitarian clues" are not the skeleton keys that open the doors of insight into many important questions. Consequently, we lament the fact that many youngsters' imaginations seem to be stultified by elders who prefer conformity. So, we continually hope that at least some of the youngsters who will become future members of our profession will escape such desensitizing "lessons."
Some of us even think: What better way to escape such a dull fate than to collect rocks and minerals and stones, and while examining them to imagine that some of their shapes or other features resemble something else. Indeed, we think it is fortunate that rocks and minerals can be enhancers of imagination as well as attractions for our future professionals. In fact, some of us think this so-to-speak practice can also be of value for adults. -- Along this line, I have often wondered what it was that so excited the imagination of Karl Harry Ferdinand Rosenbusch, the philologist, that made him change his profession, which ultimately led to his laying the foundations of microscopic petrography and becoming recognized as the "Father of (Modern) Petrology" (Dietrich, 1990); was it something he saw while he was teaching in Brazil, something he saw or heard while listening to one of Bunsen's lectures, what ??
Some of us have tried diligently to find ways to recognize and attract students with good imaginations to our profession, and a few of us have tried to devise methods to enhance students' imaginations. (By the way, the only means I have seen that seemed to help more than a few students was to have them participate in some hands-on Art (i.e., not art appreciation!) courses.) We fully realized that such efforts might lead to our losing some of those students; we consoled ourselves by thinking that should that happen at least those students would be better prepared no matter what career they might pursue. It is widely recognized that professionals from other fields as disparate as the visual arts, engineering, literature, and sciences other than geology also recognize the important role of imagination: The psychologist Barron (1958), for example, correlates imagination and originality, which he considers to be the foundation of a creative act; among other things, he concludes -- on the basis of a study of a group that included anthropologists, biologists, economists, painters, physicians, physicists, and writers -- "creative people are especially observant . . . they value accurate observation (telling themselves the truth) more than other people do . . . they have more ability to hold many ideas at once, and to compare more ideas with one another – hence to make a richer synthesis." How can anyone doubt that these are the kinds of people that we need as petrologists, mineralogists, and other geoscientists? Although it is a bit out of the context of his use, I ofen think of John Muir;s widely quoted statement:

"The power of imagination makes us infinite."
(see John of the Mountains: the Unpublished Journals of John Muir, edited by Linnie Marsh Wolfe. Boston, Houghton, Mifflin, 1938, p. 226.)

---------- >>>>>+++<<<<< ----------
Original Epilogue:
Two people who have apparently thought more deeply about this subject that I have, upon critiquing either the manuscript of the column that appears in Rocks & Minerals or a draft of the text prepared for this text, brought up matters that warrant recording:
A. Robert Cook (personal.communication,1988) notes that imagination for some people is probably much more than mere recognition that something resembles something else -- "It is the combination of observational talent and the ability to analyze observations to the point of recognizing such resemblances . . . [that is to say,] to recognize a real resemblance requires a certain degree of analytical thought."
B. Another reader of a preliminary draft of this text thought that something I told him, but did not plan to include, should be recorded because "it might prompt some social scientist(s) to make some sort of a follow-up study that might determine why observers have certain predilections so far as seeing and identifying such features." So, briefly, here are the two general relationships that became evident to me during my review of the mimetoliths. (It seems prudent to note, however, that these relationships, are based on a small sample and do not take into account suiseki. Also, not being a social scientist, I see no reason to repeat my tentative interpretations or conclusions so far as possible implications of these observations.)
1. A large percentage of recorded mimetoliths have apparently been thought to resemble human beings or parts of human beings. -- And, in order of reported abundance, other mimetoliths, as I mentally group them, are manufactured items (e.g., soda straws); animals other than humans . . . ; and plants and parts thereof (e.g., blossoms).
2. More than seventy five percent of the mimetoliths to which my attention has been directed have apparently been thought to resemble animate beings (i.e., animals including humans) rather than inanimate objects (i.e., plants and manufactured items).
ADDENDUM

When anyone perceives the shape or some visual characteristicof a mineral specimen, a rock or a geological feature to look like something else (i.e., to be a mimetolith), that person is, according to some people, experiencing pareidoliac apophenia. Apophenia is the perception of connections and, in some cases also meaningfulness, between unrelated things; pareidolia is a specific kind of apophenia that involves some relatively vague stimulus, visual and/or aural, causing a person to "see" and/or "hear" something else. The Rorschach Test is frequently cited as an example of this phenomenon, which is widely characterized as psychological.


REQUEST
Keep your eyes and minds open: Look and see and use your imagination. Do not avoid recognizing mimetoliths just because someone may consider your doing so to indicate you are exercising "obtuse logic" or the like. Each mimetolith you conjure up may serve to improve your imagination, your future creativity, your future life . . . Imitator landscapes, rocks, minerals, and stones are relatively common. Please let me know about those you find; I shall try to continually update this web site file with some of the examples directed to my attention.
REFERENCES CITED
Barron, Frank. 1958. The psychology of imagination. Sci. Amer. 199:150-166.

Burke, Johnny. 1940. Imagination (music by Jimmy Van Heusen). Sheet music. New York:ABC.

Cancalosi, John. 1990. A Thanksgiving I'll never forget. Ranger Rick. November 1990, 24(#11):43-47.


Cook, R.B. 2009. Mineral oddities[:} Theme of the 2009 Tucson gem & mineral show. Rocks & Minerals. 84:16-25.


Crowningshield, Robert. 1965. Developments and highlights at the Gem Trade Lab in New York. Gems & Gemology. XI:312.


Day, Alan. 2003? "Figure Stones" America's (almost) invisible prehistory Day's knob in Guernsey County [Ohio]. www.daysknob.com/DG.htm (accessed 25 September 2009).


Dayvault, R.D. and H. S. Hatch. 2005. Cycads from the Upper Jurassic and Lower Cretaceous rocks of southeastern Utah. Rocks & Minerals. 80:412-432.

Dietrich, R.V. 1957. Precambrian geology and mineral resources of the Brier Hill quadrangle, New York. New York State Museum and Science Service, Bulletin 354.
. . . . . 1980. Stones: Their collection, identification, and uses (2nd edition). Prescott(AZ):Geoscience

. . . . . 1985. The tourmaline group. New York:Van Nostrand Reinhold.

. . . . . 1989. Imagine: Another mimetolith. Rocks & Minerals. 64:149-152.

. . . . . 1990. Are there patron saints for rock and mineral collectors? Rocks & Minerals. 65:442-445.

. . . . . and K-L. Chyi. 1995. Some noteworthy minerals, rocks, and crystals. Rocks & Minerals. 70:188-191.

. . . . . and B.J. Skinner. 1979. Rocks and Rock Minerals. New York:John Wiley & Sons.

Dubin, L.S. 1987. The History of Beads,

from 30,000 B.C. to the present

. New York:Harry N. Abrams.


Ham, W.E. and C.A. Merritt. 1944. Barite in Oklahoma. Oklahoma Geological Survey, Circular 23. Norman(OK):University of Oklahoma Press.

Hurlbut, C.S., Jr. 1970/71. Quartz: The story of one of the earth's most important minerals and its precious varieties. Mineral Digest. 1:62-73.


Hyatt, Akira. 2012. Mushroom pearl in G & G Lab Notes. Gems & Gemology. 48:211-212.

Ishihara, Nobuo. 1986. Kikkaseki. (circa Stone/rock of chrysanthemum flower). Tokyo:Bokujisha.

International Dali Dreamstone Association. 2011-2012. I.D.D.A. International Dali Dreamstone Association web site. http://www.idda-us.com/index.html (accessed 25 June 2012.

Joy, Gordon. 1991. Letters to the editor. Scots Magazine25 . October 1991, 136(#1):8.


Kellogg, Marga. 2009. Inclusions come to life in detailed photomicrographs. The Loupe. 18:11.


Koivula, J.I. and L.L. Dale. 2008. "Party" diamond. in Lab Notes 2008. Gems & Gemology. 44:257.

Koivula, J. I. and Maha Tannous. 2003. Chrysocolla "owl" agate. Gems & Gemology. 39:314.


Koivula, J.I. and Onstott, KF. "Unidentified clarity characteristic" in diamond. Gems & Gemology. 44:156-157

Kunz, G.F. 1913. The Curious Lore of Precious Stones. Philadelphia:Lippincott Company (Also Dover Publications:New York, reprint.)

Laurs, B.M. 2003. "Alphabet" agates from Indonesia. Gems & Gemology. 39:153.


. . . . . 2008. Bird-like inclusion in diamond. Gems & Gemology. 44:164.

Leibov, Michael. 2004. Russian gold: An overview. Rocks & Minerals. 79:156-173.

Liddicoat, R.T. 1968. Developments and highlights at the Gem Trade Lab in Los Angeles. Gems & Gemology. XII:348.

Long, Tom. 2002. Clifford Frondel, mineralogist, examined first moon rocks, 95 (obituary). The Boston Globe. November 15:D12.

McBirney, A.R. 1968. Andesite in thin section (Cover picture) in Dole, H.M. (editor). Andesite conference guidebook. Oregon Department of Geology and Mineral Industries. Bulletin 62.

. . . . . 1969. Andesite in thin section (Cover picture) in McBirney, A.R. (editor). Proceedings of the Andesite Conference. Oregon Department of Geology and Mineral Industries. Bulletin 65.

Monroe, J.S. 1987. Creationism, human footprints, and flood geology. Jour. of Geol. Ed. 35:93-102.


Nemirovskaya, Alina and Wuyi Wang. 2006. Diamond with unusual etch channel. Gems & Gemology. XLII:165.


Pagano, Renato. 2014. The Tiziano Bonisoli collection Turin (Torino), Italy.

Rocks and Minerals

.

89:

166-172.



Parrot, G.F. 1840. Recherches physiques sur les pierres d'Imatra. Mémoires de l'Académie Impérial des sciences de Saint Pétersbourg. Sixieme Série, Tome V, pt.2: 297-426.
Plaut, W.G., B.J. Bamberger and W.W. Hallo. 1981. The Torah: A Modern Commentary. New York:The Union of American Hebrew Congregations. 1787p. [Plaut is both editor and author of the commentary on Genesis.]

Rakovan, John, Masao Kitamura and Osamu Tamada. 2006. Sakura ishi (Cherryh Blossom Stones): Mica pseudomorphs of complex cordierite-indialite intergrowths from Kameoka, Kyoto Prefecture, Japan. Rocks & Minerals.

81

:284-292.


Ranzenberger, Mark. 2005. Nature's design: Family finds rock shaped like Michigan. The Morning Sun (Mt. Pleasant, MI). September 4:C1.

Rondeau, Benjamin and Michele Macri. 2005. "Medus quartz" with gilalite inclusions. Gems & Gemology. XLI:270-271.


Rosemeyer, Tom. 2010. Creede, the last wild west silver mining campl in Colorado. Rocks & Minerals. 85:396-413.

Sanborn, W.B. 1976. Oddities of the mineral world. New York:Van Nostrand Reinhold.


Scovil, J.A. 2010. Scovil Unpublished Favorites: 2009. Rocks & Minerals. 85:134-139.

Shaub, B.M. 1961. Seeing things in rocks and minerals: Why. Rocks and Minerals. 36:233-234; see also the cover photo.


Sheldon, J.M.A. 1900. Concretions from the Champlain Clays of the Connecticut Valley. Boston:The University Press, John Wilson & Son.

Twain, Mark. 1971. The diaries of Adam and Eve. New York:American Heritage Press

Wilson, W.E. 1978. Hey, that looks like a . . . In Notes from the editor column. Mineral. Rec. 9:66-67.

Wood, R.W. 1917. How to tell the birds from the flowers and other wood-cuts. New York:Dodd, Mead and Co. (New York:Dover Publications, 1959, reprint seen).
---
APPENDIX A. Nouns & Adjectives that indicate mimetoliths.

The widespread occurrence of mimetoliths is clearly indicated by several terms that are rather widely applied by geologists, and a few of these terms are also used by non-geologists. Also, if prefixes and suffixes used for minerals and fossils were included, several additional terms could be listed. A few of the terms relate to senses other than visual perceptions – e.g., singing sand relates to auditory perceptions.
Some of the more common nouns and adjectives that come to mind are listed in alphabetical order in the following tables, with the terms that originated as foreign words, but are used widely in English-language publications, given in bold-face type. In addition, special attention is directed to the adjectives given the agates included in APPENDIX B.
Table 1. Nouns.
apron
arch
Archimedes screw


augen


biscuit (

lake

b...)
bight
blanket (

ejecta

b...)
blister (

ice

b...)
bloodstone
bridge
burr
castle
cat's-eye
chatter marks
cone (

volcanic

c...)
coral (

cave

c...)
cornice (

glacial

c...)
delta
dendrite
draperies
dollar (

barite

d...)
dome
fan (

alluvial

f...)


fenster


flatiron
flax (

earth

f...)
float
flour (

glacial

f...)
flower (

cave

f...)
fold


gendarme


girdle
gold (

fool's

g...)
hawk's-eye
hoodoo
horn


inselberg




kame


kettle
meal (

glacial

m...)
pearl (

cave

p...)
pillar (

earth

p...)
popcorn (

cave

p...)
pothole
rose (

barite

r...)
rosette (

barite

r...)
saddle
spine
tiger's-eye
towhead
tripe

stone


varnish (

desert

v...)


varve


wax (

earth

w...)
whaleback
Table 2. Adjectives & nouns used as adjectives.
bird's-eye (

e.g., limestone

)
accordian

fold


armored

mud

ball
asparagus

stone




augen

gneiss


bird's-foot

delta


box (

e.g., canyon

)
braided

stream


brain

coral


bread-crust

bomb

(

etc.

)
bridal-veil

falls


cedar tree

laccolith


chain

coral


chevron fold
Christmas tree laccolith

concertina

fold


cone in cone

structure


crescent

lake

(

etc

.)
dog-tooth spar (

calcite

)
elbow

twin


elephant-head

dune


embossed

rock


en echelon

folds


entrail

pahoehoe


eye

coal


eye & eyebrow

structure


eyebrow

scarp


fan

coral, delta, etc.


festooned

pahoehoe


fishhook

dune

ghost

crystal


glassy

luster


hair

pyrites, salt, etc

.
hairpin

dune


honeycomb weathering
horn

coral


horseshoe

reef


imbricated ...
jackstraw

texture


Job's

tears


lacy

residue


ladder

vein, etc.


landscape

sandstone, etc

.
lard

stone


layer cake

geology

mammillary ...
meandering

stream


oxbow

lake


pearly

luster


porcelaneous...
pudding

stone


recumbent fold
rice-grain habit (smithsonite)
singing sand
snowflake obsidian
trellis

drainage


trout

stone


turkey-fat

ore


vermiform

...


whistling

sand


zebra

rock
---


APPENDIX B. More Agates.

Commonly applied names of
many agates are based on
their patterns and/or colors --

i.e.,

their

names indicate things the agates resemble. Thus, these agates are mimetoliths. Examples of a few of these agates are illustrated in this appendix, and others -- such as mosaic agate, pagoda stone, polka-dot agate, ruin agate, topographic agate and zig zag agate -- will be added when appropriate photographs become available.
Blood agate - blood-red, pink or salmon colored agate from Utah.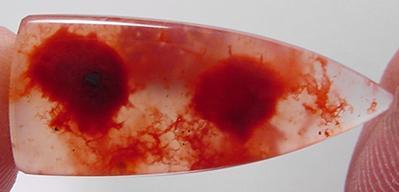 AppB1. "Pigeon blood agate" (3.5 x 1.4, 0.5 thick) from Cisco, Utah.
(© Sam Silverhawk,
www.samsilverhawk.com
)
.
Cloud agate - light gray and off-white chalcedony with an overall pattern that roughly resembles clouds. Most examples I have seen have shapes etc.resemble thunder eggs.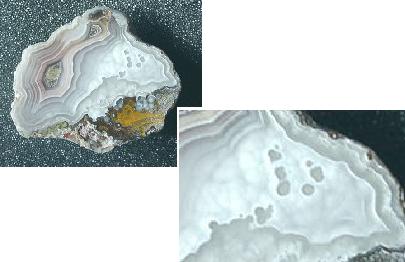 AppB2. Laguna Cloud agate (width ~ 5.7 cm) from Chihuahua, Mexico.
(© photo by Wes Roth,
www.opalcutter.com
).
Eye agate - agate with alternating, concentric color bands. The terms orbicular agate and Aleppo stone have also been applied to these agates, and agates with two "eyes" have been referred to as oxeye and owl-eye agates (cf. ring agate and polka dot agate.). Eye agates and ring agates (including onyx per se) fashioned to form "eye beads" are said to have been used in western Asia "since at least the third millennium B.C. as protective amulets to deflect the evil eye or neutralize its effect." (Dubin, 1987, p.307).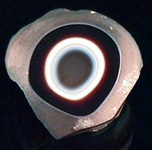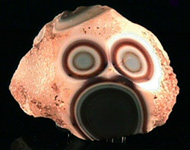 AppB3. Eye agates. Lawrence H. Conklin collection.

(© Lawrence H. Conklin,
www.lhconklin.com/bio/agat_col.htm
).
Flame agate - Two quite different agates have been called flame agate in the literature. Johnson and Koivula (1998) review and present fine illustrations of both. The following, with pertinent quotations from Johnson and Koivula (i.e., not directely from Sinkankas and Macpherson) briefly describe the appearances of these agates: 1. John Sinkankas (1959) described flame agate as a "highly translucent, colorless agate with few typical agate bands, but rather containing long streaks or 'flames' of a bright red color." The material he described came from Villa Ahumada, Chihuahua, Mexico. -- See Figure AppB4.a & b. 2. H.G. Macpherson (1989) applied the term flame agate to an "agate of any color in which the pattern resembles a candle flame." Many agates from many worldwide localities, if correctly fashioned, could be designated as flame agate under this definition. -- See Figure AppB4.c & d.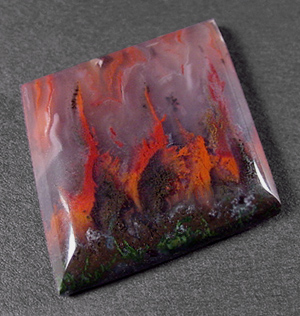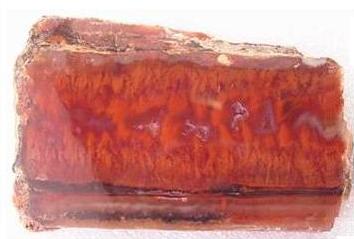 AppB4.a. Flame agate (height ~ 3.8 cm) from "a remote vicinity near Sonora, Mexico."

(© Sam Silverhawk,
www.samsilverhawk.com
)
.

b. Flame agate polished surface (width ~ 6.5 cm) from Jimenez, Chihuahua, Mexico.
(© John Truax,
www..mylittlerockshop.com
).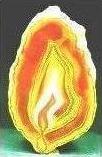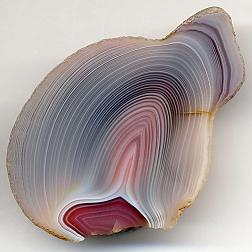 AppB4.c. Flame agate (height ~ 55cm) from Agate Creek, North Queensland, Australia.
Ashworths collection.
(© The Australian Gemmologist, used by permission)
d. Flame agate (width ~ 4 cm) from Scurdie Ness, Montrose, Angus, Scotland.

(© Hamilton Currie,
www.durriehj.freeserve.co.uk
).
Fortification agate - agate with bands that resemble bastions (etc.) of ancient forts -- cf. riband agate and ruin agate, AGATE entry in GEMROCKS file. Noteworthy fortification agates have been collected from Fourth of July Peak, near Hassayampa, Maricopa County, Arizona. The Fairburn agate, also called fairburnite, which is the official state gemstone of South Dakota, is another fine example of this kind of agate; it occurs sporadically in gravels in the Black Hills of South Dakota.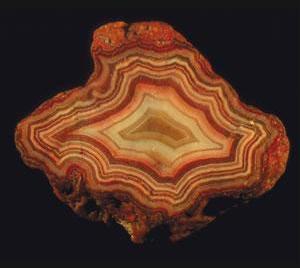 AppB5. Fortification agate (width - info to come) from Black Hills of South Dakota.

(© Michael Carlson,
www.agate-nodule.com
).

Frost agate (or frost stone) - translucent gray chalcedony that contains sporadic snowflake-like masses. A noteworthy occurrence is in the
Mojave Desert of California. Having never seen the Mojave Desert material or a photograph of it, I searched to find what I thought might be so-named. The central part of the agate shown in Figure AppB6 resembles frost on windows and would seem to be a likely candidate for such a designation.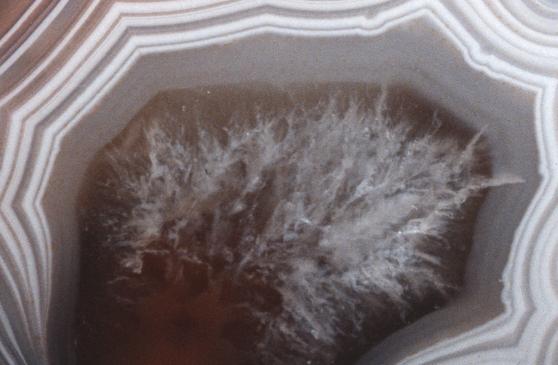 AppB6. "Frost agate" in the central part of a Lake Superior agate
(field width ~ 3.5 cm), which probably consists of quartz crystals.
Seaman Museum, Michigan Technological University.
(© photo by John Jaszczak
)
.
Moss agate - subtransparent to subtranslucent, white, light gray, yellowish or greenish agate with green and/or brown to nearly red iron oxide and/or black manganese oxide arborescent inclusions that resemble moss, trees and/or landscapes. Some agates of this genre have been given additional adjectival modifiers that pertain to forms other than moss that they are thought to resemble -- e.g., bouquet, flower, landscape, seaweed, trees, and even gnat, midge and mosquito. Diverse moss agates have long been associated with Hindustan; Yellowstone National Park, Wyoming; and the bed of the Yellowstone River in Montana -- e.g., near Glendive, Dawson County, Montana.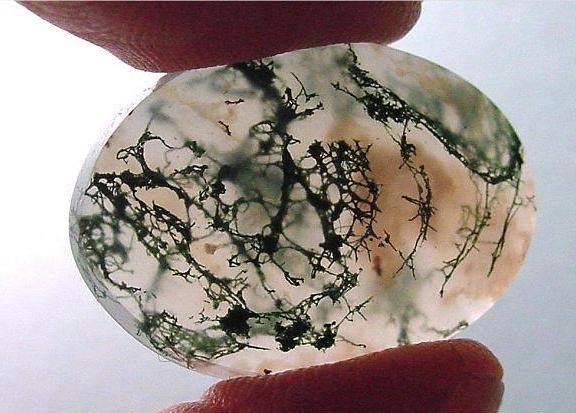 AppB7. Moss agate cabochon (greater axis ~ 2.5, cm) from India(?). Sheila Demeritt Collection.
(
© photo by Roger Weller,
Cochise College).
Mushroom agate - cabochons, beads, pendants have been marketed widely as as mushroom agate, mushroom jasper and mushroom rhyolite, which is said to have been metamorphosed. All, if indeed there are three differently constituted ones, are said to come from Arizona. I have seen only photographs of any of these, but all appear to be virtually the same material. The photographs indicate that the pattern of some of these pieces, as exhibited on polished surfaces, roughly resemble mushrooms.

Plume agate - many agates that are so-named are special kinds of moss agate. Most consist largely of virtually colorless or light-colored, commonly bluish, agate with included sporadic red, yellow, yellowish brown or violet fluffy-appearing masses, some of which resemble plumes of, for example, egrets. The "plumes" of these agates from several different localities have been recorded variously as consisting of or pigmented by goethite, diverse individual manganese oxides or combinations thereof, realgar and/or orpiment. Some particularly well-studied plume agate occurs within thunder eggs of Saguache County, Colorado (see Figure A in THUNDER EGG entry, GEMROCKS file). Other fine examples have been collected near Prineville, Crook County, Oregon and south of Alpine, Brewster County, Texas.


AppB8. "Priday Ranch plume agate"
(field width ~ 1.8 cm) from Oregon
;
b. "Stinking Water Plume Agate" detail
(field width ~ 2.6 cm) from Oregon.

(
©
photos by
Hideharu Yamada
,
www.lithos-graphics.com
)
.
Pom pom agate - agate containing pufflike clusters.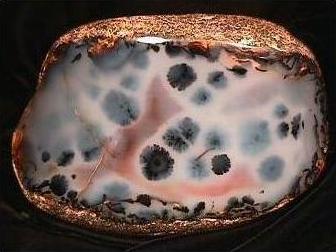 AppB9. "The Big Sky Agate" - Pom pom agate (width 22.5 cm) from Yellowstone River gravels
between Terry and Miles City, Montana.
(
©
photo by Tom Harmon
,
www.harmons.net/bigsa
).
Ring agate - agate exhibiting concentric color bands -- cf. eye agate. However, this designation is also used in the marketplace for agates used in rings. As the pairs shown on Figure AppB9 indicate, the ring/eye-effect of at least some of these agates may be just a result of the fashioned shape -- i.e., they may be typical banded agates that have been cut to give the ring/eye appearance when viewed in certain directions.


AppB10. "Ring agates" (diameters ~ 2 cm). See preceding text.

(
©
photos by B. Alan Basinet
,
www..marbelalan.com/nonglass
)
.
Snakeskin agate - term applied to both silicified corals and chalcedony nodules whose surfaces roughly resemble the scaly pattern of some snakes' skins -- see FOSSILIFEROUS ROCKS entry.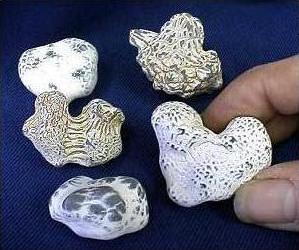 AppB11. Snakeskin agate from the Mojave Desert in Arizona.
"These unusual agate specimens
[

i.e.,

clear to smoky chalcedony nodules]
are not tumbled,
but are in the natural state in which they were found. ... erroded (

sic

) by
wind and sand while sitting atop the desert floor.

(
©
photos by
Angi Brown,

www.greatsouth.net

).
Nemirovskaya and Wang, 2006)


Sowbelly agate - term applied to materials such as that shown by early miners who thought it "resembled cured salt pork, a staple of the early miner's diet; it consisted of fatty and lean layers of pork that was cut from a sow's belly and sides.

...

[This] sawed specimen, which weighs 46 pounds and is 48 x 30 cm, was recovered from the Last Chance mine dump [in the Creede mining district in the San Juan Mountains of southwestern Colorado] (see Rosemeyer, 2010).
AppB12. Sowbelly agate from the Last Chance Mine, southwestern Colorado.
The specimen is
in the collection of Tom Rosemeyer.
(
©
photo by Phil McCollum)


---
APPENDIX C. Summary of a pertinent report I did not see before I introduced the term MIMETOLITH.
Benjamin M. Shaub, then a professor of geology at Smith College, Northampton, Massachusetts, and a man I knew during the first half of the 20th century, when we were both doing geological work in northern New York, wrote an article "Seeing things in rocks and minerals? Why?" that was published in
Rocks and Minerals
in 1961*. A copy of the cover photograph of that issue of the magazine is shown below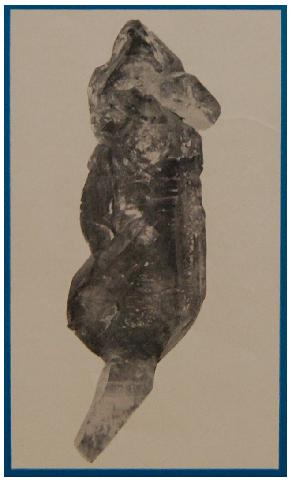 "An aggregate of smoky quartz crystals
from Perham Mine, West Paris, Me. ...
In collection of Mrs. Stanley I. Perham
at Trap Corner, West Paris, Maine."
(no dimension is given; photo copy of the
original cover illustration;
©
1961 by
Peter Zodac
.
)
The article starts out with the following statements:
"
For some people, ... it appears that their chief enjoyment in rocks and minerals is based largely on what
objects they can see in the pieces that appear familiar to them when they look at the various shapes and
configurations that these natural objects assume .... This game is so intriguing to some of the members of
our mineral and rock fraternity that they specialize in collecting such oddities. They have fun! And their
collections are the source of entertainment for their friends and most visitors."
He also notes the following about the illustrated specimen:
"Let's look at the cover photograph and Fig. 1. My friends tell me that the smoky quartz crystals look like a
dog, others say it must be a mouse while others let it pass as an animal with a stubby crooked tail and an
ear like a bat and resting on its belly with folded legs. Still others say it is some sort of a rodent or if it did
not have such a long tail it could be a fawn. Another friend said that it looks like some prehistoric monster,
and yet another remarked that if it were turned in a certain way it 'looks like my beagle'. What a beagle!
O.K., but why such uncertainty. The answer is that it only very remotely looks like something, a mere
suggestion of a well known, object."
Dr. Shaub then goes on to describe virtually all parts of the specimen in detail, and concludes that the owner of the specimen "considers it a choice oddity. [and[ Such accessions add a great deal of interest to mineral collecting and to one's collection. But do not take them too seriously or read to much into their origin. It is much better to learn the real nature of minerals."
* Marie Huizing, Managing Editor of
Rocks & Minerals
, kindly made an original copy of the 1961 issue available for photography of these illustrations.
---
APPENDIX D. "No-Shows."

Some readers have asked why I do not include photographs of certain mimetoliths to which they have directed my attention -- i.e., those shown as photographs in periodicals. Upon receiving such suggestions, I have looked at each of the indicated illustrations. Those considered good additions, and for which I have been able to get permission to use the photographs, are included. Unfortunately, however, a few photographs considered worthy of inclusion have not been added because the publishers were unwilling to give such permission. Examples are:
1) the "Chrysocolla 'owl' agate" (Koivula & Tannous, 2003);
2) the one "resembling a palm tree ... [that is an] unusual etch channel ... in a 2.33 ct round brilliant diamond" (Nemirovskaya and Wang, 2006);
3) the "minute crystal formation (probably graphite) [which] is reminiscent of the 'flying saucers' often featured in early science fiction movies ..." in a diamond (Koivula and Onstott, 2008);
4) the "brownish green type1a diamond ... [in which a] hydrogen cloud has a unique three-dimensional shape reminiscent of a Venetian part mask" (Koivula and Dale, 2008);
5) the "columnar play-of-color pattern resembling ferns ... in black opal from Virgin Valley, Nevada" (Kellogg, 2009);
6) the "mushroom shape[ed pearl, which has ] ... underneath the cap [has] ... arching radial structures reminiscent of the 'gills' found in some actual mushrooms," (Hyatt, 2012 -- see Figure 7).
Others, and references to them, will be added in this Appendix when such listing seems noteworthy.


---
---
R. V. Dietrich © 2014
Last update: 10 March 2014
web page created by Emmett Mason