ONYX
(Fr- onyx; Ger- Onyx; Nor- onyks; Rus-

)
ONYX (see also CHALCEDONY and TRAVERTINE entries)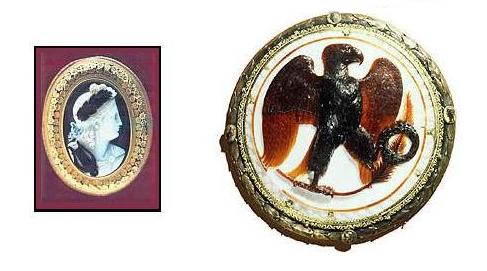 A. Onyx cameo. This three layer cameo (greater axis - 3.7 cm), consists -- from bottom upwards -- of the black background layer, the white figure depicting a woman's head (etc.), and the olive(or laurel) garland in the woman's hair and the lyre on her lapel. Frank & Constance Karas collection. (photo by L.W. Everts, Martinek's Jewelers, Traverse City, Michigan)
B. Onyx cameo. This two-layered cameo (diameter - ca. 22 cm), which is in the Kunsthistorisches Museum in Vienna ("Adlercameo" - ANSA IX A 26), dates to 27 B.C. A complete description is given on the museum's web site (www.khm.at). The golden brown tones indicate the "black layer" of this onyx was not homogeneous or not black per se -- i.e., the carved material appears to have been intermediate between onyx and sardonyx. (© Kunsthistorisches Museum, Vienna; reproduced here with permission)

DESCRIPTION: Onyx has been defined differently in many dictionaries, glossaries, etc. The following is a so-to-speak composite definition adhered to in this document: A variety of chalcedony that consists of alternating broad, relatively flat, parallel bands of different colors, typically only black and white; some definitions also include the fact that its chief use is as a gemstone, especially cameos. Therefore, onyx is, in essence, black and white agate with relatively flat, broad bands. But, throughout the ages, onyx has also been applied to similarly broad ... banded chalcedony of colors other than black and white -- e.g., reddish brown and white; and, for at least the last century, onyx has frequently been applied to only the black portion of onyx, as just defined, and in the marketplace extended to apply to any black chalcedony, be it natural or dyed. For properties of onyx, other than the aspects just mentioned, see the CHALCEDONY entry.
OTHER NAMES: The preceding statements notwithstanding, the term onyx has been used as an adjective or a modified noun to refer to materials that are neither black and/or white or even chalcedony. Examples include the marketplace designations Mexican onyx, California onyx, and Yaqui ... and Yava onyx (see the TRAVERTINE entry). In addition, the following terms have been applied to onyx as just defined.
Chalcedony onyx and chalcedonyx - designations used, albeit rarely, for black and white banded chalcedony.
Nicolo (in some publications spelled niccolo) - term applied to onyx defined by black or dark brown layers alternating with light bluish white layers. Some people add the restriction that the light bluish layers are at most off-white with the bluish appearance dependent upon diffusion of light reflected off and through the lighter, translucent layers. Such stones have found widespread use for engravings.
USES: Onyx formerly found its chief use for carving cameos, most with the black bands serving as the background and the white bands left in relief for carving into the depicted figures. More recently, however, several so-called cameos have been produced by attaching a carving of some light colored material -- e.g., opal, moonstone or shell (i.e., mother-of-pearl) -- to a black onyx background stone. (Indeed, several such "cameos" consist of combinations of all sorts of blackand white materials, with some of the "cheap" ones having man-made materials for both their background and projecting subjects, which are molded rather than carved.) In addition, so-called marketplace black onyx is currently used in all sorts of jewelry, usually as cabochons or beads or other rounded forms, but also, albeit infrequently, faceted; and, it has been carved, currently usually employing laser techniques, or used as the background material for inlays of materials such as opal.
OCCURRENCES: See CHALCEDONY entry.
NOTEWORTHY LOCALITIES: Agate localities of Brazil, India, and Madagascar. See AGATE entry.
REMARKS: The name onyx, from ancient Greek ὄνυξ, meaning nail (referring to finger nail), has been hypothesized to have been applied to this variety of chalcedony because of an early belief that it was formed from Venus' finger nails that were clipped by Cupid as she slept. The translucency plus the banding aspect of fingernails -- which are so-to-speak banded with the white (when clean) ends, the main rosy to flesh colored section (hue dependent on one's blood pressure) and the lighter colored "half moons" near their exposed bases -- are thought by some etymologists, though it seems unlikely, to have been the basis for this derivation.
It is reported that black onyx can be heated to enhance the richness of its color (www.wire-sculpture.com). Some of the true -- i.e., banded -- onyx is dyed agate, and most of the so-calked black onyx currently on the market is chalcedony that has had its color changed to black by what is usually described as a sugar-sulfuric acid treatment. This treatment, as used when I was young (and I suspect for untold decades before then), involved putting chalcedony -- preferably a light colored one -- in honey or a concentrated sugar solution for a month or so and then "washing it" with sulfuric acid. [Anyone trying to use this procedure MUST be extremely careful when using the acid!].
My favorite onyx piece is the amazingly detailed two-layered eagle cameo in the Kunsthistorisches Museum in Vienna (see Fig. B), which is said to date back to 27 B.C. Another piece, if it ever existed, that is of similar date is described by Merrill (1922, p.153) "an onyx ring, supposed to be the espousal ring of Mary and Joseph, exhibited in the Duomo of Perugia, is thought to be efficacious in the cure of every disorder."
The name of sixth stone in the Breast plate of the High Priest, Yahalom, is thought by some scholars to refer to onyx. Other scholars, however, have suggested that onyx occupied other -- e.g., the eleventh or twelfth -- positions.
Onyx is considered by some people to be the alternative (to peridot) birthstone for August; by others to be the alternate birthstone for February; and by some to be the so-called "mystical birthstone" for December. It also has been marked as the "lucky stone" for those born under the Zodiac sign Leo (July 22 - August 22).
SIMULANTS:
***Barium sulfate with a polymer cement. - [inferior hardness and lack of subconchoidal fracture].
Black minerals - e.g., black augite, garnet (melanite), jet, sphalerite, spinel (hercynite) and tourmaline (schorl). - [See Johnson et al. (1996).].
Chalcedony dyed black - this material probably should be considered as a treated, closely related material rather than simulant.

Chalcedony (not a simulant, per se) - the designation "genuine green onyx" has been applied to chrysoprase from Australia (Crowningshield, 1964).

Chinese onyx - name given in the marketplace to augite fashioned as faceted stones. - [higher luster and specific gravity (~3.35)].
Dolostone dyed black - [Dolomite effervesces slowly, with an action often characterized as smoldering, when attacked by cold dilute HCl.].

Genuine green onyx - trade name given chrysoprase (Crowningshield, 1964). - [Color suffices.].

Purple onyx - name given to a dyed quartzite (Koivula and Kammerling, 1990, p. 309) - [superior hardness and higher (vitreous) luster].
"Quartzite and dolomite" - a rock, which on the basis of the description given (Hargett, 1991) appears to be a quartz-bearing dolostone, recorded as having been fashioned into a gemstone. As illustrated, this rock is black and would apparently be a good substitute for onyx and other black stones such as jet . Although Hargett (op.cit.) does not indicate the rock was dyed, it seems very likely that it was because black dolostones are extremely rare, if indeed they even exist - [effervesces, albeit only with a slow simmering, with dilute HCl].
***Wedgewood ceramic ware - white figures, molded to resemble carvings, atop a dark gray background, have the general appearance of cameos fashioned from onyx; especially when mounted in, for example, brooches - [Close examination suffices to distinguish these from onyx cameos].
REFERENCES: No general reference.
---
R. V. Dietrich © 2015
Last update: 23 May 2005
web page created by Emmett Mason