PEACH PIT CARVING


Compiled by R.V. Dietrich, Professor Emeritus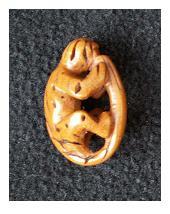 The Appendix at the end of this file has been added since
and is NOT included in the
PDF file that is available on CONDOR (see below).
In addition,
a few updates and revisions have been made to this file -- they are in red type.
The material that was on this web site as of September 10, 2009, is available as a PDF file
on Central Michigan University's Online Digital Object Repository (CONDOR).

---
---
HISTORICAL BACKDROP


Peach pits have been carved for several centuries: Tim Hallman of the Asian Art Museum, San Francisco, California contends that the craft originated in China where the Peach is a symbol of longevity(1); Wang Xu-De, in a summary about the history of peach pit carving in China, notes "Peach stone carving has a long history in China and is first recorded in the middle of the Song dynasty [960 -1279]"(2); it also is recorded that AHandiwork of pit carving was all the rage for a time in the Ming [1368-1644] and Qing [1644 -1911] Dynasties.@(3); [and] folklore exhibits of the Sichuan University Museum in south-central China include Asome fantastically small carvings including a miniature boat and crew carved from a peach pit.@(4)


More recently

:

Michigan State University lists "Peach Pit Carving" on its "... topical file subjects" relating to the Michigan Traditional Arts Program. Articles have been published about peach pit carving in both China and America in, for example, the periodical

Chip Chats

. Carvings have been displayed at art and craft festivals. And, a few web sites describe and/or illustrate relatively recently carved peach pits.





So far as the place peach pit carving has in the world of arts and crafts, the following rather apt statement seems to "say it all" –

i.e.,

for all, save a few professional, peach pit carvers whom I know or have read about

:

"This unusual art form seems not to be attached to any specific region, ethnic group, or occupation. One simply occasionally finds folks who like to sit down and carve tiny figures and baskets out of peach pits

...

@(

5

).


PITS and TOOLS

Peach pits, sometimes referred to as peach stones or even peach seeds, comprise the cores of the widely eaten fruit called peach (Prunus persica) in English (Tao zi in Chinese(Pinyin); pêche in French; Pfirsch in German; pesca in Italian; fersken in Norwegian; :,DF48 in Russian; melocotón in Spanish; persika in Swedish; fershke in Yiddish; etc.). In America, several peach varieties, most of which are hybrids, have been given names such as Redhaven and Georgia Belle. All, however, fall into two major groups, usually referred to in the vernacular as Afree stone@ and Acling.@ – I have been unable to find out whether the six rather different varieties recorded as supplying the recognizably different peach pits used for carving in China(6) also fit into these two overall categories. – In any case, it has been my experience that the pits in today=s hybrid peaches – i.e., the ones readily availble in markets in the United States and Canada – are not nearly so amenable to carving as the pits from the peaches availble during the 1930s and 40s were. Also, it seems to me that for the most part pits from cling peaches are more workable than those from free stone peaches.


Peach pits consist of two main parts

:

an outside hard wood-like material (putamen) and an enclosed nut-like, cyanide-containing seed (kernel). The wood-like material, which is carved, typically has many irregularly shaped open spaces and a hardness similar to that of hard maple, except for a softer zone where it was attached to the stem. Unlike most wood, however, the typical peach pit has virtually no grain except along one of its edges (see Figure1B). The seed is removed from most carvings, and in any case does not become part of the finished products. With a few exceptions, pits I have seen have greatest dimensions that range from 2 cm to 4.5 cm –

i.e.,

from ~ 3/4 to ~1 3/4 inches. Their colors

range from light

tan to medium brown with some having reddish or yellowish orange hues

(see Figure 2 and the illustrated carvings)

.

Figure 1. Peach pit, from left to right: A."front view" with stem attachment area at
x
;
B. & C.side views, "B" the side having the complex "rib" that is noted in the text as having a grain,
that grain trending supparallel to the length –
i.e.,
from top to bottom in the photograph;
D.sawn half of pit the central part of which is half of the cavity where the seed occurred;
E.cross section cut perpendicular to "D" to show concavity; F.a dried seed.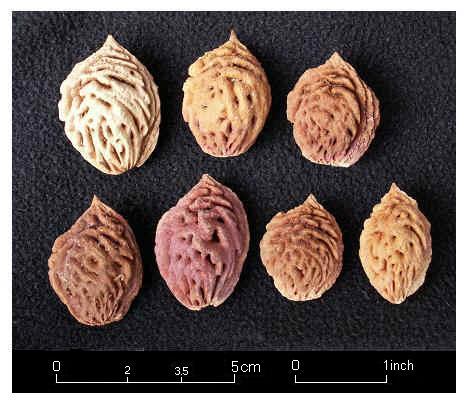 Figure 2. Dried peach pits
with diverse characteristics
that are typical of those I have found.
Tools used differ from carver to carver
:
Some carvers use only simple knives – jackknives, penknives and/or paring knives. Others, especially professional carvers, use several diverse additional tools –
e.g.
, files, chisels, gouges, exacta knife blades and scrapers, some of which are miniaturized (see Figure 3 and note reference 6) – which are virtually essential to produce the intricate details manifest by some carvings (see Figure 4 and illustrations in reference 6a). In addition, some carvers also use tools, such as burs, attached to electrically powered flexible shafts like those formerly used by most dentists, especially for roughing out their desired forms before they carve their end products. Some carvers also use magnifying lenses while carving details such as intricate floating designs. And, many carvers also use sand paper or other abrasives for shaping as well as for so-to-speak finishing their carvings.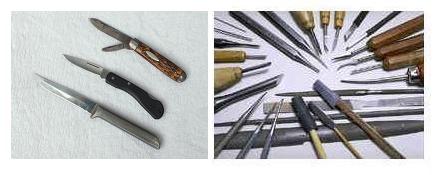 Figure 3. Tools. Left, top to bottom, Grandpa Dietrich's jackknife, my jackknife and paring knife.
Right, Some of Janel Jacobson's carving tools – ( © photo by Janel Jacobson,
reprinted here by permission; see www.janeljacobson.com/carvings/325)
Miscellany
"Children in China wear a peach pit suspended about the neck to keep demons away."(7) Perhaps this relates to the fact that peaches are considered to symbolize long life – apparently in the same general sense as "an apple a day keeps the doctor away" – i.e., if eaten regularly they are said to prolong life (8). Along this line, it is of at least passing interest that the peach "was once thought to be native to Persia (Iran) but recently, scientific consensus is that it originates from China" (Desmond R. Layne, personal communication, June 2005), and "Efforts at domestication and improved culture of peaches [in China] have been documented over the last 2500 years."(9)


According to the Illinois Humanities Council, in a brief note about Abraham Lincoln artifacts,
"Dr. Weldon Petz, of West Bloomfield, Michigan, recently donated almost 40,000 items to the Plymouth Historical Museum [Plymouth, Michigan]. He began his collection in the 1940s while performing with the big bands in New York, although his fascination with the man began when he was a boy of 8.
...
[One of his favorites is] a peach pit in the shape of Lincoln's head and face. Carved by a man serving time in prison, Dr. Petz was struck by the fact that someone going through such a difficult time had carved the image of Lincoln. He kept the carving when he donated most of his collection to the museum."(
10
) See Figure 4.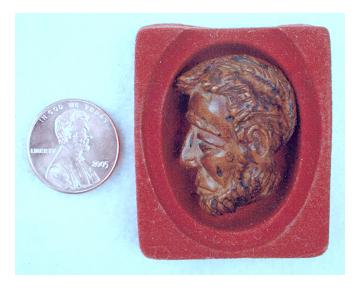 Figure 4. Dr. Weldon Petz' peach pit carving by a prisoner of war during the
War between the States (American Civil War) of the 1860s.
( © photo by Dr. Petz)

At least one other President of the United States of America has been the subject of a peach pit carving -- one with some remarkable details, which include the following (See Figure 5.)
:
A portrait of John F. Kennedy, wearing a veterans hat; the inscription "President John F. Kennedy of United States" above his head; an eagle on a shield to the left of President Kennedy (
i.e.,
to his right); a depiction of St. Christopher, below the eagle and shield; foliate patterns below and to the right of the President (
i.e.,
to his left); and "R.J. McErlane," the name of the carver, along the lower left side. This carving was donated by the carver to the John F. Kennedy Presidential Library and Museum, Columbia Point, Boston, Massachusetts, where it now is housed.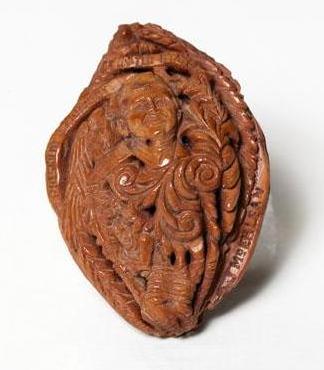 Figure 5. R.J. McErlean's peach pit carving of President John F. Kennedy.

Description is given in preceding paragraph. The pit is approximately 38 cm in greatest dimension.

(photograph was downloaded from

www.jfklibrary.org

, which Stephen Plotkin,

Reference Archivist, informed me is in the public domain.

Moving from the sublime to, in my opinion, the ridiculous – the following appears on the internet under the title

Meriting the Merit Badge

: "The merit badge counselor looked quizzically at the Scout. 'Wood carving, eh?' he observed. 'And this is made from a peach pit? Carved it with your pocketknife! It's a neat piece of work.' But then the kindly counselor went on to point out that the Scout had not used the tools of a wood carver, that excellent as this peachstone neckerchief slide was, the Scout had not actually and fully met the requirements for the merit badge."(

11

)

Some peach pit carvings have been mounted on pedestals. See Figure 6.



Figure 6. "Clouds & Trees," front and back views with larger views on sides to show details better.
Carved by Janel Jacobson, 2000. ( © photos by Janel Jacobson, reprinted here by permission)
Robert Shamey of Ligonier, Pennsylvania has, like some Chinese carvers, extended his carving of peach pits (e.g., Figure. 7) to several other pits and seeds, Shamey carves pits/stones/seeds from, for example, sweet cherries, sweet black cherries, choke cherries, olives, plums and even the seeds from inside the red berries of Dogwood trees. Examples are shown on his web site(12)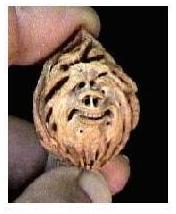 Figure 7. Unnamed peach pit carvings by Robert Shamey. Three bottom ones are enlarged
to show details. ( © photos by Robert Shamey, www.shamey.com/pit/pit., reprinted here by permission)

Henry Clay Hogeland (
1913 - 1987
) formerly of
Birmingham, Alabama
carved more than a "shoebox full of monkeys ... from peach pits. He was a railroad engineer and carved while he worked as well as during his time at home. His only carving tool was a Tree pocket knife." (Shelia H. Pickett
of Oneonta, Alabama
, daughter of Mr. Hogeland, personal communication, 2008) As can be seen on Figure 8, Hogeland's monkeys had different appearances than those widely considered traditional. -- Note for example, the one wearing a hat, the ears on the other three, and the brightly colored faceted glass "gemstones" for the eyes on two of those shown. The
possibly
disturbing luster that is apparent on the photographs is due to the fact that he coated each of his carvings with colorless nail polish.

Figure 8. Examples of peach pit carvings by Henry Clay Hogeland.
(carvings in collection of Shelia H. Pickett).
Several other peach pit carvers are known for their works. A few of them, including both Americans and Chinese, are mentioned in articles published in Chip Chats. Also, a few carvers and marketers exhibit carvings on web sites – e.g., see Figure 9, which shows two of my favorite groups from the stand point of their preservation of the original characteristics of the peach pits.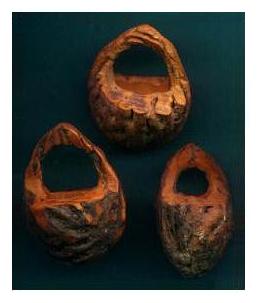 Figure 9. Top.Three of the so-called "standard" basket carvings. Carver(s) unknown.
( © photo by Ron Toth, Jr.
http://www.timepassagesnostalgia.com/, reprinted here by permission)
Bottom. "Whimsey pin" from early1900s. Carved leaf (width ~9 cm) with three dangling peach pit
baskets that are attached with copper loops; safety pin on back is wearing clasp.
( © photo reproduced from
www.folkartisans.com
with permission)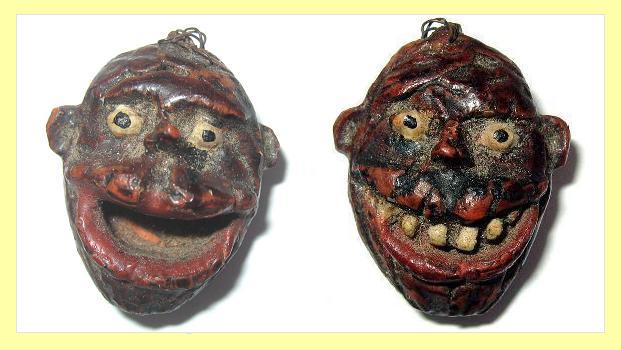 Figure 10. Enlarged views of two sides of one carved peachpit (height ~ 2.7 cm),
parts of which have been painted.
This carved pit is from an estate sale that was held in the Washington D.C. area.
Nothing is known by its current owner about its source etc., but she notes that
"most people's estate sales in the DC area were from people who traveled quite a bit!"
(© photos by Eva Kisevalter [email: stellavanilla@mac.com], the current owner)

PERSONAL EFFORTS
George B Dietrich (1860 -1941), my grandfather, introduced me to peach pit carving in the early 1930s. Grandpa used only a pocket knife and fine sandpaper, and perhaps – I am not sure about this – rubbed them with linseed oil to give them the finish he preferred. One of his carvings, "A monkey biting his tail" – one of the so-called old standards – is shown below the title and also as Figure PE-0, left.

During the next sixtyfive years, my carving of peach pits was limited to a few baskets – the other "old standard" – nearly all of which were fashioned quickly just to show some disbeliever that something could be carved from a peach pit. My first one, perhaps my best because it was made under Grandpa Dietrich's guidance, is shown as Figure PE-0, middle.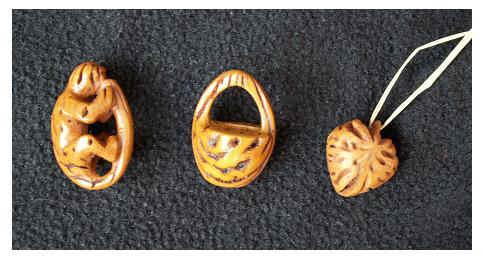 Figure PE-0. Left to right: Two standards – monkey biting tail by George B Dietrich;
basket by R.V. Dietrich
(his first carving at ~ 9 years old)
.
and a small heart-shaped pendant fashioned from a
peach pit similar to those of the Pan Peach of China (
6
)

The last few years, just for the fun of it, I have carved several pits to represent all sorts of real and fanciful animals, plants and other shapes. Several of my carvings arise from what I see as inherent forms of a given pit: Some of these forms are apparent to me before I start carving; others "come to light" as I carve, frequently resulting in something quite different from what I originally planned. In any case, as the characteristics of my primitive genre carvings indicate, I use only pocketknives and/or common paring knives and sandpaper for shaping. To give the fashioned pieces a somewhat lustrous (satiny) finish, I rub them with Brazil and/or pecan nuts and brush them with a soft tooth brush. A few examples of my carvings are shown as Figures PE-0 - PE-8.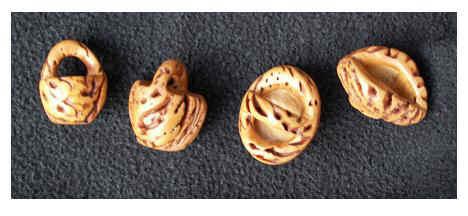 Figure PE-1. Diverse baskets, left to right: the old standard with handle across greater width;
one with handle across the depth –
i.e.,
shorter width;
one with handle at a right angle to the length;
one shaped like an urn, with no handle.
Each is free standing.

Figure PE-2. Humanoids: the one on right is "a man from the 'Planet of Apes' "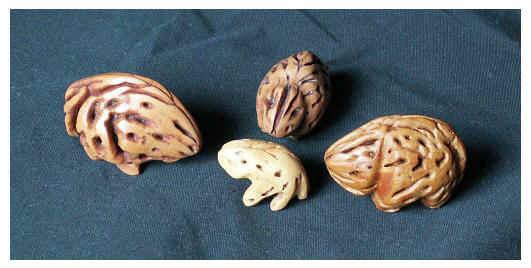 Figure PE-3. Miscellaneous grazers – each stands freely on a flat surface.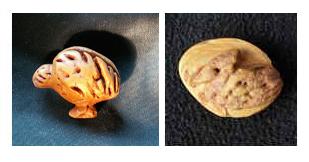 Figure PE-4. Birds: Left, Ptarmigan; right, hooded merganser "cameo."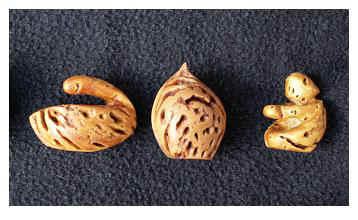 Figure PE-5. "Symbols" – left to right: "Lamp of learning,"
"Eternal flame" and "Magi bearing gift".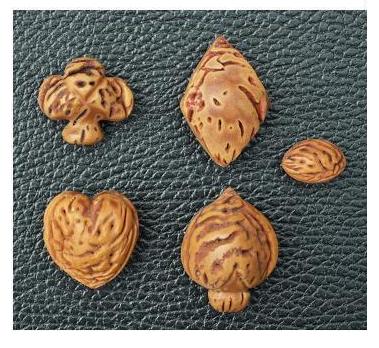 Figure PE-6. Club, diamond, heart and spade plus, center-right, the smallest pit I have ever
been given to carve; after just rounding it off, a friend suggested
I leave it that way and just call it a football.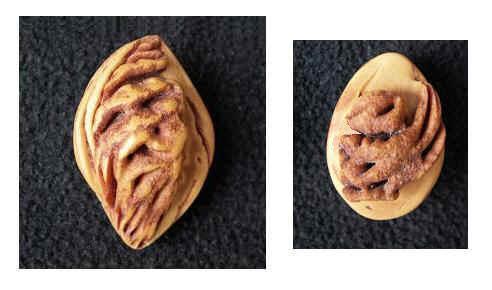 Figure PE-7. Two "inherent forms" as cameos
:
"Old Man Winter"
or "Jack Frost" (your choice) and a squirrel.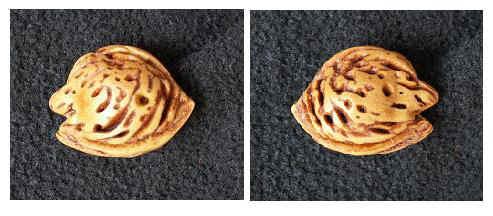 Figure PE-8. Two for one

:

Left, fish; right, fledgling with open beak.


References:

(1) "Peach pit carver releases the art within." 2001. < archives.cnn.com/2000/STYLE/arts/05/15/peach.pits.ap/index > (accessed: 3-June-2005)


(2) Xu-De, Wang. 1994. History of peach stone carving in China.

Chip Chats

.

Sept.-Oct.

:66-67.

(3) "Jingtan network." 2005. < www.alibaba-online.com/trade/company/goto/10007874 > (accessed: 2-June-2005)

(4) "Local attractions: Sichuan University Museum." n.d. < www.scu.edu.cn/home/math/local%20attraction > (accessed: 1-June-2005)

(5) "Tucson entertainment," n.d.
< www.tucsonfestival.org/TMY/FolkArt/TucsonMeetYourselfFOLKartWHITTLINGandPEACHpitCARVING > (accessed: 29 May 2005)


(6) Xu-De, Wang. 1995. How to carve peach stones. Chip Chats. Nov.-Dec.:34-38.

(6a) Xu-De, Wang. 1992. Chinese carver turns peach seeds into objet d'art (translation of letter to editor). Chip Chats. Nov.-Dec.: 14-15.

(7) "Traditional uses of herbs." 2002. < www.runningdeerslonghouse.com/webdoc20 > (accessed: 30 May 2005).

(8) "Elder artist shows how patience takes the peach." 2005. < english.epochtimes.com/news/5-5-24/29034 > (accessed: 31-May-2005)

(9) Layne, D.R. 2005. Stone fruit - Desmond Layne looks at China's past and present peach market. American Fruit Grower. 125(#3):54-55.


(10) "Illinois humanities council" 2004. < www.prairie.org > (accessed: 30 May-2005)

(11) "Scoutmaster's minute - meriting the merit badge." n.d. < www.scoutresources.org/bs/sm_min/merit-the-badge > (accessed: 1-June -2005)

(12) "Shamey Metalcraft - The pit heads." n.d. < www.shamey.com/pit/pit.htm > (accessed: 31-May-2005)



~~~~&&&&&~~+&+~~&&&&&~~~~



ADDENDA: A Few Things Relating to Peach Pits that I Found

Interesting



The items are given in the following general order: peach pits not modified by carving (

etc.

); carved or otherwise shaped pits by probable date of original modification; [and] miscellany.


Gas mask filters: Girl scouts -- "During World War I, girls learned about food production and conservation, sold war bonds and collected peach pit for use in gas mask filters." (

A0

) -- And, "activated carbon is still the best sorbent for organic vapors, and many types of carbon are used in respiratory protection devices today, including carbon made from peach pits." (William Plack, personal communication, 17 May 2006).

"Peach-pit Jesus": Someplace near the Coast of the Carolinas: "The woman told me she'd seen Jesus in a peach pit. 'It's true' she said 'and well-documented' nodding to the yellowed newspaper clipping taped to the side of her fruit stand. ¶ There it was — a picture of her blessed neighbor — a Miss Lorraine Mills, holding the pit in one hand and pointing to it with the other. Apparently, Jesus revealed his image from out of the dregs of her homemade peach wine. [And,] once the word got out, believers came from all over to see His face in the crevices of that peach pit."(

A1

)

Peach pit spitting: The Johnson County Peach Festival -- said to be "the oldest [annual] outdoor festival in the state"-- held in Clarksville, Arkansas, includes fiddling, horseshoe pitching, jumping frogs and peach-pit spitting.(

A2

)



Peach pit painting

: "Use a peach pit to paint a peachy picture. On a table covered with newspaper, place shallow pans, containing orange, red, and yellow tempera paints. Place newsprint paper into a shallow box lid, such as a shoebox. Dip the peach pit into the color of your choice and place into the box lid containing the newsprint. Tilt the box lid back and forth so that the peach pit rolls around and paints on the paper. Continue dipping the peach pit into the various colors and painting until you are satisfied with your masterpiece!"(

A3

)



Buddhist prayer bracelets(?): Bracelets consisting of "Hand-carved peach pits, each ... a detailed monk['s head] Used in Buddhist prayer." are illustrated on the internet marketplace.(A4)


Sanded and half burned

:

An interesting "Peach Stone Game" that "comes from the Six Nations of the Iroquois...[and] originiated from our creation story ... In the present time it's played during certain ceremonies, mid-winter, seed ceremony and the harvest ceremony. the Peach stone game is a bowl/dice game. The dice are the peach pits that are sanded smooth, and one side [of]the peach pit is burned and the other side is a natural color." The game involves shaking the pits in the bowl and pouring them out, and the number of peach pits landing on the dark versus natural colored sides is the basis of the scoring. For details, see the below cited web site.(

A5

)




Bryan and Darrow Exchange Gifts

: The following newspaper report (name of paper not given) is verbatim(

A6

):
DAYTON, Tenn. July 15. - William J. Bryan and Clarence Darrow, Fundamentalist and agnostic, antagonists in the Scopes trial, exchanged courtesies in the Rhea County courtroom today at the end of the day's session. ¶ Mr. Bryan went to Mr. Darrow in front of the bench with the image of a monkey in his hand. He was smiling. A friend of mine sent me this and asked me to give it to you," he said. "It's carved from a peach pit, and it's so pretty I'd like you to keep it." ¶ "I'm glad to have it," said Mr. Darrow, also smiling, as he took the gift. "I have one almost like it, and I'll give it to you in exchange."


Peach pit-wok "panjo": Of the interesting people Forman met while on the road, "One of his most surreal memories was made in Kansas while hanging out with a guy named Dwayne, who carved pieces of art out of peach pits. After jamming with Forman for a bit, Dwayne pulled out his musical invention, which he called a 'panjo,' and which Forman describes as a banjo made from a wok pan that was adorned with peach pit art." ( From -- "A Western Thing Cow Bop's jazzed-up Western music helps Bruce Forman feel at home."(dated July 07, 2005) by Stuart Thornton (A7)





Porcelain Peach Pit

: A "nature inspired Peach Pit Yixing teapot [that] conveys the ever-renewing spring of life....[:] A naturalistic peach pit serves as a finial for the teapot lid.(

A8

)



A noteworth analogy

:

In an article "Neutering Social Security" (dated April 5, 2005) by Jim Hightower, it is noted that George W. Bush is "currently squawking like a rooster choking on a peach pit" in his efforts to change Social Security. (

A9

)




Addenda References:



(

A0

) Events at the Yorktown Museum-Girl. 2000-2003. <

www.yorktownmuseum.org

> (accessed 24 July 2005)




(

A1

) A Cook's Notebook|Peach-pit Jesus. 2003. <

www.cooksnotebook.com

> (accessed July 23, 2005)

(

A2

)

Featured Events: Events: Arkansas Travel.com. n.d. <

www.arkansastravel.com

> (accessed July 22, 2005)

(

A3

) Picture Frames. 2001. <

www.teachyourzoo.com

> (accessed July 22, 2005)




(

A4

) Bracelet Peach Pit - Made in China... 1997 - 2005. <

www.cyberimport.com

> (accessed July 23, 2005)

(

A5

) Arts, Crafts and Games. n.d. <

www.4directions.org

> (accessed July 22, 2005)

(

A6

) The Scopes "Monkey Trial." [July 10-25,1925] or "A 1925 Media Circus." n.d. < www.borndigital.com/scopes.htm > (accessed July 21, 2005)

(

A7

) Monterey County Weekly. 2005. <

www.mcweekly.com

> (Accessed July, 22, 2005)

(

A8

) Peachpit Yixing Teapot. 2000-2005. < shop.store.yahoo.com > (accessed July 23, 2005)

(A9) AlterNet: Neutering Social Security. 2005. < www.alternet.org > (accessed July 22, 2005)

---
| Home |

---
Appendix. Additions to this file since it was converted to the PDF file that is available on CONDOR.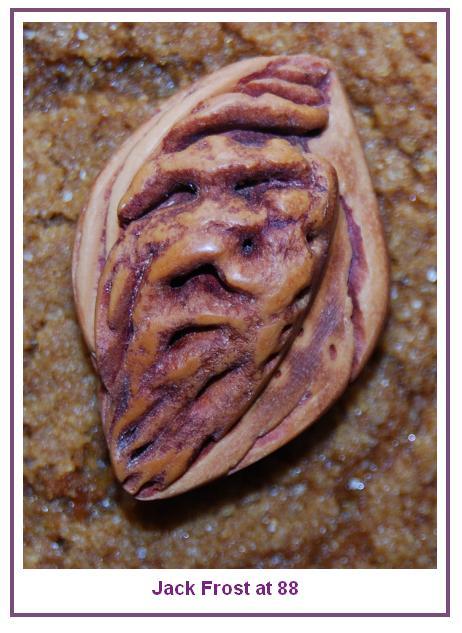 App1. This version, a photograph of the left "carving" shown in Figure PE-7
was made on the compiler's 88th birthday. The background is a ginger snap.
Its detail is better shown in this photograph.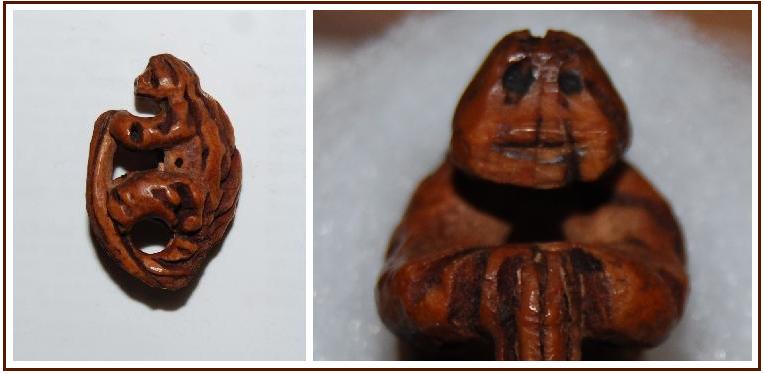 App2. This is the only peach pit carving that resembles the old standard "monkey biting his tail" with the end of the tail not extending into the monkey's mouth (left). Whatever the explanation, the carver gave the monkey a face (right). One wonders if it's expression says something such as "Good Riddance." (carving in collection of Rickey Wilson)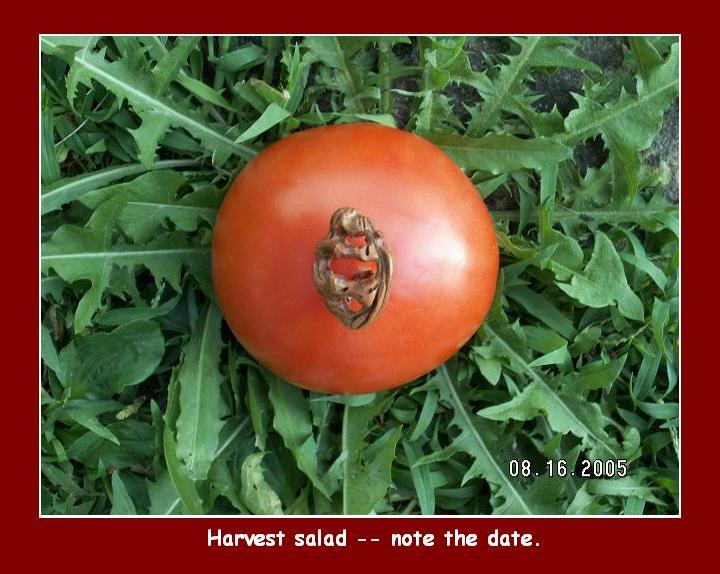 App3. This typical "monkey biting his tail" carving was send to the compiler while he and his wife were at a summer home on the St. Lawrence River, It and the background tomato were picked up in nearby Hammond, New York. The carving is by the widely known carver of all sorts of pits, Robert Shamey.

App4. Recently, I received an email that relates to a use of carved peach pits of which I had not known:
"i remember my father carving peach pit whistles. can you tell me how to carve them [to make such whistles]?"
(T. Menzie, 14 July 2012).

This led me to some carving and lots of blowing. Two of the results that I fashioned gave whistle sounds, albeit not loud or of great quality. The following rough sketches of cross-sections of these two -- i.e., A and B -- show their general shapes:
A has the basic design of many whistles -- e.g., those commonlhy associated with police and postal delivery people; one aspect of these made from peach pits is especially important -- the hole into which air is blown should be only a thin slit.
B is an example of "whistles" produced when one blows across the open end of, for example, the top of a bottle. The one I made produced a louder whistlelike sound than A. Consequently, I blew across the tops of several peach pit basket carvings in my collection; each includes an open-topped otherwise enclosed space -- i.e., they have the same general shape as B. Some of them produced whistle-like sounds, others did not, at least so far as any within my hearing range.
.
Later, I checked some other carvings in my collection that seemed possibly to have shapes that might produce a whistlelike sound. One of them, the general shape of which is shown as C of the cross-sections, produced a good, loud whistle. In fact, it produced a whistle sound that I consider to be of much better quality than any of the sounds produced with A or B.

In any case, peach pits can be carved to produce whistlelike sounds! And, I suspect that, with modifications, much better sounding whistles than those I made can be made. Perhaps better whistles would have general forms that differ from the three shown in the following diagram. If any reader knows of such a whistle made from a peach pit, T. Menzie and I would appreciate your sending information and/or photographs of such a carving.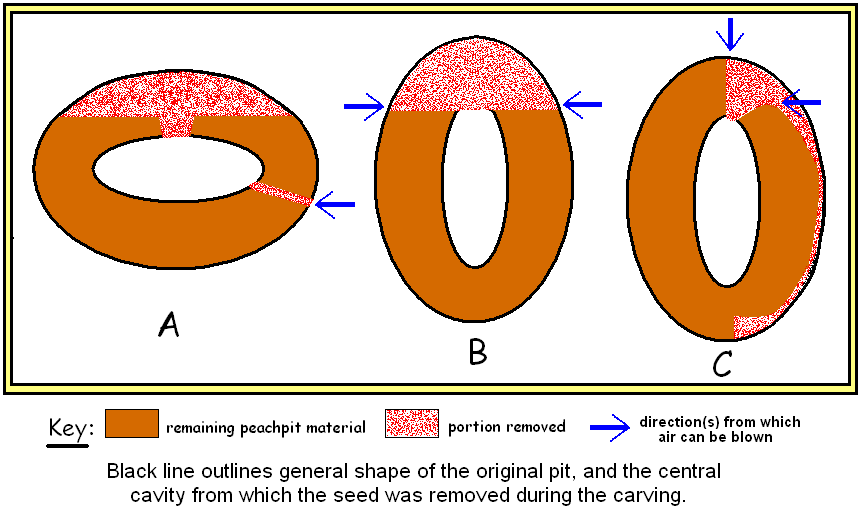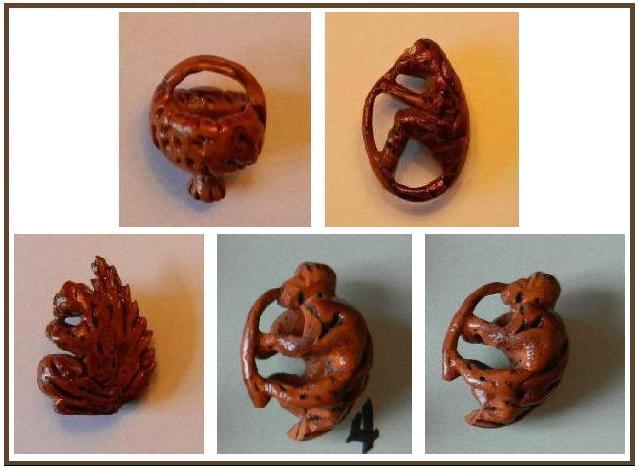 App5.
These four peach pit carvings, the origin of which is not known, were given to Dr. Cozette Griffin-Kremer by her grandfather, "to play with when I was a little kid" in the 1950s. The Grandfather, Francis Mitchell Wisdom (1878-1966), was a native of Saline County, northwestern Missouri, a fact that may indicate the provenance of these pits.
The basket is the only one I have ever seen with such a pedestal; when carved this basket may have been balanced so that it would stand on a flat surface, currently it does not do so. The squirrel has a "rhinestone" attached to the pit as its left eye. The monkey biting its tail, upper right, also has "rhinestone" eyes. The monkey -- bottom, center and right -- provides particularly interesting images for me, a jack-leg musician: It looks like this monkey is playing an instrument, perhaps a straight -- albeit bent -- saxophone, in a jam session. (© photos by Dr. Cozette Griffin-Kremer)
~~~***~~~

App6. Nomenclature relating to Peach pits. This addendum is included here because of discussions I have had with some of the people who have viewed this web site. Despite the fact that I believe that what the part of the peach that is carved is called by the person who carved it or who now owns the carving is of little consequence, the following definitions, which I favor, are given here, for the record. Each is a reworded version of the definitions that appear in several dictionaries – e.g., "The American Heritage Dictionary":
Pit. The central kernel or stone of certain fruits –e.g., a peach, plum or cherry.
Seed. The propagative part – i.e., reproduction unit -- of a plant that can develop into another plant of the same species.
Stone. The relatively hard cover that encloses the seed in certain fruits – peaches, plums and cherries. .
Clingstone (adj.). Referred to a fruit – e.g., a peach – the pulp of which adheres to its pit or stone.
Freestone (adj.). Referred to a fruit – e.g., a peach – the pulp of which does not adhere to the pit or stone.
~~~***~~~
---
R. V. Dietrich © 2018
Revised: 9 August 2018
web page created by Emmett Mason