RHODONITE
( Fr- rhodonite; Ger- Rhodonit; Nor- rhodonitt; Rus-

)
RHODONITE, (Mn,Fe,Mg,Ca)SiO3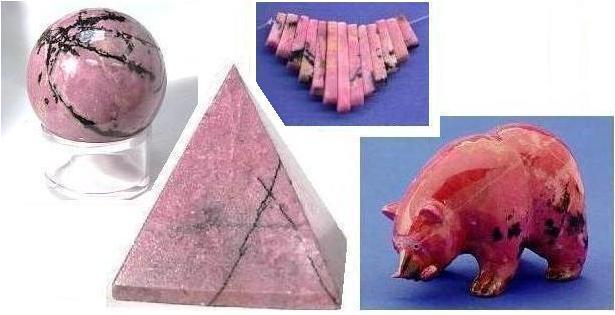 A. Rhodonite sphere (diameter - 5 cm). (© photo by Mike McKnight, permission The Crystal Ball, Inc.)
B. Rhodonite pyramid (height - ca. 5 cm). (© photo courtesy www.wehug.com)
C. Rhodonite. Egyptian Collar consisting of 13 pieces of rhodonite (length of individual pieces -1.2 to 2.8 cm; widest part of collar - 4.8 cm). (© photo by Dave Braun, permission info@baybead.com)
D.
Rhodonite
"Grizzly Bear" carving (height -10 cm). (©
photo
permission www.denisbrand.com)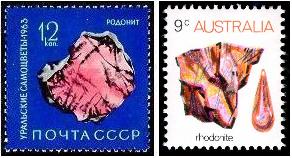 E.
Rhodonite.
Left
, Russian stamp (12 kopecks, dated 26 Dec 1963) depicting the polished surface of a rhodonite specimen from the Ural Mountains.
Right
, Australian stamp (9 cents, dated 11 July 1973) stylized depiction of a rough specimen and of a teardrop pendant.(©
photo of stamp by Richard Busch,
reproduced by permission
http://mineralstamps.rbnet.net
)
DESCRIPTION:
Compact, massive variety.
Color
- pink to rose-red, with much of the gemrock material consisting of rhodonite
plus
black veinlets and/or irregular blebs that have been identified variously as also rhodonite and/or psilomelane and/or wad (see PSILOMELANE entry)
H.
5½-6½
S.G.
3.4-3.75
Light transmission
- most that is used as a gemrock is subtransluscent to opaque
Luster
- subvitreous to pearly
Breakage
- irregular to subconchoidal
Miscellany
- in the field, commonly has a black coating.
OTHER NAMES:
Angel blush - trade name given a mixture made up largely of rhodonite -- with lesser amounts of natronambulite, kozulite, namansilite and other yet-to-be-identified manganese minerals -- from the Woods mine, northeast of Tamworth, New South Wales, Australia (R. Polk and J.S. White, personal communications, 1998).
Manganese spar - a vernacular appellation that has never gained widespread acceptance.
Spider web rhodonite - name sometimes applied to rhodonite with included black manganese oxides that exhibit a spiderweblike pattern on some surfaces.
USES: Gemstones, carvings, buttons and other ornaments.
OCCURRENCES: In and near manganese-rich ore masses.
NOTEWORTHY LOCALITIES: Sverdlovsk district in the Ural Mountains, Russia; Tamworth, New South Wales, Australia; near the hematite mines of Congonhas area, Minas Gerais, Brazil; on Salt Spring Island in the Strait of Georgia, east of Duncan, Vancouver Island, British Columbia; near Rosemond, Kern County and Happy Camp, Siskiyou County, California; south of Silverton, San Juan County, Colorado; near Plainfield, Hampshire County, Massachusetts. Shigley et al. (2000) tabulate localities and pertinent references for localities from which rhodonite was recovered during the 1990s.
REMARKS: The name rhodonite comes from the Greek ῥόδον (rose), in reference to its color.

The pink hues of the pieces shown as Figures A and B are, I suspect, natural; those of the necklace (Fig. C) are probably also natural; those of the bear carving (Fig. D) appear likely to represent some color enhancement, which, if true, may not extend very far inward from the surface. These descriptions are not, however, known to obtain -- they are based only on my familiarity with rhodonite and the color hues exhibited by the photographs! Along this line, on the basis of my review of several score of photographs of rhodonite pieces displayed on internet web sites, I suspect that many of the depicted pieces have had their rose-colored hues enhanced either really or photographically.

As well as its use as gemrock rough, rhodonite has been used for some rather large sculptures and other items -- e.g., Spencer (1971) records a block cut at Ekaterinburg in the Urals as weighing 47 tons and a large block (the same one?) was used to fashion the sarcophagus for Alexander II of Russia. In addition, it is noteworthy that macrocrystalline rhodonite -- i.e., gem-mineral rhodonite -- has found use as a gemstone.
Gemrock rhodonite was recorded from the Berkshire Hills of western Massachusetts as early as 1825. In describing rhodonite from Cummington, Hampshire County, Massachusetts, Kunz (1891, p.152-153) wrote: "Blocks were taken out weighing some hundreds of pounds each, having a rich pink and red color ... were equal in quality and beauty to the Russian rhodonite, which is made into vases and also table-tops and mantels."
There was a time in the 1950s when pink and black were so-to-speak fad colors, especially for men -- e.g., they/we wore pink shirts, black ties, etc. At that time, rhodonite, with its pink and black colors, was popular for such things as tiepins and large cuff-links.

See also Astorite in Appendix A.

SIMULANTS:

Garnet (i.e., massive grossular) -- "Red grossularite, especially when it contains black inclusions, makes a fairly good substitute for rhodonite." (Kemp, 1963). - [Visual examination usually suffices -- e.g., grossular has higher luster.].

Massive varieties of several minerals resemble massive rhodonite -- e.g., bustamite, marsturite, nambulite, natronambulite and pyroxmangite. Indeed, some of the material called rhodonite, including that utilized as rough for gemstones and ornamental pieces, may very well consist in part or wholly of one or more of these minerals. - [usually requires non-macroscopic means].
Reconstructed rhodonite -- apparently produced, but to date, I have been unable to verify this. - [Appearance would likely suffice.].
REFERENCES: No general reference. Dunn, 1976.
---
R. V. Dietrich © 2015
Last update: 11 May 2013
web page created by Emmett Mason