SODALITE
( Fr- sodalite; Ger- Sodalith; Nor- sodalitt; Rus-

)
SODALITE, Na4(Al3Si3)O12Cl.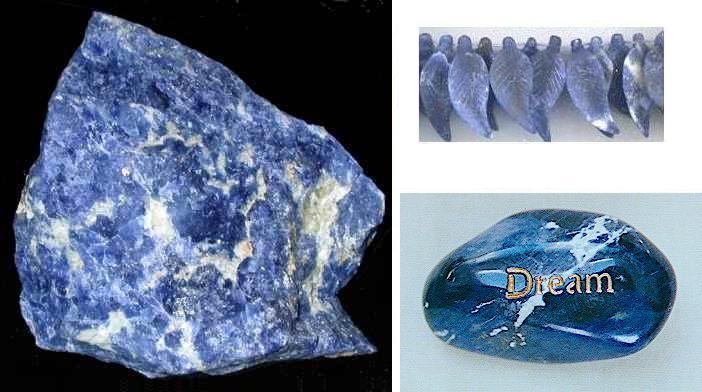 A. Sodalite rough (height - 10 cm) from Cerro Zappo, Cochabamba, Bolivia. (© photo by Stefano Zizzi, www.mineralweb.net)

B. Sodalite carved leaf pendants (height of each ~ 4 cm), matte finish. (© photo by Jane Shafrin, www.beadsbymail.com)

C. Sodalite "Dream" paperweight (greatest dimension - 5 cm). F.S. Dietrich collection. (© photo by Dick Dietrich)

DESCRIPTION: Compact, massive variety.
Colors - most sodalite rocks used as a gemrock are mottled light, medium and/or dark blue, rarely with purple or magenta spots; white veinlets -- typically calcite or nepheline -- that appear as streaks on some surfaces are common.
H. 5½ - 6
S.G. 2.15-2.40 (pure - 2.3)
Light transmission - translucent to subtranslucent
Luster - pearly, greasy to subvitreous


Breakage

- uneven
Miscellany - dissolves in dilute HNO3, and the resulting solution gives a positive chlorine test -- even by using so-called swimming pool test kits; powder is white or slightly off-white; some fluoresces yellow to orange in long-wave ultraviolet radiation; commonly veined or otherwise spatially associated with off-white nepheline.

OTHER NAMES:
Alomite - trade name sometimes applied to sodalite from Bancroft, Ontario, Canada.
Bluestone - name often applied in vernacular.
Canadian bluestone - name sometimes given sodalite from the vicinity of Brancroft, Ontario, Canada.
Canadian lapis - another name sometimes given Bancroft area sodalite.

"Chameleon Sodalite"- name applied, usually in the vernacular , to a relatively recently discovered green variety of Sodalite found in Greenland.



Princess Blue - yet another name sometimes given Bancroft area sodalite -- see REMARKS.
USES: Cabochons for many different pieces of jewelry, beads (round, faceted and irregular - tumbled), wands, spheres etc., carvings, ...

OCCURRENCES: As masses that appear to be segregations and also as veinlike masses in alkalic (commonly nepheline-bearing) igneous rocks.

NOTEWORTHY LOCALITIES: Mount Vesuvius, Italy; Ohopoho, Kaokoveld Province, northern Namibia (formerly South West Africa); Bahia, Brazil; Ice River area of British Columbia; vicinity of Bancroft, Hastings County and here and there in adjacent Haliburton and Peterborough counties, Ontario, Canada; near Litchfield, Kennebec County, Maine.

REMARKS:

Sodalite was named by Thomas Thomson for whom the mineral thomsonite was named. --

The following story is recorded:

"

A quantity of sodalite was sent to Denmark from Greenland during the Napoleonic Wars. It was captured by the British, however, and examined by a Glasgow chemist, Professor Thomas Thomson, who named it after its sodium content.

"

(

e.g.,

www.gwydir.demon.co.uk)<> Whatever, the type locality for sodalite is Kangerdluarsuk, Ilímaussaq complex , near Narsaq, Kitaa Province, West Greenland.

Sodalite has been dyed, but apparently only rarely.


Some people seem to think sodalite, especially as used in jewelry, resembles lapis lazuli. Those familiar with these two gemrocks, however, distinguishing between them, either as rough or as fashioned pieces, with apparent ease. To me, the typical blue hue of lapis lazuli, which I associate with ultramarine, differs markedly from the blue hues of sodalite, which I see as more nearly royal blue. In addition, some minerals associated with lapis lazuli are rarely, if ever, associated with sodalite and visa versa (e.g., pyrite, one of the common constituents of lapis lazuli is quite foreign to sodalite).

According to Wight (1993), hackmanite, a massive white variety of sodalite that turns pink on exposure to ultra viollet radiation, has also been used as a gemrock. This property, by the way, is called tenebrescence.


Stories about the origin of the "Princess Blue" designation for sodalite from the Bancroft area of Ontario, Canada are confusing, and to date I can only guess what is in accord with history. One story is that this name was given to honor Princess Patricia of Connaught (and later Lady Patricia Ramsay), a granddaughter of Queen Victoria. It goes on that during a visit to the area, she chose sodalite for shipping to England to enhance the decor of Marlborough House. Another story is that the mine from which "Princess Blue" comes was named the Princess sodalite mine after the Prince and Princess of Wales (Duke and Duchess of Cornwall and later King George V and Queen Mary) visited the mine during their trip to Canada in 1901. Apparently Princess Mary liked the stone so much that 130 tons of it were quarried and sent to London to decorate Marlborough House. So far as I can find out, the latter story is correct from the standpoint that the Princess of Wales was in Ontario in 1901 and she and Prince of Wales did reside in Marlborough House at that time. But, it may be that only the mine was referred to as the Princess sodalite mine after their visit, and the "Princess Blue" designation for the sodalite may have been arisen later and was to honor Princess Patricia. It is well known that Princess Patricia was a real champion of and in Canada -- the Princess Patricia's Canadian Light Infantry regiment, of which she was "colonel-in-chief," is but one example of the esteem the Canadians had for her.

SIMULANT:

***Synthetic sodalite - I have seen this listed as having been produced, but have been unable to find useful information about it.

REFERENCES: No general reference. Wight, 1993.
---
R. V. Dietrich © 2015
Last update: 6 July 2005
web page created by Emmett Mason