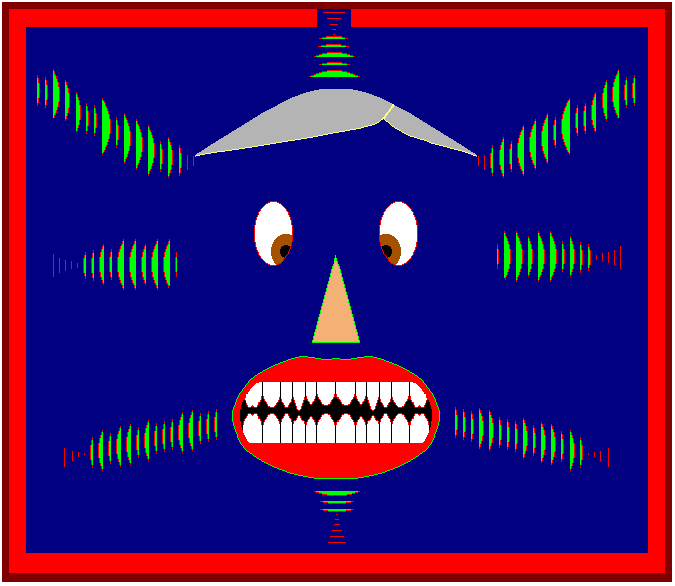 Wired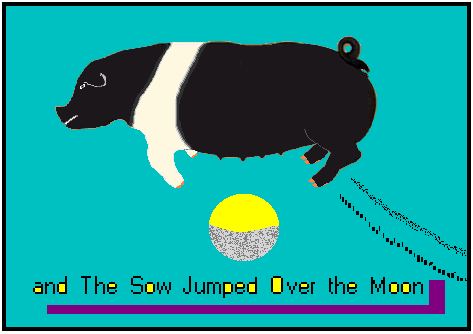 Who says pigs can't fly ?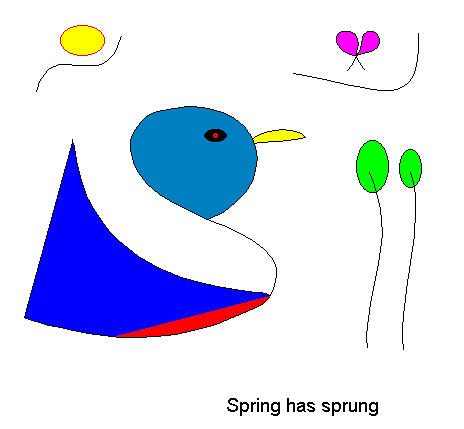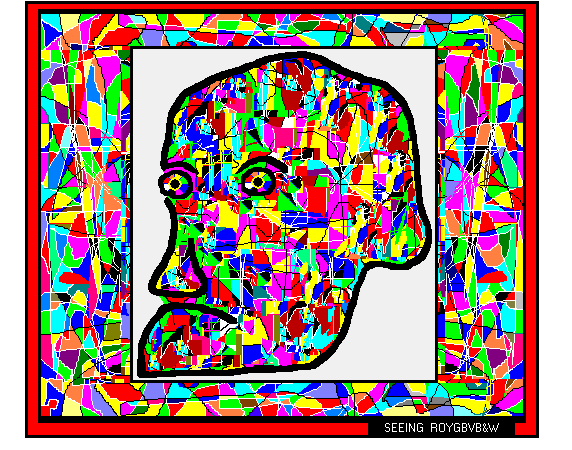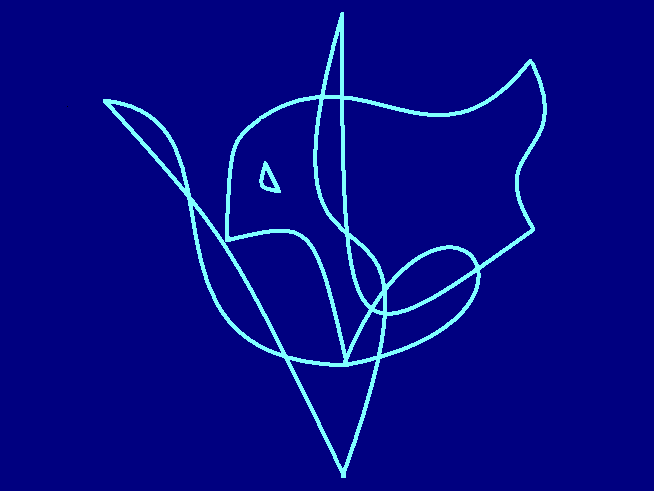 A bird in the Hand is worth Two in a Bush !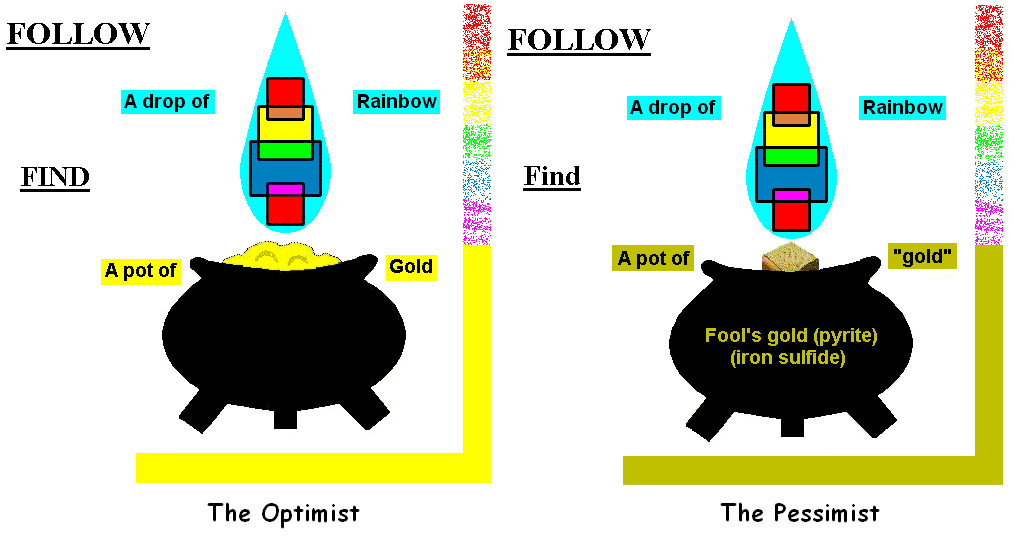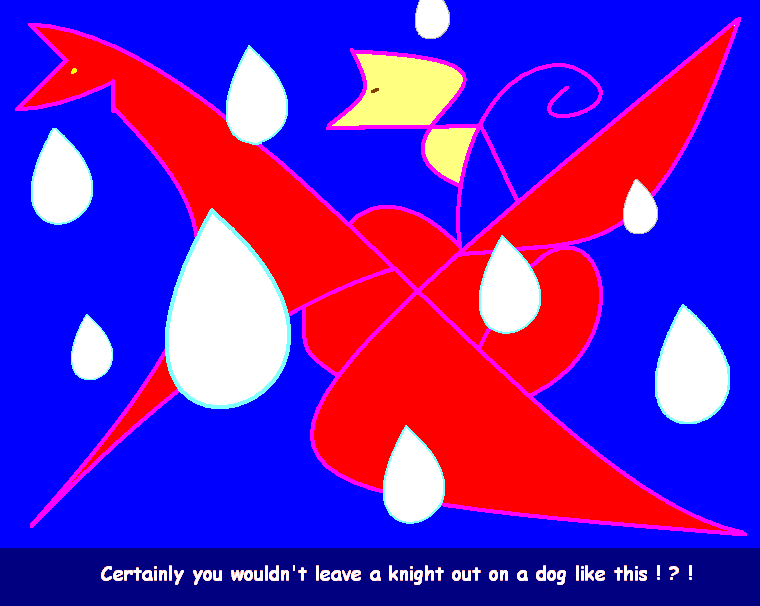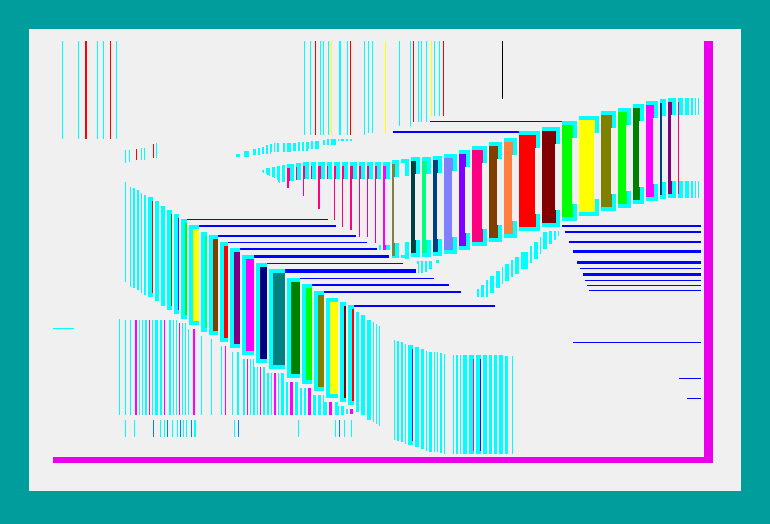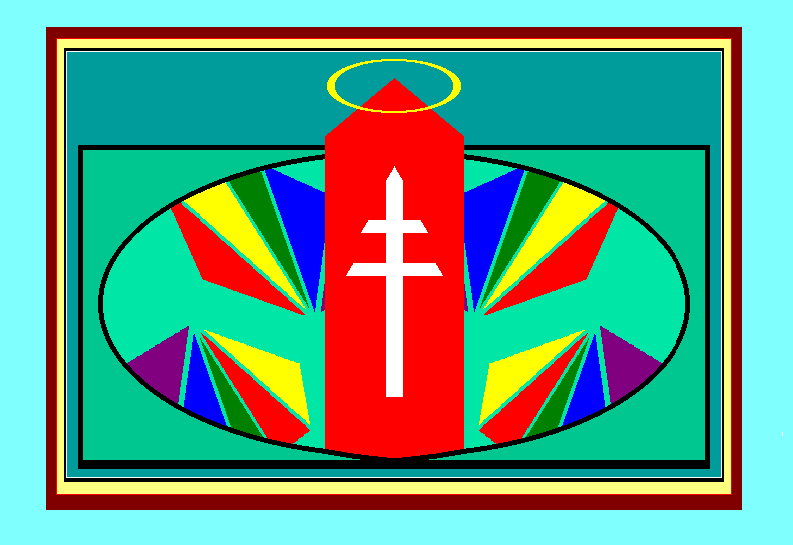 Rune: "Behold -- But, there was none.

---------- >>>>>
dd <<<<< ----------
---
---
The "
P
L
U
S
"
---
OOHs for TWOs:
UFO...s at a Zoo
by R.V. ("Dick") Dietrich
---
WHAT'S HERE ? ? ?


Well, it's a zoo for UFOoers – creatures you have never seen before. And, each of them has something to say to YOU.
These creatures have seldom been seen by anyone on our Earth. And, you will not see them. You will only see posters that show what they look like. But, you can also read some of the things they think about themselves. These thoughts are taken from audios they sent to me so I could tell you a bit about each of them.
---
I. FOUR-SQUARE. "I am always on time, I am straight-forward. My I stands for INTEGRITY. As my parents often told me 'ALWAYS BE TRUE TO YOURSELF AND TO OTHERS!'. Another thing, which my father often said, that is a favorite of mine, is 'BETTER NEVER THAN LATE.' "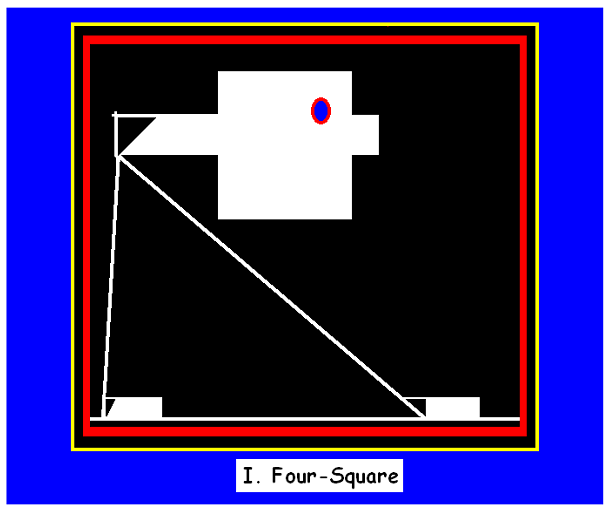 U. IMAGINE.
"My name and advice to YOU is this: Have an open mind. USE YOUR IMAGINATION. I think daydreaming is great mental exercise. Those who say 'An open mind is only a hole in one's head' are nincompoops. Imagination has led to many GREAT things. And, Imagination is fun, Fun, FUN!!!"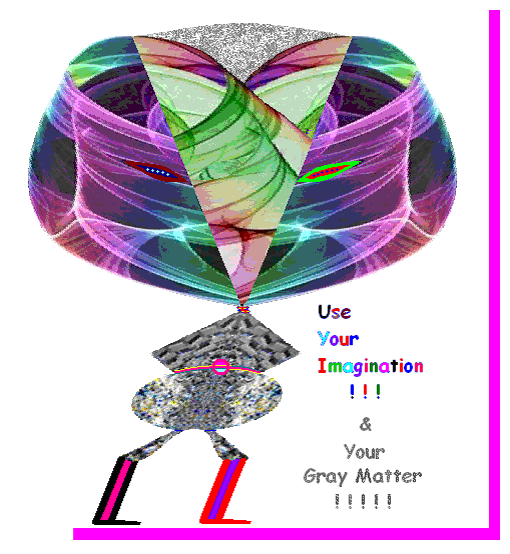 Professor EXPERIENCE. Prof. E., although of few words, is known as a great teacher. His credo, frequently stated to his students and those who choose to be his advocates is: "Build on others' as well as your own actions and reactions to those actions!" – a lesson for all of us to learn and to use to broaden our base of information. His audio also includes the following: "Be a careful observer. Remember what you see, what you hear, what you smell, what you taste, what you feel. BUT, when you use those observations, always RECOGNIZE YOUR LIMITATIONS!! [Credit: Part of Prof. E., especially his head, is based on a work of art that I saw on-line but failed to record its home URL or any other pertinent information about it. Later, I used the Google search program for images in my attempts to find the original and did not find the original or anything about it. I apologize for this poor procedure and even more to the person(s) whose permission I did not get and consequently am unable to provide an appropriate credit here.]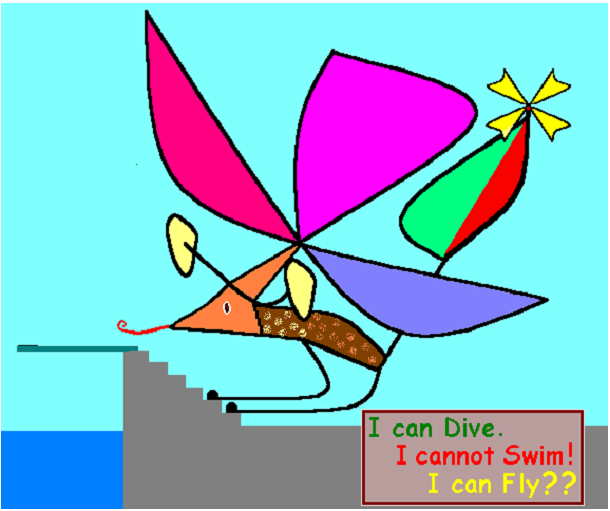 -++&++-

I wonder if their messages would change if U. Imagine and Prof. E. were put
in a box, a barrel or a bag and tumbled. –
Would a bit of each of their thoughts "rub off" on the other???
Whatever, on to more of the posters.

-++&++-
I. KNOW-IT-ALL.
It seems there is always one of this kind of character, no matter what the group. Nothing on its audio seems worth repeating!!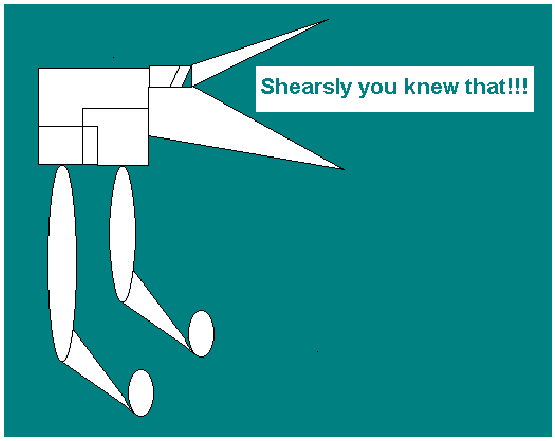 B. SKEPTIC. "If you're not sure, CHECK IT OUT! Check, Check, Check and then Recheck." (Skeptic also tells every creature it sees: "Never let your skepticism become cynicism. Skepticism and cynicism are NOT twins. They are not even related. Skepticism is healthy questioning and praiseworthy; cynicism is scornful, bitter, ... and should be on everyone's never-NEVER list.")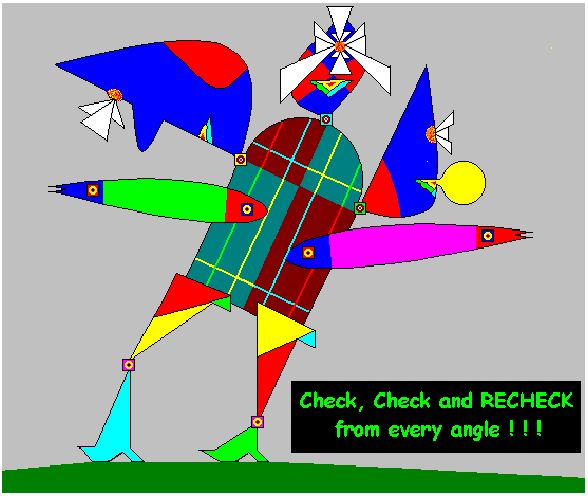 ---
Next, a set of twins: N.T. CLEAN and J.B. ORDERLY:
N.T. CLEAN.
The "N" is for neat. The "T" is for tidy. Its audio proclaims "SPIC and SPAN – That's it."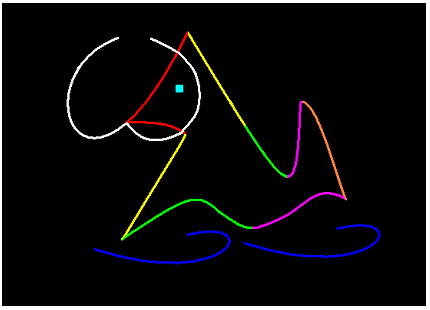 J. B. ORDERLY.
J.B. is ever arranging and rearranging things so they best fit their spaces. The initials "J" and "B" are said to stand for "Just Because." J.B. often does such things as straighten pictures on walls – no matter whose walls they are. J.B.'s sing-song audio is a repeated series of "A bit to the left, ... Now to the right, ... There. ... But not quite, ... Up just a tad, ... Now ... "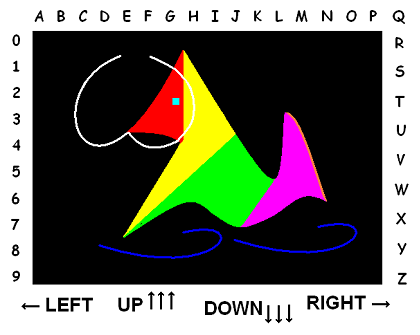 U.B. CALM. This poster, the last in this exhibit, is one of my favorites. U.B. CALM, a master of tranquility, is an example for all. U.B. usually walks on tiptoes. Its audio is a soft, soothing whisper that seems to be directed especially to anyone who is frazzled or tired: "Take time to rest, sleep in PEACE."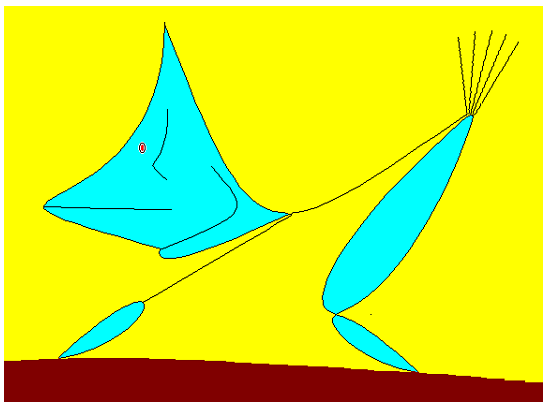 -++&++-
As YOU sleep, DREAM --
Try to imagine what creatures
will be in the next
OOHs for Twos


=+++\<-Use Your Imagination->/+++=


---
OOHs for TWOs:
Outre Queue

by R.V. ("Dick") Dietrich

A. PRIMPER. "A," 'dressed to the nines' – bells on its toes, and other places – poses atop a runway. "A" just wants to be seen. "A" has No thoughts, for you . . .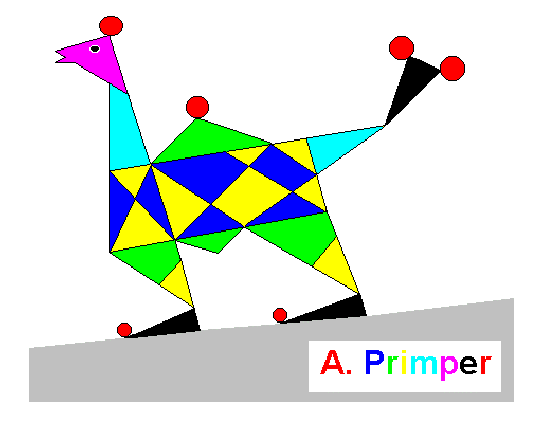 Florence Nightingale, Susan B. Anthony, Harriet Tubman, 'Grandma' Moses, Marie
Curie, Helen Keller, Eleanor Roosevelt, Golda Meir, Marian Anderson, Mother Teresa, Rosa Parks, 'Babe' Didrikson Zaharias, Ella Fitzgerald, Sarah Vaughn, Indira Gandhi, and many many others both well-known and anonymous or unacknowledged. I strut because my sisters have contributed so much to our multiverse! Sometimes, I proudly break out and sing loudly and clearly: 'Women, Women, WOMEN !' "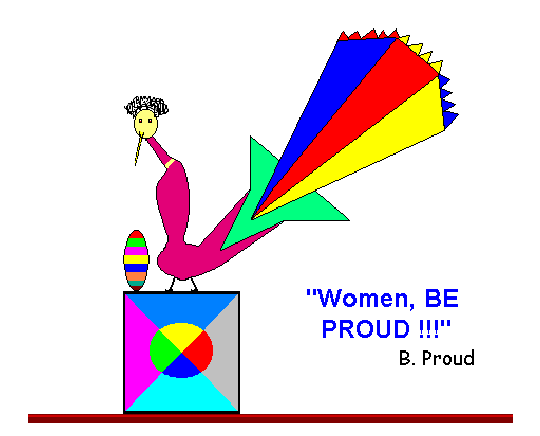 I.M.A. (SHOWOFF). "My parents, a circus clown and a juggler, were proud when I was born. They named me Imposing Magnificent Actor because they had great aspirations for my future. Unfortunately, I haven't fulfilled their aspirations. But, they still tell me how proud they are of me. That makes me do my best, whatever I do. It is really great that good PARENTS ARE PROUD OF THEIR 'KIDS,' at least most of the time."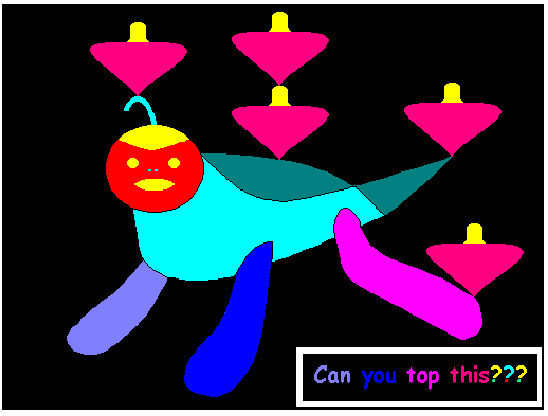 WILLTO B. DIFFERENT looks like a duck – a "duck" that, unlike most ducks, has a back that will not shed water. And, Willto is not afraid to admit it. You, I suspect, also have some "differences" from others of your ken. But, I also suspect you try not to let them even know. You prefer to be "one of the crowd." Indeed, most of us try, often too hard, not to be different. Wilto, who seems to be a wonderfully adjusted creature, gives us the following advice on its audio: "DARE TO BE DIFFERENT!"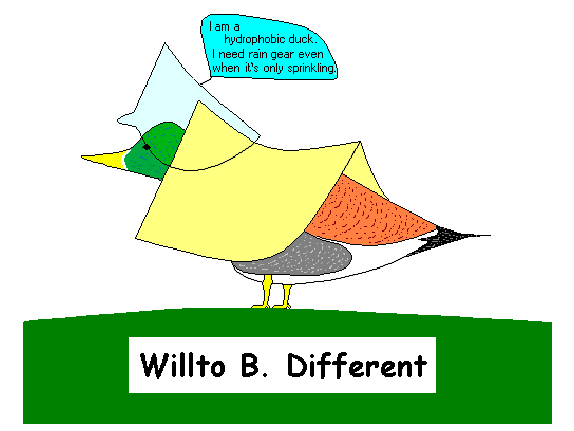 Dana DISABLED prefers not to be featured on a poster. Instead, Dana has provided two posters: The main one features Dana's hat and canes. With its brain (beneath the hat) and its limited mobility (using canes) Dana spends most of the time making things that will help others – especially their mental states. Dana made the second poster, a cartoon "Give it a Nudge," with the hope that anyone who sees it will realize that the "bad times that seem to last forever" will pass quickly if given just a gentle nudge.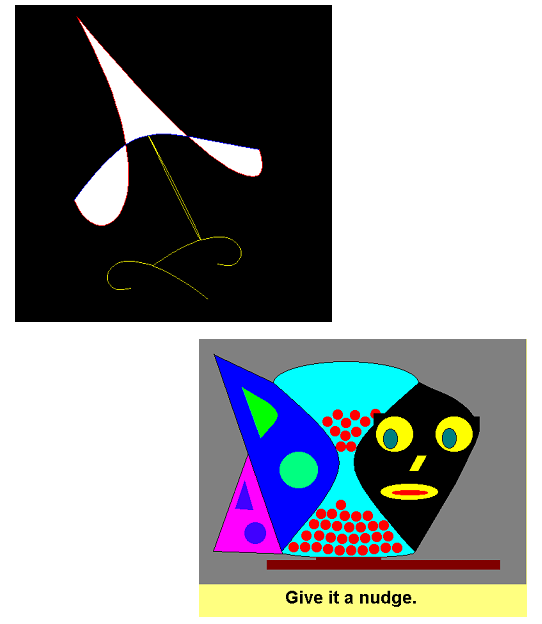 I. PROBE looks for ore, oil, ancient relics, just about anything you can imagine. I.P.'s real purpose, however, is to find ANSWERS! On an audio that was given to those of us who visited I.P.s laboratory gives some strong advice that is summed up well by its title: "PROBE ! ! ! – especially for answers."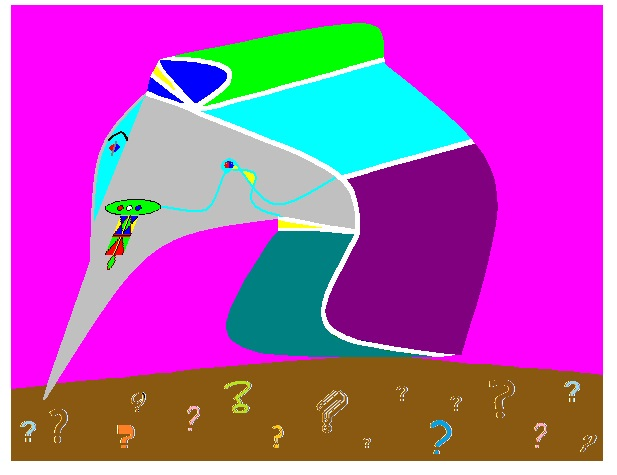 Iva SENS de L'HUMOUR
, her preferred name, is the ~French for her real given name – Iva Sense-Humor. Iva is an American from upstate New York (Hammond, St. Lawrence County, I believe), who has spent much of her life in France. As an Earthly being, her appearance, actually a caricature, on the poster included with this group is a bit of an anomaly. She is with the group as an ambassador from the United Nations. Her position description has her primary role "to inform those of the Outre Queue about other more normal [whatever that might mean] beings." Like the repartee of many such appointees, most the statements on Iva's audio are platitudes. A few of them that seem worth repeating here relate to the ever present Smile on Iva's face: "The world always looks brighter from behind a smile. If you smile at someone, (s)he will often smile back at you. [and] A smile can brighten the darkest day."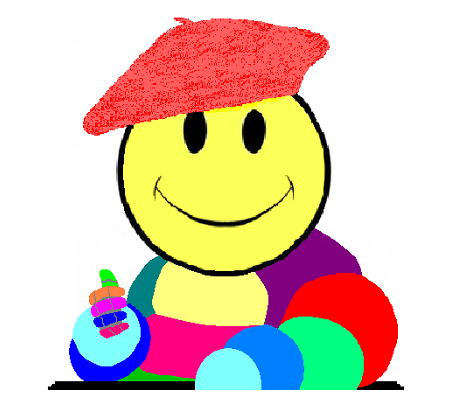 =+++\<-Have a Good Day->/+++=
---
R.V ("Dick") Dietrich (b. 1924), a native of the St. Lawrence Valley, Northern New York, is a graduate of Colgate University (A.B.), and Yale University (M.S. & Ph.D -- Geology).

He is not an artist but likes to doodle.

Now retired, he was a College professor of Geology, with Petrology his main field of research.

He has authored or coauthored many professional papers and books, some of which are textbooks, and also 14 web sites, most of which are available at

http://stoneplus.cst.cmich.edu/Default.htm

.

For additional informaton, click the following link:
XXXX
---
---
R.V. Dietrich © 2018
Last update: 9 September 2018
web page created by Emmett Mason